Chelsea continue unbeaten run but Alvaro Morata's return to form isn't enough to make them admired
Chelsea 3-1 Crystal Palace: Two goals from the Spanish striker takes his tally to five in six, but his late miss feels like a symbol of where this side currently are in relation to the pace-setters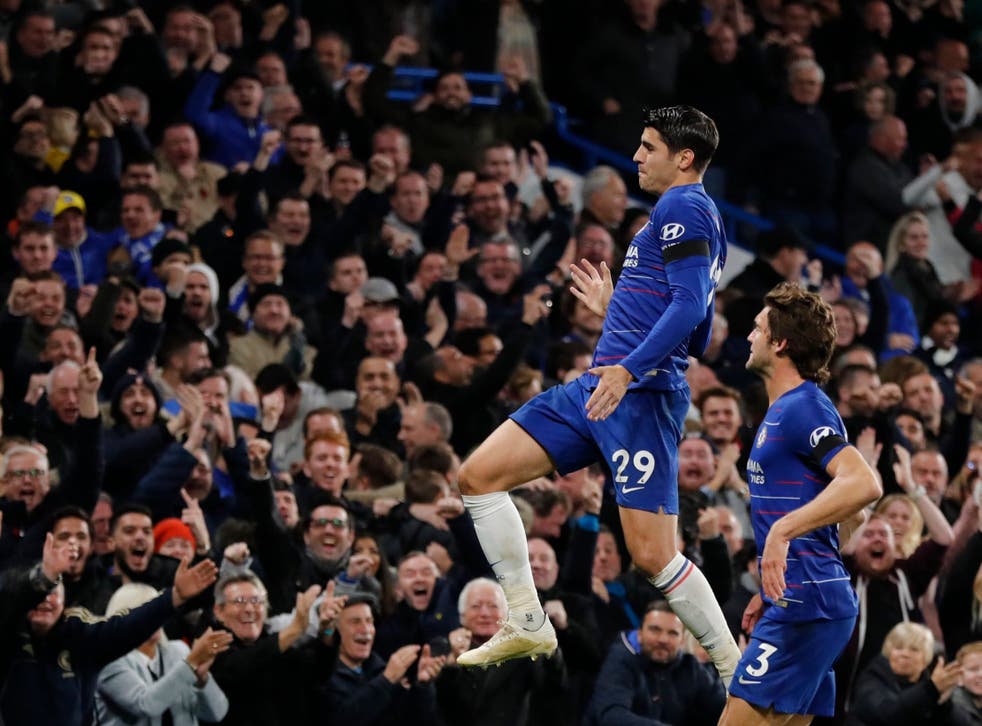 Eleven games into the season, Chelsea remain a team far easier to like than to admire. Two goals from Alvaro Morata and one from Pedro sealed what was a deceptively fraught victory for them, one in which it was possible to be both impressed and concerned by them at the same time.
Still unbeaten, and now in second place ahead of Liverpool, Chelsea remain title challengers in name only. For as ruthlessly as they put Crystal Palace to sleep in the second half, there was ultimately little here to commend them as the best team in the land.
First the good news: Morata's return to form could scarcely have been timed better, with a tough run of fixtures culminating in the visit of champions Manchester City next month. The suspicion remains that Morata still needs a few too many chances to make his mark - and the way in which he squandered the chance of a hat-trick with a horrid chip when clean through in injury-time hardly inspired confidence - but a haul of five goals in six games has at least allowed Chelsea to wean themselves off their chronic addiction to Eden Hazard.
Chelsea vs Crystal Palace: Player Ratings

Show all 22
Hazard did make an appearance for the final half-hour, setting up Chelsea's second goal, but this was a victory achieved largely without his help. Jorginho and N'Golo Kante controlled the tempo well in midfield, although Ross Barkley was disappointing; Antonio Rudiger was again a useful outlet with his ability to spread play quickly; and over 90 minutes Chelsea's superior quality always looked likely to tell against a Crystal Palace side who tired as the game went on, and for all their organisation looked worryingly error-prone in their own penalty area.
For half an hour, their gameplan seemed to be working: stay tight, stay narrow, press only within their own final third and close down the half-spaces in which Chelsea's midfield like to work. With the ball, they masterfully got around Chelsea's high press by simply booting it into the corners as soon as they got it. They enjoyed the better of early chances, too, Max Meyer scuffing a couple of shots in the first 20 minutes.
Slowly, though, Chelsea began to work the game out: move it wide, move it quickly, pounce on Palace's tentativeness in possession. And it was through these principles that they managed to break the deadlock, winning the ball on halfway, Cesar Azpilicueta releasing Pedro, who received the ball back from James Tomkins's poor clearing header and crossed for a second time. Morata had time to take the ball on his chest, swivel and smash it low into the bottom corner.
The irony was that the less Palace tried to play, the better they did. Seven minutes into the second half, Chelsea were undone by a simple pass out of defence: Andros Townsend laying it off to James McArthur, breaking the offside trap to receive the return ball, and tucking it low past Kepa Arrizabalaga.
And so, with a sigh, Sarri did what he had expressly been hoping to avoid all afternoon, and sent Hazard up the touchline to get loose. After 63 minutes, he came on, serenaded with chants of "you're just a s*** Wilfried Zaha" by the Palace fans. Within minutes, he had set up Chelsea's second goal, although it owed far more to Palace's inability to clear a simple free-kick from the right. Somehow the ball bounced through to Morata at the back post, who smashed it home from a tight angle.
Palace rather fell apart at that point. Five minutes later, Pedro made the game safe: Marcos Alonso not closed down, Pedro ghosting past Patrick van Aanholt, and slamming a first-time finish past the unfortunate Wayne Hennessey, who had kept Palace in the game with a fine stop from David Luiz's header.
And though Palace tried to rouse themselves once more, they had little to offer. Morata's late miss would have put a cruel gloss on the scoreline. Nevertheless, the show rolls on: the gap at the top just two points, even if the impression remains that like everyone else, Chelsea are simply breathing in Manchester City's dust, desperately trying not to let it choke them.
Join our new commenting forum
Join thought-provoking conversations, follow other Independent readers and see their replies