Chelsea turn on the style to show why they're champions - and why they should be favourites to win the title again
Chelsea 2-0 Everton: This was timely reminder that the Premier League champions remain a supreme team and new look Everton still have work to do
Miguel Delaney
Chief Football Writer
Sunday 27 August 2017 15:30 Comments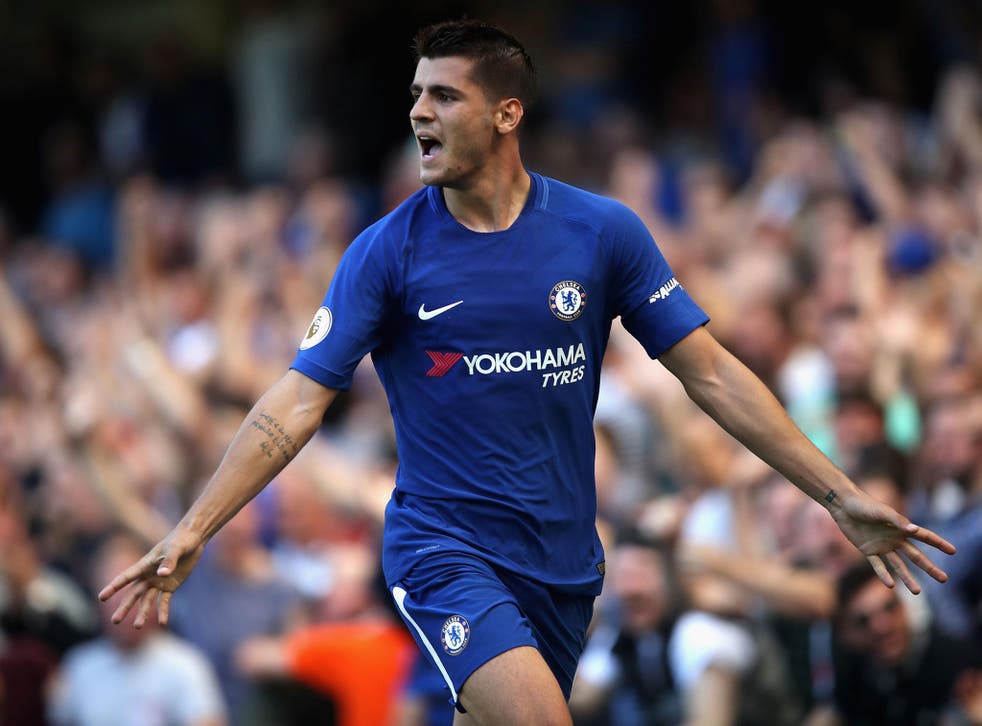 If the worry for Chelsea in the first week of the season was what they would be able to do without actual signings, the worry for everyone else after this game is how good they will be when they actually get them - as well as a fully fit Eden Hazard. This 2-0 win over Everton, after so much talk about lack of transfers and so much previous discussion about an abundance of problems, was a timely reminder of something that is much more of a football fundamental: Chelsea remain a supreme team.
It was both a display of why they are of course defending champions, but also why they should remain outright favourites for this season's title. They were that good. There is the obvious caveat Ronald Koeman's much-talked-up Everton are recovering from a midweek Europa League trip to Croatia after also claiming a draw at Manchester City, but Chelsea were in little mood to cut them any slack. Had it not been for some of the finishing, in fact, this could have been an even more emphatic win than last November's 5-0 in the same fixture.
That was the match when Antonio Conte's side properly proclaimed themselves as England's best team for the first time, and this was one of their best performances in some time, certainly much closer to that victory than the opening-day defeat to Burnley.
Given some of the circumstances surrounding that near-farcical 3-2 loss two weeks, it also flips so much debate. The problems of that game now take on a different complexion.
Chelsea came up with a win as convincing as this without Hazard, without Tiemou Bakayoko starting and with three signings still expected to come. That is ominous. There is also the argument that Alvaro Morata still has a lot of adapting to England and this team to do. Some of the striker's touches here indicated that, and yet he still set up the opening goal and scored the next, to make it two goals and two assists in three matches so far. Quite the return for someone adjusting, quite the prospect.
Chelsea would have been 1-0 up much earlier had Morata not fluffed a simple pass to a completely free Pedro early on, but it was rendered irrelevant on 27 minutes when he headed a loose ball in the box onto Cesc Fabregas, who then elegantly swerved it around Jordan Pickford with the outside of his right foot from an angle. The Spanish playmaker was particularly brilliant in directing so much, while David Luiz dominated the pitch behind him. The pace of Pedro, Victor Moses and Marcos Alonso running through and around all of that, then, greatly enlivened the game.
It all meant Chelsea had simply been bombarding Everton at this point, Pickford having to batter away a number of efforts. So much of it was down to how Conte had them pressing Ronaldo Koeman's side so high, but there are some questions to be asked about the Dutch coach's own approach, given it was the same 'pragmatic' - and ultimately impotent - way he had them set up here last season. It was overly defensive, very dull, and so conspicuously slow, really reminding everyone that Everton still haven't actually replaced Romelu Lukaku.
That was never more obvious in the second half when Wayne Rooney did well to burst through and tee up Sandro with a nice through ball, only for the striker to send a shot towards the by-line. Or, at least it might have made the byline, had he actually got anything like a connection on it.
It still would have felt little more than a consolation for Everton, as Chelsea were in full command and 2-0 up, with Morata having already nodded in Cesar Azpilicueta's fine cross on 40 minutes.
Again, Koeman's approach is understandable on the basis of the week Everton had, but less understandable on the basis of their signings. Good individual players as they all are, it does feel as if having Gylfi Sigurdsson, an admittedly revitalised Rooney and Sandro in the same attack is overkill, given that their overly notable lack of pace takes the sting out of any attack.
Koeman could do with more pace there. Chelsea meanwhile looked right back up to speed, with the promise of much more to come.

Register for free to continue reading
Registration is a free and easy way to support our truly independent journalism
By registering, you will also enjoy limited access to Premium articles, exclusive newsletters, commenting, and virtual events with our leading journalists
Already have an account? sign in
Join our new commenting forum
Join thought-provoking conversations, follow other Independent readers and see their replies