Chelsea vs Hull match report: Diego Costa scores first in five after Tom Huddlestone was sent off in ill-tempered affair at Stamford Bridge
Chelsea 2 Hull City 0: Chelsea have it easy even before Huddlestone is sent off for Hull but Bruce is furious Cahill did not see red as well
Miguel Delaney
Saturday 13 December 2014 18:10 Comments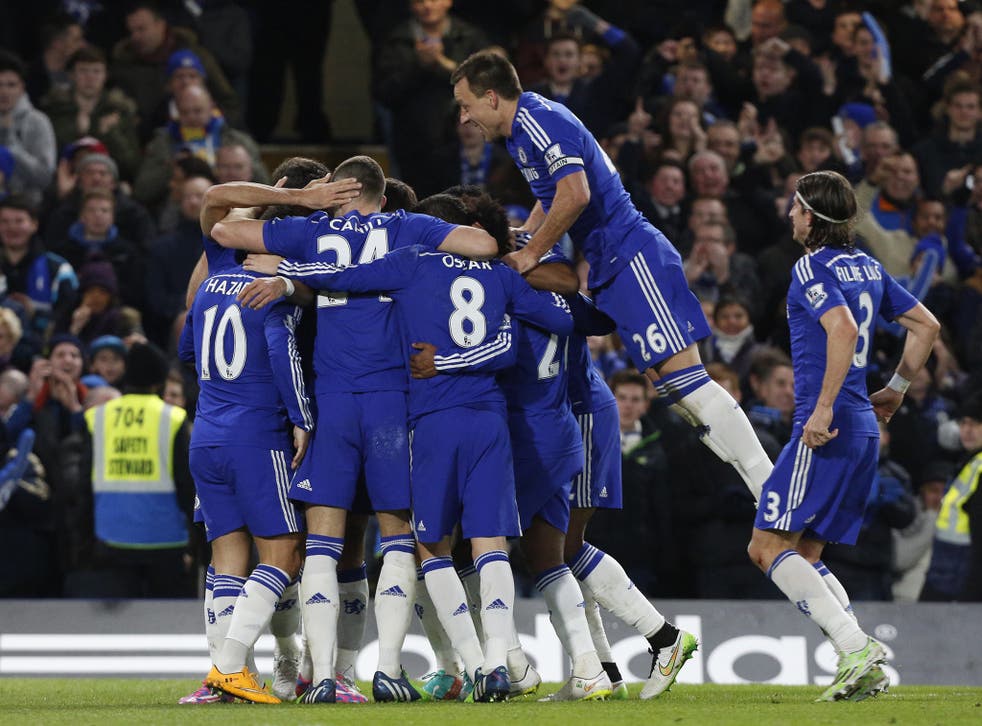 It wasn't so much a football match, as a total procession for Chelsea. Jose Mourinho's side quickly recovered from their defeat at Newcastle United, by easily beating Hull City with goals from Eden Hazard and Diego Costa.
Chelsea did not need to be particularly good, in what was arguably their most laboured performance of the season. The only fight Steve Bruce's side showed was when Tom Huddlestone justifiably got a straight red card for a poor high challenge on Felipe Luis.
The only point of controversy, meanwhile, was that Gary Cahill might have followed him. Chelsea's centre-half escaped a booking for a dive in the box in the second half. Mourinho disputed it was a dive, but Bruce said Cahill should have gone. "It was like something out of Swan Lake," the Hull manager jibed. "That blatant."
Chelsea - the latest match pictures

Show all 166
That was also pretty much as obstructive as anyone from Hull got. Beyond that, they were almost the perfect opponents for a side looking to get back to winning form, as they basically rolled over. The deeper worry for Bruce, however, is they now look in danger of rolling out of the division too.
Hull find themselves 19th in the table, and a world away from the comfort of just a few weeks ago. They did not look like a side who spent so much on transfers in the summer, but did look like one that have only scored twice in their last eight games.
Bruce said so much when, as Didier Drogba warmed up on the touchline, the Hull manager turned to the Chelsea striker and asked, in mock horror, if he was coming on
By that point, the final score was pretty much assured, but then that seemed obvious from the start. It took just seven minutes for Chelsea to open the scoring, in what was probably the finest-quality moment of the entire match. Oscar curled over a gorgeously flighted cross, which Hazard easily nodded in, in what was a rare headed goal for the winger.
"That he scored in the air, I was surprised," Mourinho said of Hazard. "He jumps a lot but normally he closes his eyes. So I was surprised, but very good goal."
Costa later got his first goal in five games, sliding Hazard's pass past Allan McGregor after 68 minutes. That came just eight minutes after Huddlestone had been sent off for his high challenge on Luis, which Bruce felt was totally fair.
But the Hull manager insisted it should have been 10 against 10 due to Cahill's dive, with the defender having been booked in the first half. "The referee was 10 yards away," Bruce said. "Everybody in the ground saw it. The frustration was we feel aggrieved as a team because it's gone against us."
"I've just been asked if Cahill should have gone, and the simple answer is yes. Especially given the referee has already booked two people for simulation or diving. Oscar, Hazard or Willian are running at pace, so the smallest connection can bring them over.
"This is England's centre-half. It could have been a red card, his first challenge on [Sone] Aluko. That was reckless and dangerous. You expect the referee to do his job. Consequently, Tom Huddlestone, who is the most laidback person, is frustrated with the decisions and produced a horror challenge which deserves a red card. But when you come to places like this, you need them to make the right call."
Despite such comments, Bruce still did not get to say what he really felt. "If I say what I want to say then I'll be hauled up in front of the Premier League [FA] and I'll have to pay the £10,000 fine. So I'll say piss all about it and save my pocket. Excuse my French."
Mourinho disagreed. "I don't make it because I didn't see it on television because I was very far away. But I had this question before from your colleagues on television and radio. I don't believe Cahill dived. And if you tell me I'm wrong because he did, then something happened. Or they blocked his run. Or they touched. Or he lost balance. But that big, honest guy, I don't believe he dived in the opposition's box."
Bruce may have been fuming at that point, but there was an air of resignation towards the end of the game as he chatted idly with Mourinho on the sideline.
"With some, I cannot say goodbye five seconds before the end of the game," Mourinho said. "With others I can speak through the whole game. Two old foxes, no pressure. Just enjoying. No problem."
At least not for Chelsea. Hull's problems, however, are mounting.
Chelsea (4-2-3-1): Cech; Ivanovic, Cahill, Terry, Luis; Matic, Mikel (Ramires, 81); Willian (Schürrle , 79), Oscar (Drogba, 78), Hazard; Costa
Hull City (3-5-2): McGregor; Chester, Davies, Dawson (Bruce, 10); Elmohamady, Livermore, Huddlestone, Meyler, Robertson; Aluko (Brady, 64), Jelavic (Ramirez, 73)
Referee: Chris Foy
Man of the match: Hazard (Chelsea)
Match rating: 5/10
Register for free to continue reading
Registration is a free and easy way to support our truly independent journalism
By registering, you will also enjoy limited access to Premium articles, exclusive newsletters, commenting, and virtual events with our leading journalists
Already have an account? sign in
Join our new commenting forum
Join thought-provoking conversations, follow other Independent readers and see their replies