Chelsea vs Liverpool match report: John Terry and Steven Gerrard on target as draw hands Manchester United Champions League football
Chelsea 1 Liverpool 1: Louis van Gaal's side now six points ahead and with superior goal difference with two games remaining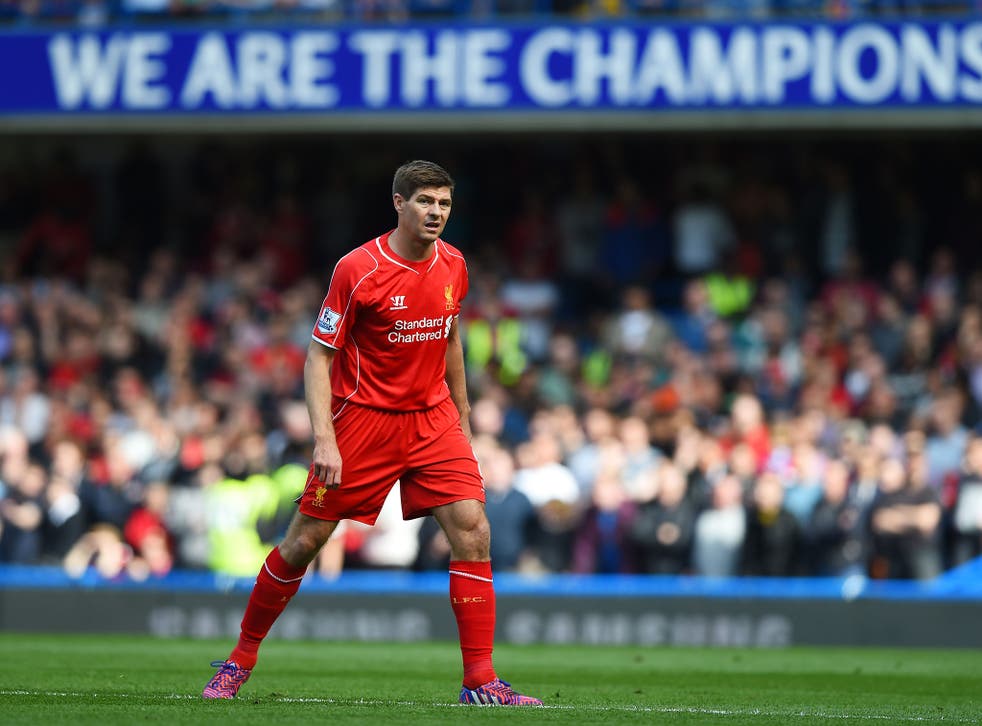 The 185th goal of Steven Gerrard's Liverpool career was not one to put alongside all those last-gasp game-changers or trophy-clinching interventions of old, but it was at least one last reminder of just how much he will be missed at the club he has served for so long.
As Brendan Rodgers pointed out afterwards, his skipper has scored the important goals in both Liverpool's previous games and now has just two more matches in the red No 8 shirt before he calls it a day at the only club of his life. Today was remarkable for the ripple of applause around Stamford Bridge when Gerrard was substituted with 11 minutes left in a stadium that is consumed with baiting the Liverpool captain.
It was led by Jose Mourinho who has gone to his usual lengths this week to tell everyone how much he loves his "dear enemy" Gerrard, the generosity he is prepared to show when the title is in the bag and non-one represents a threat any longer. He was at it again today, describing a career in the MLS as an "El Dorado holiday" and leaving no-one in any doubt that, as far as he was concerned, Gerrard was effectively retiring.
Even so, the applause was a strange moment given the animosity between the two clubs' supporters which otherwise went on unchecked. It was hard to know what that gesture meant in the grand scheme of things and you got the feeling that there would have been much less of it if Chelsea were still involved in a title race.
Chelsea 1 Liverpool 1 player ratings

Show all 22
It was the last time Gerrard would go head-to-head with John Terry too, another former England captain and a player with whom his career has been entwined. Seven months younger than Gerrard, Terry is readying himself for another season as a Premier League captain and he scored again against Liverpool, making him the highest scoring defender in the league's 23-year history. In fact he was arguably man of the match.
Terry's opening goal, a header after five minutes, was one thing but it was a brilliantly-timed penalty-box tackle late in the game on the powerful Jordon Ibe which summarised the Chelsea captain's superb season.
Gerrard has now played his last game against one of the big clubs of English football and Liverpool have as good as lost that last Champions League place to Manchester United. They need a six-point and 14-goal swing to secure fourth place now and even the ever-optimistic Rodgers was in no mood to apply the power of positive thought when it came to the last two games of the season.
The Premier League season is slowly fizzling out and no amount of pre-game bells and whistles can change that mood. Not content with the pre-match guard of honour from Liverpool, Chelsea laid on a novelty blue carpet and the flame bursts that are de rigueur now at any match that feels a bit underwhelming in terms of atmosphere.
There was a strange start to the game when Cesc Fabregas kicked Raheem Sterling on the ankle with the kind of tackle that might have been a red card at a different time in a different game to this off-key, slowed-down occasion. Andre Marriner got himself in a muddle, getting out a red card first for John Obi Mikel, then a yellow before he corrected himself and booked Fabregas.
Later, Rodgers would say that Fabregas should have been dismissed for the tackle in a press conference in which he was scarcely able to conceal his despondency at how the season is finishing for Liverpool. Mourinho made some effort not to rise to the bait saying that he did not want any more of the "theatre" that had followed the two sides' Capital One Cup semi-final.
The Chelsea goal came soon after. Rickie Lambert was badly static and allowed Terry to jump over him and head the ball in direct from a Fabregas corner. It was another slow start for Liverpool which their manager would have cause to bemoan later on.
Mourinho made five changes from the team that beat Crystal Palace with Ruben Loftus-Cheek, the 19-year-old Lewisham lad from the Chelsea academy promoted for his first league start. This is, of course, Mourinho's next challenge, bringing through a few of the kids from the all-conquering academy. But there will be no passengers with him. These kinds of games are precisely the sort of chances that will have to be seized by Loftus-Cheek and his peers.
Later, Mourinho said that he would give a chance to the Under-21s' Nathan Ake and Isaiah Brown in next weekend's game against West Bromwich Albion, with the West Midlands club having first developed Brown before he was signed by Chelsea. Against Sunderland at home on the last day of the season Mourinho pledged to play his best side which does not bode well for Dick Advocaat's team if they need points to survive then.
Gerrard, playing holding midfield, did not have the happiest of times in the first half. There was an unfortunate tumble when he tried to tackle Fabregas and the usual frustrations trying to get Liverpool going. Then, from nowhere, he arrived at the back post to head in a Jordan Henderson free-kick having been completely unmarked when Mikel and Gary Cahill got mixed up.
It was not the sort of goal that Chelsea, in full Mourinho-mode usually concede. Cahill, on for the injured Kurt Zouma, seemed to block the path of Mikel as he did a bad job of tracking Gerrard. There were no exuberant celebrations from Gerrard. It wasn't one of those goals.
After half-time there was a much better performance from Liverpool and they had the best of the second half, although too few chances created to win it. The best opportunity fell to Philippe Coutinho on 49 minutes when Sterling cut the ball back to the Brazilian, who missed the target. Chelsea struggled to create a treat in attack while their long-term injured striker Diego Costa amused himself by sitting among the fans in the east stand.
Latterly, Rodgers brought on the teenagers Jerome Sinclair, 18, and Ibe, 19, the former of whom was Liverpool's youngest player of all time when he made his debut at 16 and six days in 2012. An indication, perhaps, of where the Liverpool manager's thoughts are for next season. The Champions League will not be a concern this time around.
Register for free to continue reading
Registration is a free and easy way to support our truly independent journalism
By registering, you will also enjoy limited access to Premium articles, exclusive newsletters, commenting, and virtual events with our leading journalists
Already have an account? sign in
Register for free to continue reading
Registration is a free and easy way to support our truly independent journalism
By registering, you will also enjoy limited access to Premium articles, exclusive newsletters, commenting, and virtual events with our leading journalists
Already have an account? sign in
Join our new commenting forum
Join thought-provoking conversations, follow other Independent readers and see their replies