Pep Guardiola and Antonio Conte laud Kevin De Bruyne for being the perfect 'complete' player after masterclass
City midfielder's powerfully struck goal seals victory for Guardiola's side and delights his manager not just with his match-deciding value but also his incredible work-rate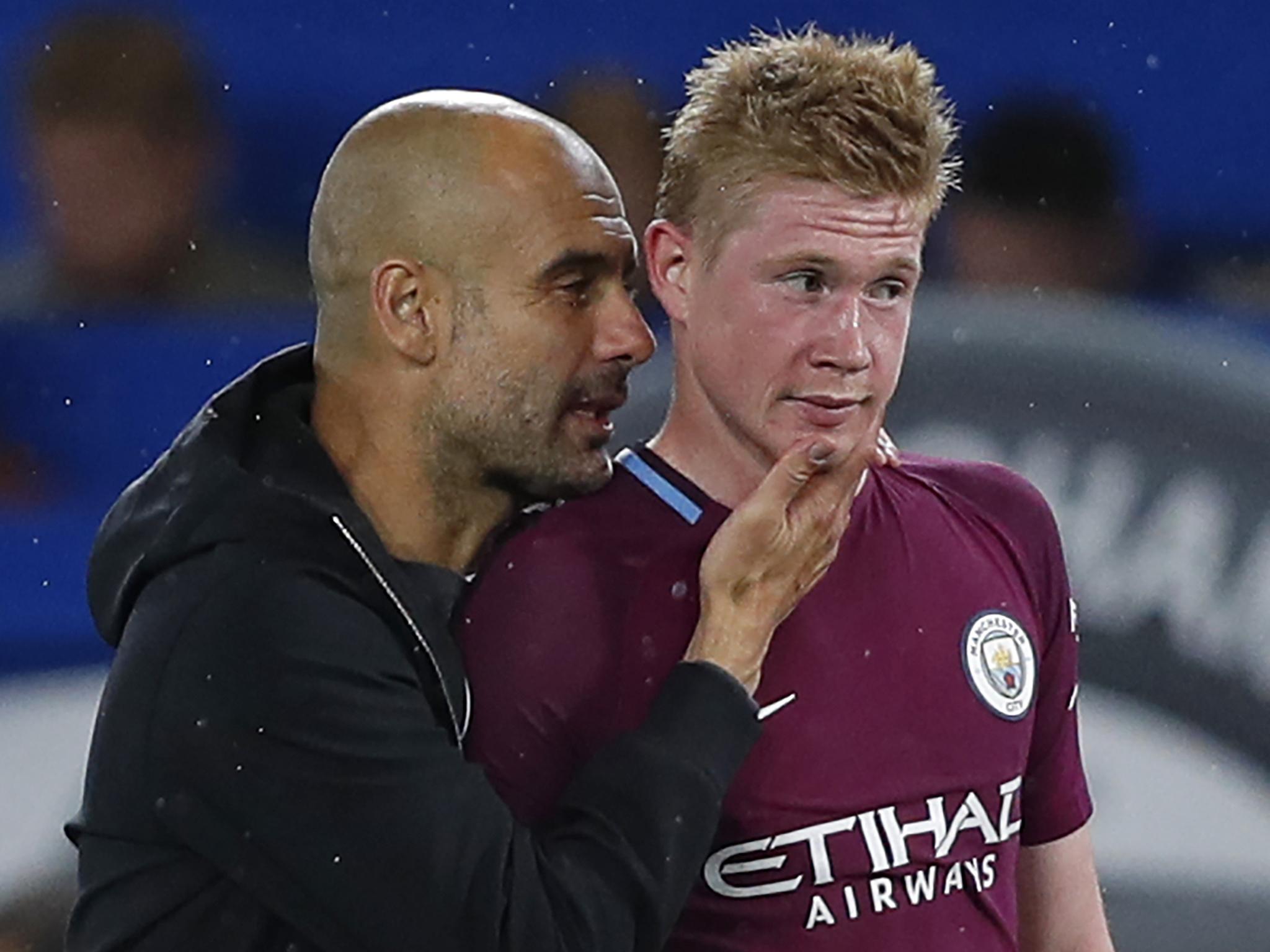 Pep Guardiola praised Kevin De Bruyne as a player who can do "absolutely everything" – but said he is unique because he still has the humility to "run 100km" for the team.
The Belgian continued his supreme form this season by brilliantly scoring the only goal in Manchester City's landmark 1-0 win away to champions Chelsea, but his manager doesn't think there has been that much difference from last season – other than a touch more luck in front of goal.
"He is doing a lot of things this season," Guardiola said. "Last season, he hit the post 12 or 13 times and this season they are going in. He can do absolutely everything. With the ball he is in different positions and can assist short and long. After, without the ball, he's the most humble, the most shy guy. He says 'if I have to run 100km for the team, I will do that.' It's not easy to find that with this type of talent. Everyone feels comfortable with him on the pitch."
Chelsea vs Manchester City player ratings
Show all 23
Opposing manager Antonio Conte meanwhile praised De Bruyne as a "complete player", as Guardiola also expressed satisfaction at how complete his team's performance was, how they beat Chelsea by taking the game to champions in their own stadium.
"We are so happy for the victory, we are here for the result but especially happy for the way we played, where we played. It's Stamford Bridge, where Chelsea get so many wins here. We know how good they are, how strong, how quick.
"To keep the ball, high pressing...we play so high. John [Stones] and Nico [Otamendi] were amazing and you know how difficult that is against Alvaro [Morata], Willian, [Eden] Hazard. In the first half we played quite good, we controlled but didn't find the right players in the right positions. In the second half, they received the ball a little more in front. In the second half, the pressure was good. They didn't have the ball, we were more patient in attack.
"We're in September. Of course it's so important, because winning at Stamford Bridge means they are not able to win three points. In terms of points it is so important. We try with Manchester City to feel like a club, not just the team-mates, the players, the staff – to convince the club we're able to go wherever and play our game. Of course you have to adapt to your opponents but we showed in the first minute that we were coming here to win the game. That is what I want to give to the club and that is what we did in this game. Last season we came here and we tried but you have to win and I am so satisfied that we won in the way we did from the beginning...playing like this we showed we concede few [goals]. That is what I like to see with my team."
Guardiola seemed to maintain, however, that it would still be a four-team title race.
"Chelsea were unbeatable last season after September, we have United and we again the 'Harry Kane Team' [Tottenham] scoring again two or three goals.
"Jose will always be tough as this is now a Jose Mourinho team, so aggressive and winning duels, quick on the counter-attack.
"It will be so tough but it is so important in the process that we can do it – we will go to these stadiums and try."
Join our commenting forum
Join thought-provoking conversations, follow other Independent readers and see their replies