Alvaro Morata seals win to reinvigorate Antonio Conte's Chelsea reign yet could end Manchester United's title chances
Chelsea 1 Manchester United 0: Striker's brilliant finish is enough to secure all three points and keep Blues in touch of Premier League leaders Manchester City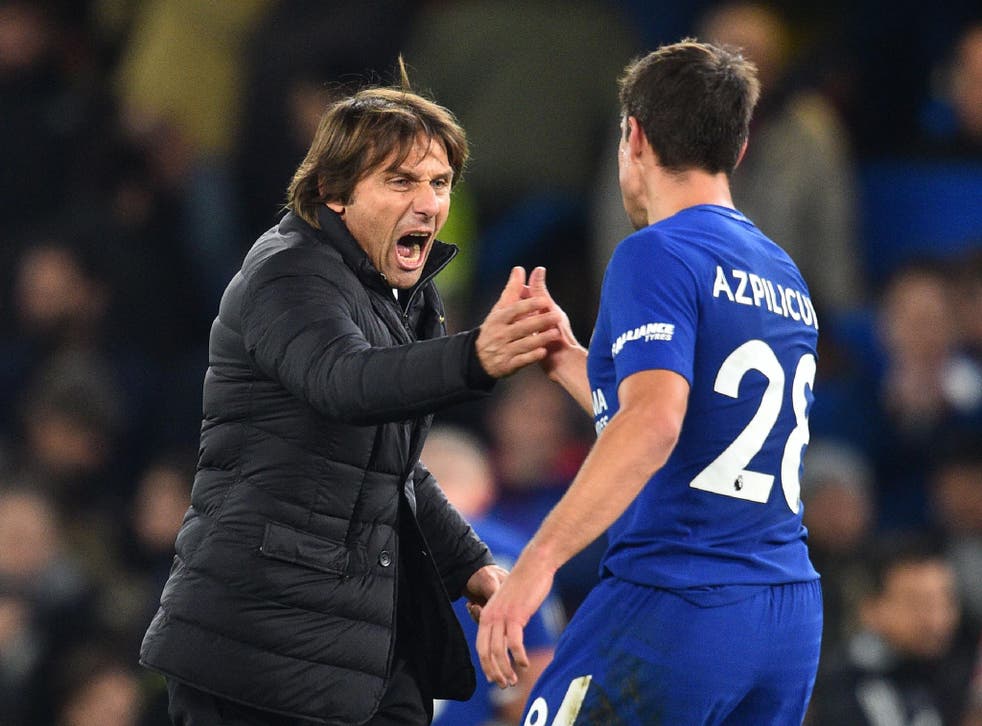 A supremely electric response from Chelsea, crowned by an even better goal from Alvaro Morata... but it may well lead to a low-key title race. Was the day that Antonio Conte properly recharged his regime the day that also killed Manchester United's - or anyone else's - challenge for the Premier League trophy?
If that is to be the case, with Manchester City now eight points clear in first place having earlier in the day beaten Arsenal 3-1, it was actually more down to United's previous performances than this 1-0 defeat at Stamford Bridge.
That game against Liverpool created a pressure about this one that necessitated a change in approach, but that reactive performance against Tottenham Hotspur - that did just about pay off - was then so difficult to deviate from. Jose Mourinho's side struggled under that pressure. Conte's, meanwhile, revelled and revved up under theirs from the 3-0 defeat by Roma and so much speculation about the Italian's future. This was a proper response, as seen in the manager's chest-beating celebration, that has also now led to a proper run. Mourinho has lost all three of his visits to Stamford Bridge as United manager, and now looks no closer to winning the league. The run of always claiming it in his second season looks set to be broken.
Chelsea by contrast are far from broken. This game showed their resolve, and was also much more of a show than United's last two big-six matches.
There was in fact more action in the opening 20 minutes of this than there had been in both of their games against Liverpool and Tottenham Hotspur. It was both as if Mourinho wanted to make a point, and had realised the desperate need for three points after City's win. Marcus Rashford headed over from just yards out on eight minutes, and Romelu Lukaku brought a strong save from Thibaut Courtois shortly afterwards. The only problem with such proactivity - as Mourinho might well have always been fearful of - was that they were of course so much more open at the other end, and watching Chelsea create many more chances than they were.
Chelsea vs Manchester United: Player ratings

Show all 23
A Phil Jones own goal was ruled out for what was adjudged a push from Morata, Eden Hazard had a close-range shot somehow saved by David De Gea before Cesc Fabregas missed the follow-up, and Tiemoue Bakayoko seemed to find himself on the end of so many sudden breaks and bursts through the midfield. He just didn't quite have the poise to make the best of this, most noticeably skying one effort from the edge of the box.
This still represented a dilemma for Mourinho, in more than one sense. He needed to plug the hole in midfield, but that was directly connected to the crossroads he found himself in this match, and in the season.
He needed to attack, but wasn't completely comfortable with how that left the defence. Tthe halfway house decision of getting one of the centre-halves rather than Ander Herrera to pick up Hazard directly resulted in the holes that appeared in the backline for Chelsea's opening goal.
That should take nothing from Chelsea and his side. The high technical quality of that 54th-minute goal reflected the focus that the champions had shown all game.
So much for the disarray displayed in Rome. This was the opposite, with their bloody-mindedness on the day also the opposite of United. There was a fire about them, something that the return of the irrepressible N'Golo Kante is always going to help with. Even allowing for that, the word from their Cobham training base was that Conte had roared into the players, determined to ensure they were fully energised for this game. An example had been made of those like David Luiz, who was dropped after his performance in Rome, but it worked as the rest of them were so wondrously revved up. It could be seen in every 50-50, every break, and especially that goal.
The ball was sprayed out to Azpilicueta and, finding himself in the type of space that Mourinho would have been lived about, he predictably used that to pick out a perfect cross for Morata. The striker was in the same amount of space and duly used it too to offer a perfect header. De Gea couldn't even begin to try and save it, as the ball flew into the corner of the net.
Chelsea and Conte had got themselves out of a corner.
Mourinho now really had to respond, really had to go for it.
He did so by taking off the player who is notionally United's most creative, but never really gets to show it in a system where there is only ever one player ahead of him. Henrikh Mkhitaryan was taken off with Jones, and Anthony Martial and Marouane Fellaini were introduced.
It was easy to see Mourinho's simplistic solution: knock it long for Fellaini to flick on to Martial, Rashford and Lukaku.
The only problem with that was that United couldn't get on the ball enough to lump it forward, and they were now open enough that it was Chelsea who looked much likelier to score. They had so many dangerous breaks, with Hazard and Bakayoko thriving on the run, as Mourinho's side toiled to change gear.
They are always going to find that more difficult without the injured Paul Pogba, but it still came back to the dilemma from earlier in the game. If your default in such big games is to go defensive, you are going to find it then even more difficult to successfully go proactive and attacking, no matter who you have in the team.
A lot of the criticism from the Liverpool game was because of the reluctance to go at a rival that was then low and confidence and weak, and because of the damage it might do to their title challenge when City were winning all their big games.
That title challenge might already be fatally damaged, as we saw a consequence of all that here, but there are to be no consequences for Conte. Just another conquest of Mourinho.
Register for free to continue reading
Registration is a free and easy way to support our truly independent journalism
By registering, you will also enjoy limited access to Premium articles, exclusive newsletters, commenting, and virtual events with our leading journalists
Already have an account? sign in
Register for free to continue reading
Registration is a free and easy way to support our truly independent journalism
By registering, you will also enjoy limited access to Premium articles, exclusive newsletters, commenting, and virtual events with our leading journalists
Already have an account? sign in
Join our new commenting forum
Join thought-provoking conversations, follow other Independent readers and see their replies