Chelsea vs Manchester United, Antonio Conte vs Jose Mourinho and the cherished chance to have the final say
For all the diplomatic words they will engage in around the game, the truest remain those from another famous spat - they will both love it if they beat them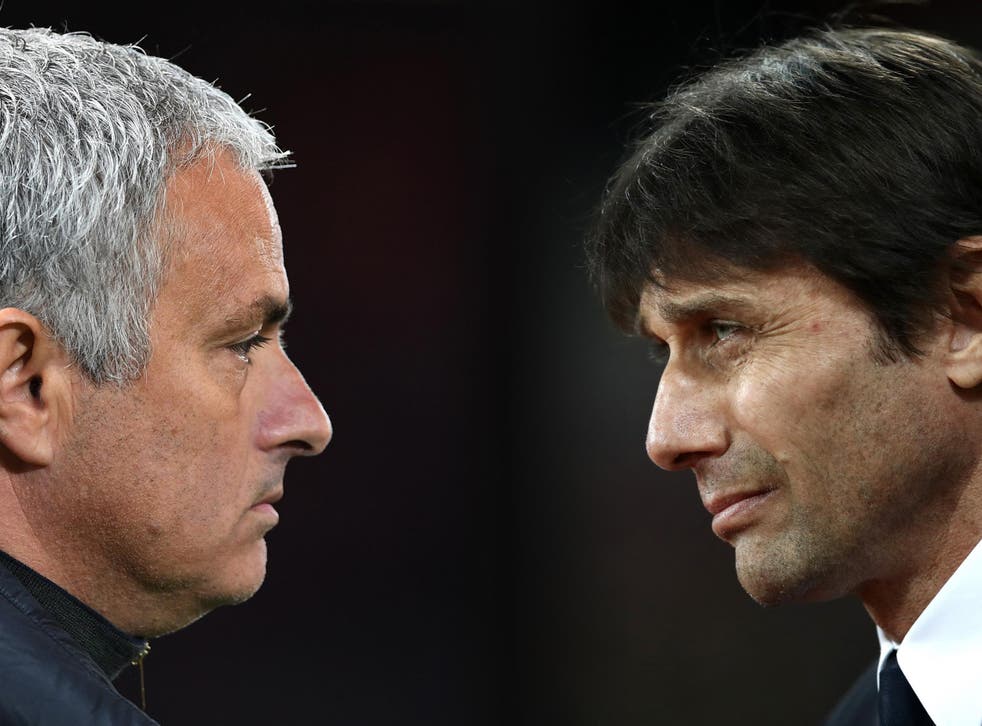 Towards the end of last season, as Jose Mourinho's jibes about Chelsea and their football became more and more frequent, many who know Antonio Conte were fully expecting one big swipe back. The feeling was that the Italian - no stranger to such spats back in Serie A - was merely patiently waiting for the position of maximum strength. He would maybe do it after his side had clinched the title, they thought, so he couldn't be accused of any bitterness.
So they waited, and waited… but it never came. Other than fairly general arguments about how both Manchester United and Manchester City had much bigger squads than Chelsea so therefore a significant advantage, Conte ultimately opted against adding to the pantomime. He stayed above it. Sure, there was the pointed mention of wanting to avoid a "Mourinho season" in preseason, but there was still a subtlety to that and plausible rationale at a muted time of the year, and it was really nothing like the kind of detonation those who know him from Italy had come to expect.
The wonder now is whether that opportunity for a position of maximum strength - of a high ground - is gone, as Chelsea host Manchester United on Sunday from lower down in the table and enduring a much more inconsistent season.
Manchester United vs Benfica player ratings

Show all 11
And, much as managerial rivalries may feel old hat in the build-up to a game, one of the unavoidable strands to this one is the spiky relationship between the two men on the sideline, especially since it has the capacity to further spark things on the pitch.
One of the curiosities to that strand, though, is that there was never any previous between Mourinho and Conte. They barely came across each other when Mourinho was Internazionale manager between 2008 and 2010, and in any case Conte was at a very different point in his career.
The Portuguese isn't even said to have any real personal issues with Conte, in contrast to the way he just dislikes some other managers, but then that only reflects how this has become so big because of bigger issues.
Conte occupies one of Mourinho's old jobs, and the manner it ended means it will for a long time occupy space in the United manager's mind. There will always be that edge for him. That is what has also caused some of the other flashpoints in this rivalry, even if Conte wasn't really the target. It is why Mourinho became so persistent in arguing that Chelsea were a "defensive" team last season given Roman Abramovich's much-discussed preferences, and why there was an extra delight in beating the champions to Romelu Lukaku's signature and then buying Nemanja Matic off them.
As regards the "defensive football", Conte actually began to become known as "the Italian Mou" when he started succeeding at Juventus and never really liked it because of the different way he saw the game, but accepted it because it was a byword for serial winner.
It was a first Conte win over Mourinho in their first English meeting that actually first properly perturbed the Portuguese back in October 2016, when he felt Conte's touchline antics were a bit too much for a 4-0 victory. Some close to the Italian said Mourinho's conspicuous word in the Chelsea manager's ear in front of the TV cameras showed this was mere deflection. It did still reflect the fact other Premier League managers get irritated with Conte's behaviour, although all say that he is "a perfect gentleman" away from the pitch and do like him.
That is another factor to this, though, that has so fired things. The mischievous boy in Mourinho greatly enjoys getting under the skin of the "gentleman". It's his nature, and he can now clearly see it works, further encouraging him. He revels in it. It's also hard to deny that it can be when Mourinho can be at his most entertaining, most amusing.
That will in turn only make Conte more irritated by it all. While he can go as hard as Mourinho in such spats, it is virtually always because he wants to make a specific point, rather than for the game of it all. That is another way they differ. It can all make a difference in this game, too.
For all that managerial rivalries are painted as superficialities and media nonsense that distract from the proper business of the actual football, they often initially stem from proper differences over how the game is played, and it would be deeply naive not to think they influence how their games are played too.
A decade of Sir Alex Ferguson and Arsene Wenger going at each other, so that their United and Arsenal teams went at each other's throats, should be the clearest evidence of that. As with Ferguson and Wenger, too, both these managers will be extra attuned to ensuring their players are properly energised for Sunday.
Conte made damn sure his Chelsea were revved up for the FA Cup win over United back in March, with Mourinho then doing the same for his side a month later in a 2-0 Premier League victory, even though he was at that stage openly prioritising the Europa League.
As with Ferguson and Wenger and Roy Keane and Patrick Vieira, too, all of that will directly feed into moments like Ander Herrera's red card in Stamford Bridge in March.
Further inflaming all of this is that both managers have had cause to explode at their players in recent weeks, with Conte said to have been especially stung by the nature of Tuesday's 3-0 collapse against Roma, and Mourinho "putting a rocket up his players" after the 2-1 defeat to Huddersfield.
There will be no mistaking a similar energy in the build-up to this game, just as there should be no mistaking the true feelings.
For all the diplomatic words they will engage in around the game and in the event of any result, the truest words remain those from another famous spat. They will love it if they beat them.
There's no swipe back, after all, like a big win.

Join our new commenting forum
Join thought-provoking conversations, follow other Independent readers and see their replies