Chelsea vs West Brom match report: Diego Costa's fine finish breaks down resilient Baggies
Chelsea 1 West Bromwich Albion 0: Antonio Conte's side picked up their ninth consecutive league win but they were made to work for the three points by the visitors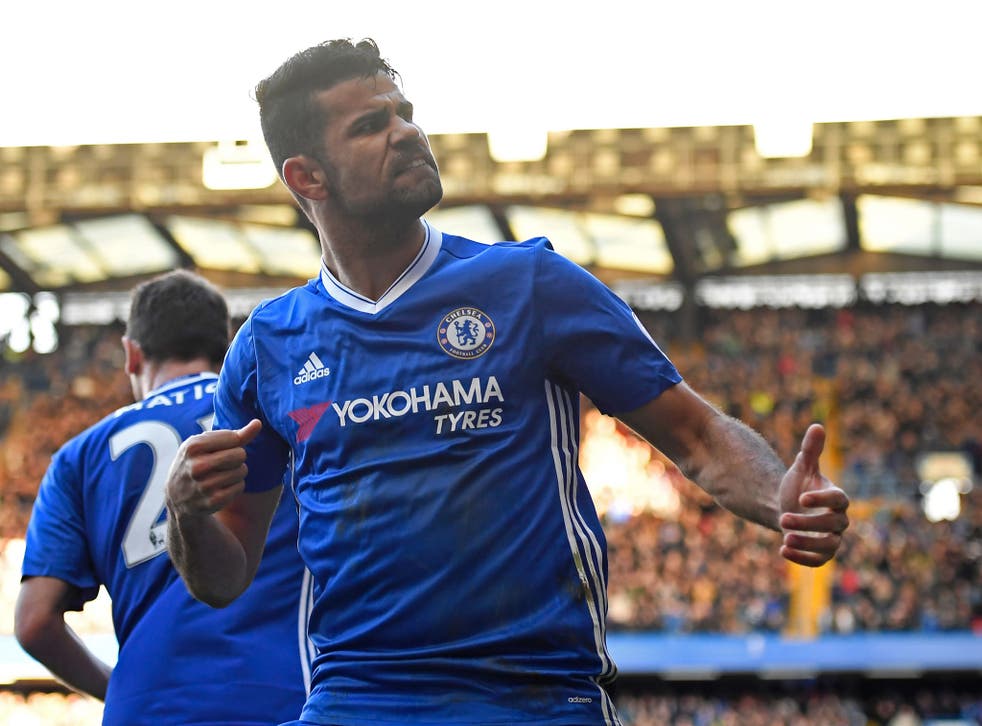 It will not be as easy as facing Manchester City every week, but this afternoon at Stamford Bridge Chelsea found a way to extend their Premier League winning run to a remarkable ninth game.
There were 14 minutes left here and Chelsea were just starting to look nervous, held to 0-0 by Tony Pulis' West Bromwich Albion, who had come to make life as difficult as possible for the league leaders. Then Diego Costa broke the game open with a brilliant solo goal.
That goal won the game, moving Chelsea back to the top of the Premier League, three points ahead of second placed Arsenal. This was certainly not the best that Chelsea have played recently, and might even be their most modest performance of their nine-game run. But teams that win titles need to be able to win games in different ways. Here they relied on a moment of individual brilliance from a player at the top of his game. It is not a bad option for Antonio Conte to have in his locker.
Costa now has 12 goals already this season, making him the top scorer in the Premier League. He is playing at least as well as he was when he arrived two years ago, under Jose Mourinho, and is unrecognisable from the man who spent the summer hoping to get a move back to Atletico Madrid.
His goal was pure Costa. He chased a hopeful forward ball from Cesc Fabregas down the right-hand side and when Gareth McAuley collected it, Costa decided to bully him off the ball. McAuley is not easily bullied and knows how to look after himself. But Costa brushed him aside as if he were a teenager getting to train with the first-team for the afternoon. Then, charging straight at goal, he bent the ball with his left foot away from Ben Foster and into the far top corner of the net. When Costa is at his best, as he is now, he mixes physical aggression with underrated technical class.
Up until that goal, this had felt like an unusually frustrating afternoon for Chelsea. Eight days ago they shredded City on the break, finding Pep Guardiola's set-up to be perfectly vulnerable to fast counter-attacks. Pulis and Guardiola understand football differently, though, and West Brom made it substantially more difficult for Chelsea than City did.
Pulis played a 4-2-3-1 with his two wingers, Matt Phillips and Chris Brunt, defending as auxiliary full-backs. That stopped Chelsea's wing-backs from overlapping and all of a sudden Conte's side had some work to do. Chelsea created almost nothing in the first half despite dominating possession and the best chances, in fact, fell to West Brom on the break. Brunt whipped a 30-yard shot just wide of the far post and Salomon Rondon dragged a shot off target after beating David Luiz down the left.
Luiz was Chelsea's major goal threat in the first half from free-kicks, which said a lot about Chelsea's struggles in open play and also about the scrappy standard of the match. The second half was not very different, and again Chelsea nearly equalised from a Luiz free-kick, which hit Pedro on the foot and skimmed just wide.
Conte knew that he needed something different to change the game, and introduced first Willian and then Fabregas. He even ditched the 3-4-3 for a more conventional 4-2-3-1 to give Fabregas a platform to play his passes and try to unpick the stubborn West Brom defence. Eventually he did get the assist that turned the game, and kept Chelsea's great run going. Although he did need Costa to do the hard work.
Next up, Sunderland, Crystal Palace, Bournemouth and Stoke City, and the chance for Chelsea to win their 10th, 11th, 12th and 13th consecutive Premier League matches. That would draw them level with Arsenal, who won 13 straight during the 2001-02 season, when they won the title. Who would now bet against Chelsea doing the same?
Join our new commenting forum
Join thought-provoking conversations, follow other Independent readers and see their replies