Billy Gilmour and Tino Anjorin give Chelsea hope of even brighter future
Both drew loud cheers when the stadium announcer read out their names from the teamsheet and impressed on their Champions League debuts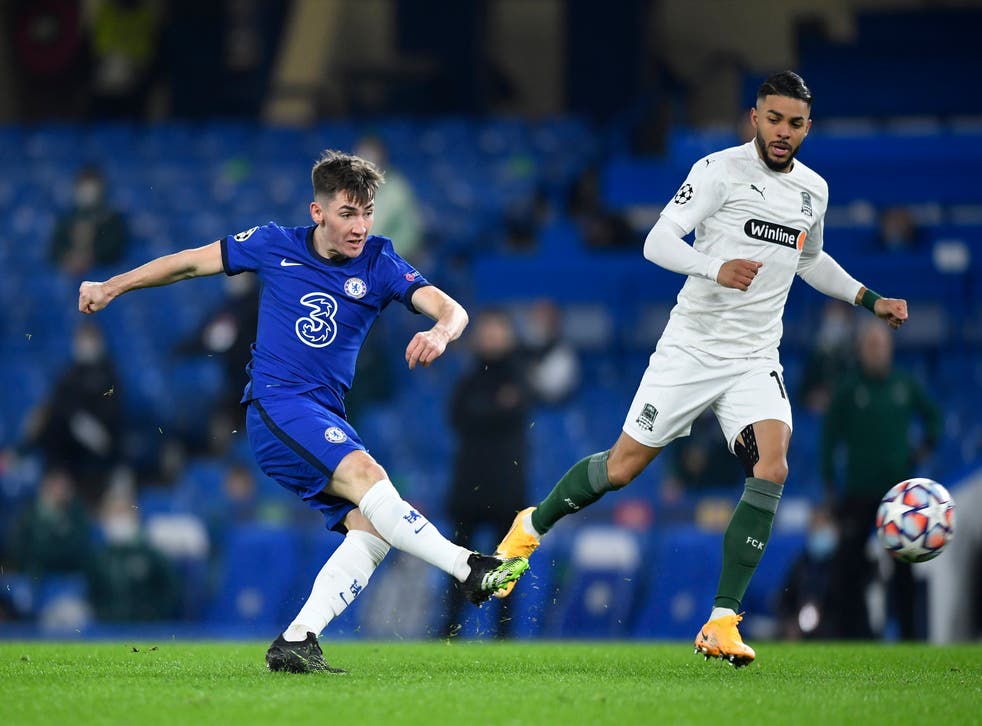 On a Tuesday night when all the action was happening elsewhere, being at Stamford Bridge felt like having your pick of a dozen evening dos and somehow ending up at the quietest one.
Even for Chelsea fans who might have been at their first home game since March's Covid-19 shutdown, certainly at their first Champions League game of the season and getting their first glimpses of Kai Havertz and Timo Werner in royal blue, it was a muted occasion. With Chelsea and Krasnodar set in their destinies of the latter stages and Europa League coming into this final game of Group E, the 1-1 draw was as uneventful as 1-1 draws get. Even the rain did not totally commit.
Yet amid the relative tedium were two beacons of promise. Two prospects, one a little more known than the other, on European debuts who provided enough talking points for the rest of the week of what they may do in years to come.
The man-of-the-match performance from Billy Gilmour (who lasted the course) and a 74-minute display from Tino Anjorin were not entirely a collective "I was there" moment. But the way they held their own, then picked up as the match went on, against an organised and combative Krasnodar, felt noteworthy. Modern football fandom loves going big on youngsters barely out of their milk teeth. But maybe they're right about these two.
Both drew loud cheers when the stadium announcer read out their names from the teamsheet. Gilmour even had the honour of his being sung before "Super, Super Frank" was squeezed into its usual slot before the referee's opening whistle. Anjorin received a standing ovation when he made way late in the second half.
They were pencilled in on the left – Gilmour that side of a midfield three, Anjorin higher up - but neither were restricted to their positions. Gilmour was busy, forward in his vision and thinking. What dips there were in composure were frustrated calls for the ball off Andreas Christensen and Antonio Rudiger so he could turn and spring attacks.
At times neither centre-back could fully commit to trusting him as much as Lampard clearly does. That looked particularly misguided when Gilmour rolled markers or, as he did at the end of the first-half, suck in two players when collecting an awry pass only to left-right his way between both of them and away up the field.
There's a cartoon character quality to Gilmour: inviting pile-ons yet somehow managing to sneak out of the bottom and stroll away, not a scratch on him. He may look a boy, but there's wisdom in those bones.
By contrast, Anjorin is fully-formed in a more recognisable sense. The look of astonishment on Krasnodar forward Wanderson's face spoke volumes after he scarpered through Chelsea, sights set on goal, only to find himself bumped off the ball comprehensively - and legally - by a teenager tracking back. That density is wedded with a craft and spatial awareness that allowed Anjorin to switch between hanging out wide and operating as a support striker within hand-shaking distance of Tammy Abraham.
He was unfortunate not to have played a part in the winning goal that never came. A deft slalom through the centre from the right took opponents out of the game and, with Timo Werner to his left, he opted for a trickier but more effective through-pass to his right. It couldn't have been played any better, and if Havertz had been a touch sharper, he'd have got a shot away instead of being smothered by goalkeeper Evgeni Gorodov.
Lampard was effusive about both after the match. "I thought Billy was outstanding on his full return," he said of Gilmour, who completed 76 passes from 85 attempts. "I felt very comfortable with him coming in."
Of Anjorin, he lauded the application of the talent he has seen plenty of behind the scenes. "In training, he's shown since last season since he's been involved with us. He showed a real ability to step straight in at this level."
It's generally at this point of any precocious footballer's arc that we look too far ahead, making promises of the world on their behalf. It's already happened with these two, after Gilmour's other man of the match performances on Premier League and FA Cup debut, and when the noise coming out of Cobham in May had Anjorin pencilled in for consistent appearances during Project Restart.
Both, however, had the brakes put on through injury. And while no injuries are good injuries, Gilmour's meniscus tear in his right knee and Anjorin's tear in a thigh muscle were perhaps silver-linings. Expectations tempered, even if only for a few months, ensuring the waves of hype did not suck them under.
We've seemed how such eagerness from the gantry can turn sour. Another Chelsea academy product, Callum Hudson-Odoi, is the best contemporary example of this.
Here is a player of immense talent who already seems to be swimming against the tide of over-expectation. His only crime seemingly being too good too quickly, hence Bayern Munich's persistence for his signature. That put him in a position where he could name is price in contract negotiations with Chelsea. The logic that more money would equate to further development followed.
Obviously that's not the case, but nevertheless Hudson-Odoi's position on the periphery of the squad, and the rumours that swirl, are unhelpfully framed by some as problems of his own making. As it happens, he now has additional time out of action after picking up an injury in training a couple of days ago.
His is no situation to rue, for that suggests any of this is too far gone for someone in the same class as Gilmour and Anjorin, who only turned 20 in November. It is merely a lesson that we should alter our broader thinking around the talents of his ilk.
All three have the backing of the manager, which is all that matters, and are factored into the bigger picture. That Ross Barkley and Ruben Loftus-Cheek were allowed to go out on loan is a nod to that, while a fortnight without Hudson-Odoi and Hakim Ziyech is another window of opportunity.
There have been plenty of inquiries over Anjorin's availability on loan, though Lampard is keen to monitor his current progression. The youngster improves with every first-team training session, and Lampard is especially wary of making him 90-minute ready, give struggles to complete matches at academy and age-group level. Napoli are keen on Gilmour in January, though the path to the first-team has fewer hurdles given Barkley's and Loftus-Cheek's absences, and Scottish midfielder's deep-lying range and desire to travel forward in possession a rarity in a star-studded squad.
Consistent game-time elsewhere for a period is a consideration, even a necessity for their long-term development. But for now, they are part of a Chelsea side two points off the summit of the Premier League off the back of a nine-match unbeaten run and a real shot at Champions League glory. The future certainly holds much for them, but there is enough to satisfy them, and us, here and now.
Join our new commenting forum
Join thought-provoking conversations, follow other Independent readers and see their replies