Timo Werner ends goal drought as Chelsea cruise past Newcastle
Chelsea 2-0 Newcastle: Striker bundled home the Blues' second as they rose back into the top four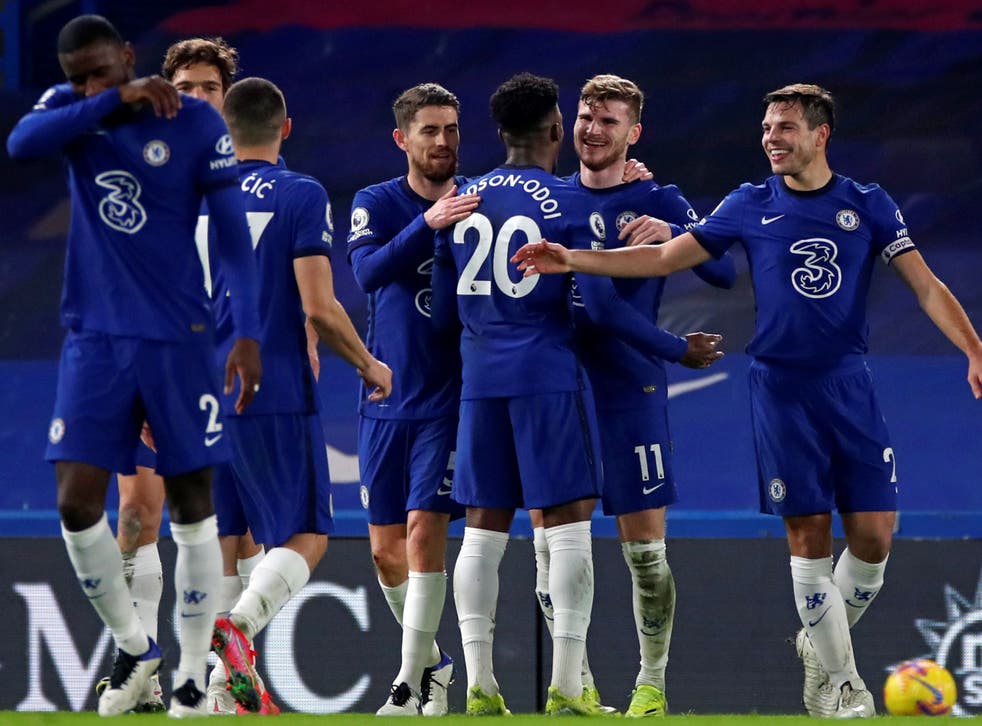 You might call it a 1,000-1 shot. It certainly felt like one had come in for Timo Werner. The German got his first Premier League in exactly 1,000 minutes, to end a long drought. The joy was etched over his face, but only after a moment of panic when it looked like the goal could be ruled. It was one of few wrinkles, along with a possible injury to Tammy Abraham, in an otherwise easy 2-0 win for Chelsea over Newcastle United.
This game felt more like another step in the side's development under Thomas Tuchel, rather than any kind of contest. There was even an encouraging display from surprise starter Kepa Arizabalaga to go with Werner's goal. But then perhaps the German's wait played some part in Steve Bruce's thinking for this game. The hope seemed to just be to try and make him and Chelsea wait longer.
Newcastle so often feel like a club that are just "existing", playing out time in the division so they get their Premier League prize money every year, but one of the greater current problems is that extends to the manager's tactics. They just exist in games, playing in a way that almost suggests they're simply hoping the opposition run out of time before they score. That can make a lot of games feel like they are endless.
This Tuchel side, however, have too much energy to be subdued by that type of game. The number of defensive mistakes Newcastle make does admittedly help, something that remains remarkably for a team managed by someone who so prioritises defensive organisation.
For the first goal, Andreas Christensen was able to just stroll out of defence and spray a cross-field ball. For the second, the lack of marking for a corner was eye-opening, and just opened it up for Werner.
The choreography and dynamism of Chelsea's play will naturally move a lot of teams out of position, it must be said. It also looked like Werner was in the mood before the goal. There was confidence to his running, if not yet his finishing. Shortly after that miss from Marcos Alonso's header, the German scorched Newcastle's left side, before firing the ball across goal. Karl Darlow could only parry it, leaving Olivier Giroud to power it into the empty net.
It was notable that teammates congratulated Werner for his contribution as much as Giroud. It was quite an intervention from the French forward, who had only been on a few minutes, having come on for the unfortunate Abraham. The England striker crumpled in a heap after a robust tackle from Jamaal Lascelles.
One of Newcastle's issues is that they weren't so assured in most other moments. The first half saw Bruce get into a running exchange with Emil Krafth over his positioning, constantly telling him he was too narrow.
Werner, for his part, was looking dangerous every time he went down that side. It was from there he got the goal, if from a few fortuitous bounces after a corner. Newcastle again just left so much space free, and were left to do little else than try and appeal for a handball. Giroud had raised his arm as he went up for the corner, but there had been no contact.
Werner's reaction was almost endearing: exhilaration, momentary anxiety as an on-pitch debate went on, and then joy as it was confirmed. The hope is that relief now releases the player, and his goals become the trend his abundant talent should make a guarantee. The corner did come from a move that is already a trend for Tuchel's Chelsea: a driving surge down the right with the wing-back - in this case the relentless Cesar Azpilicueta - overlapping.
Chelsea naturally slackened a bit in the second half, having got that second goal, and it did lead to a few rebukes from Tuchel. He first told Giroud to "take his time" and not attempt to play "one touch" with every ball. He then told the entire team to push up, and ensure they were always "in the opponent's half".
That is an indication of the attitude, and feels such a contrast to Bruce's approach. It led, most pointedly, to a contrast in fortune for Werner.
Join our new commenting forum
Join thought-provoking conversations, follow other Independent readers and see their replies