Chris Froome did not know about Sir Bradley Wiggins' TUEs prior to Fancy Bears leak
Wiggins took banned drug triamcinolone before three big races
Jack Austin
Monday 26 September 2016 09:10 Comments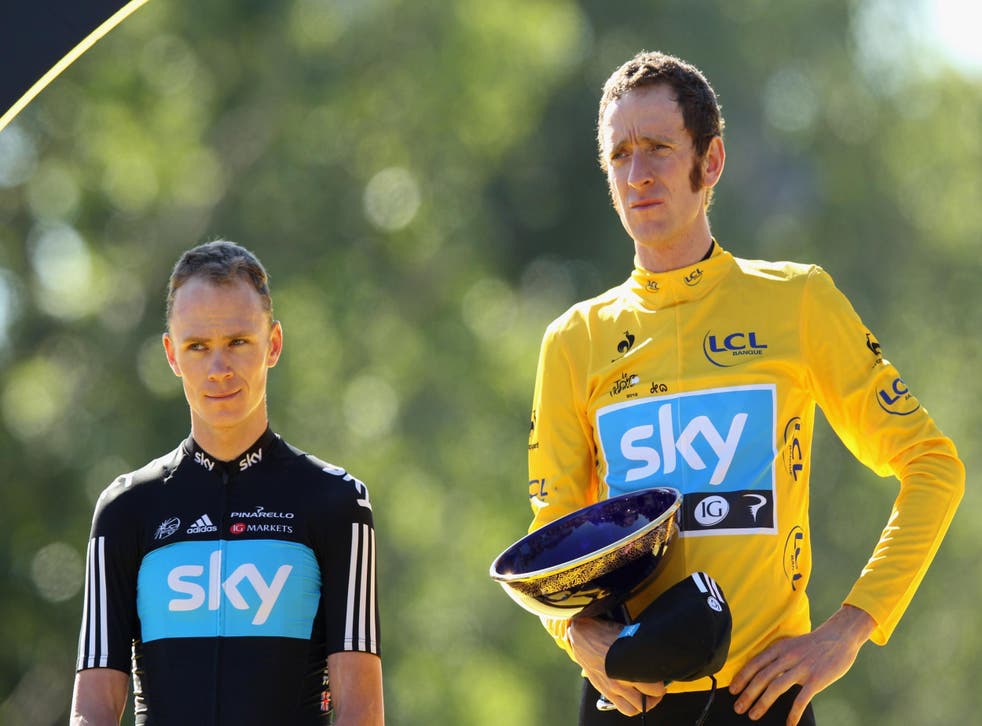 Chris Froome did not know that his former Team Sky teammate Sir Bradley Wiggins had been given permission to take injections of a powerful steroid before three of the biggest races of his career, including the 2012 Tour de France.
Froome infamously fell out with the eight-time Olympic medallist during the tour as Wiggins became the first British rider to win the Tour.
According to the Daily Telegraph, Froome – who controversially rode away from Wiggins in 2012 before he was ordered to go back and help is team leader – had no knowledge of the therapeutic use exemptions (TUEs) prior to the leak by hackers Fancy Bears.
Wiggins has come under the microscope since the hacking of his medical data and he suggested on the BBC's Andrew Marr show on Sunday that his TUEs were encouraged by Team Sky.
The 36-year-old told how he was approached by Team Sky staff in the build-up to the race and they said: "Bradley you're on track here – you're the favourite to win this race, now we need to make sure the next three weeks is – is there anything we can help with at the moment?"
Wiggins suffers from asthma and pollen allergies and replied that he was "struggling" with his breathing the week before.
He said he told them: "I know it didn't look like it [that he was struggling] but I – I kind of really – is there anything else you can do just to make sure that I don't – this doesn't become an issue into a three-week race at the height of the season? And in turn I take that medical advice."
He was prescribed triamcinolone, which is on the World Anti-Doping Agency's (WADA) banned list but is allowed to be used during a competition with a TUE, and the application was accepted by cycling's governing body UCI.
He was also prescribed the same substance for the 2011 Tour de France and the 2013 Giro d'Italia, leading to suggestions Team Sky applied for the drug for performance-enhancing reasons, rather than medical ones.
Register for free to continue reading
Registration is a free and easy way to support our truly independent journalism
By registering, you will also enjoy limited access to Premium articles, exclusive newsletters, commenting, and virtual events with our leading journalists
Already have an account? sign in
Join our new commenting forum
Join thought-provoking conversations, follow other Independent readers and see their replies