Chris Smalling interview: 'Louis van Gaal is receptive to other people's ideas at Manchester United'
He has been accused of being a dictator but Chris Smalling tells Tim Rich that public perceptions of Manchester United's manager are not shared by those who play for him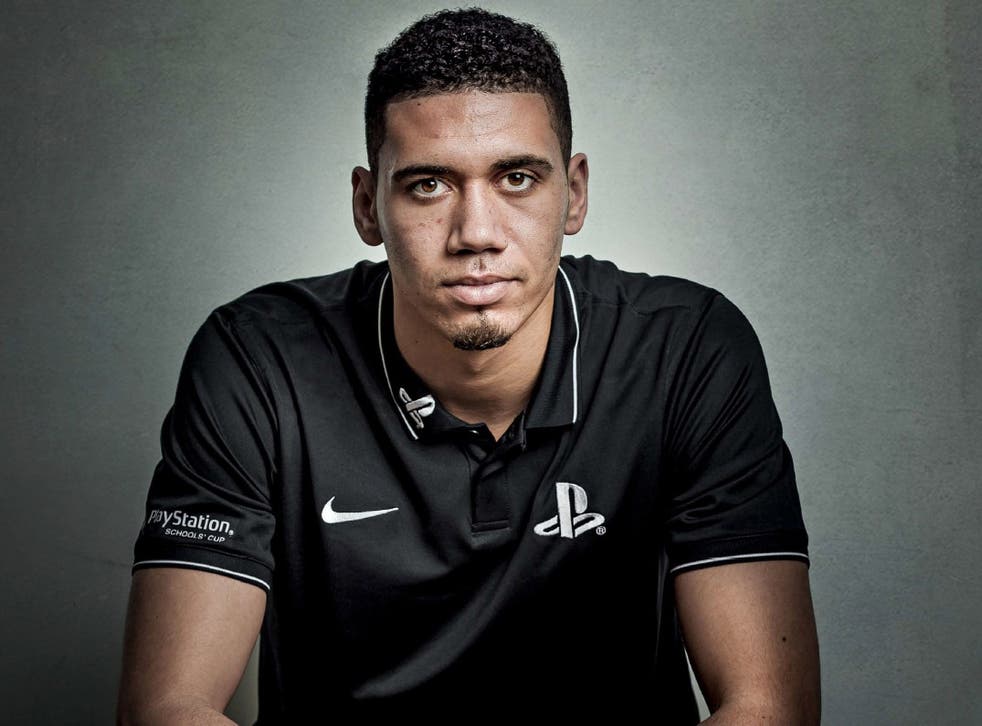 During his first season as manager of Manchester United, an internet site uploaded 10 quotes and asked their readers to guess whether they were uttered by Margaret Thatcher or Louis van Gaal. Were they the words of the Iron Lady or the Iron Tulip?
"I am who I am; confident, arrogant, dominant, honest, hard-working and innovative" could have applied to either. The phrase: "I cry almost every day, there is always something that touches me," made you wonder. They were both said by Van Gaal, whose regime is often satirised as a dictatorship, a republic of one.
Yet he has never liked his nickname: "I am not like that," he said. "A tulip is beautiful but iron is saying something about my personality that is wrong. I am fair to everyone."
There are three members of his playing staff whom Van Gaal consults regularly, the men he calls: "My three captains" – Wayne Rooney, Michael Carrick and Chris Smalling. "The manager has definitely softened in some respects," said Smalling, who is perhaps the Manchester United player to have benefited most from Van Gaal's management.
"He made it clear when he came in that he had a certain philosophy but, as time has gone on, we have all developed better relationships with him. He encourages us to talk. We have accepted his philosophy and, in return, he has accepted some of our views as well."
The last two games at Old Trafford have demonstrated just how differently Manchester United can play under Van Gaal. During the 1-0 defeat by Southampton, the worst of a sterile season, Manchester United, who have a section of their ground devoted to the men who have scored 100 times for the club, did not manage a shot on target.
When asked for the season's lowest point, Smalling ponders a while before saying: "Southampton was grim." That was when the pressure started to mount again on Van Gaal.
"We don't have a big meeting every time we lose but there have been certain times this season when we have all got together," said Smalling. "It has been a case of making sure we all stick together so that we can ride out the storm and show people what we are capable of. There have been a couple of those this season and the manager encourages us to try to sort it out among ourselves."
On Tuesday night, Manchester United played with freedom and panache. On Boxing Day, Stoke had beaten them 2-0 in the Potteries, a defeat that had Van Gaal talking openly of resignation.
They were swept aside in the return match and Smalling, who had expected to face Stoke's Spanish centre-forward, Joselu, found himself up against Peter Crouch. He coped effortlessly and the defence he marshals recorded its 13th clean sheet at home. "It is good to see he is listening and that he's put his trust in me," said Smalling (pictured left with Van Gaal). "It's nice that he's made me captain and it's a responsibility I like. It gives you an edge to set a standard others can follow.
"Van Gaal is receptive to other people's ideas. Obviously, he has his own philosophy and the way he wants to work, but he has been willing to listen and not just to us three. Others have also pitched in with their suggestions and that's how we can have a much better relationship going forward."
The most interesting relationship at Old Trafford is between Ryan Giggs and the team he used to play in. The official line is that Giggs is Van Gaal's anointed heir and that he will inherit.
It would be lovely to think of him as Pep Guardiola with a Salford accent, but with the real thing at Manchester City and Jürgen Klopp at Liverpool, you wonder if United would ever take the risk.
"He has the qualities to be a great coach," said Smalling. "The manager gives him a lot of responsibility when analysing the opposition and doing his team meetings. Quite often, when we are training 11 v 11, he will take one of the teams."
Giggs has a temper, albeit one Sir Alex Ferguson described as slow burning, but does he possess the ruthlessness a manager requires? "Oh, he is nasty enough and he has shown that in training," said Smalling. "If we are playing and he's not happy, he'll let everyone know about it."
One aspect of Smalling's game Van Gaal has encouraged is for him to carry the ball with him out of defence more than he once did. On Tuesday night, as he pushed deeper into Stoke's half, there was a cry of: "Don't get a nosebleed" from the crowd.
"Since Louis van Gaal has come in, I've pretty much always been fit," he said. "That has been the key factor. A lot more emphasis has been put on defenders under Van Gaal than under other managers, so there's been a lot more emphasis on bringing the ball out of defence."
Interestingly, he calls his manager by his name, rather than "boss", another sign relationships are not as distant as they might seem.
This afternoon, Smalling will share a pitch with John Terry for probably the last time. This will be Terry's first match at Stamford Bridge since announcing he will be leaving Chelsea at the end of the season. There will be plenty of "Captain, Leader, Legend" banners but beneath all the bluster is one of the great English defenders.
"It's the way he leads the team and the way he reads the game," said Smalling. "He never had that blistering pace but he didn't need it as he's always in the right situation. It's the way he gets other players to work around him which has enabled him to have such a great career. Technically, he's good with both feet and that makes a massive difference. I don't know who would be one or two in the list," he said, though Smalling reckons Gerard Pique to be just about the best centre-half in the world. "But he would be right up there."
Smalling is at Audenshaw School, where Greater Manchester starts to blur into Derbyshire. to support the PlayStation Cup, the country's biggest inter-schools football tournament. Audenshaw was once a grammar school, the kind that Smalling attended in Chatham, Kent. Mick Hucknall, the lead singer of Simply Red, who forged a close and surprising friendship with Ferguson, was educated at Audenshaw. Judging from the immaculate playing fields, it is a rugby school. Smalling, who played centre and wing-half at school, would approve. In his teenage summers, he enjoyed cricket, a bowler who batted eight or nine. These days, snooker is his other sport.
In the question and answer session in the sixth-form block, Smalling mentions something that says a lot about him. He bought his first car, a Renault Clio, the day before he took his driving test. He is always willing to back himself.
He would have been at Maidstone United then, debating whether to go to Loughborough or Leicester universities to study business economics or try to make it in football professionally. Just as Roy Keane did, he wrote to any League club he could think of, advertising his services.
Eventually, just before a university decision was due, Fulham took him on. In this age of Premier League academies, where they harvest children from primary school age, it is refreshing that the best English striker (Jamie Vardy) and the best English defender (Smalling) of this season were brought through by non-league football.
"A lot of people write about how players are pampered these days," he said. "And they are. You see the good facilities teams have no matter what league they're in. We were able to see the other side.
"Quite a few footballers drop out when they leave a top club, go to a lesser one and think: 'I should be a lot better than this level'. When you have come from the bottom and worked your way to the top, you are more grateful. Maybe some do try harder because they know what can happen if your levels drop the slightest. You fight to stay because you know how lucky you are and how precious it all is."
Chris Smalling was supporting the biggest grassroots football tournament in the country – the English Schools' FA PlayStation Schools' Cup. Since its launch, more than 150,000 players have been involved. Visit www.playstationschoolscup.com
Join our new commenting forum
Join thought-provoking conversations, follow other Independent readers and see their replies