Comolli is no threat insists Roy Hodgson
Liverpool manager denies arrival of controversial former Spurs man to oversee transfers weakens his position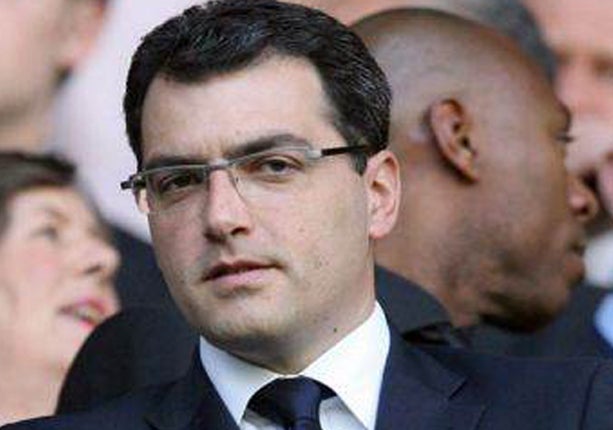 Roy Hodgson has insisted that the new Liverpool owners' decision to appoint Damien Comolli as director of football strategy does not represent a diminution of his authority at Anfield, despite the fact that it leaves him with less power than his predecessor Rafael Benitez.
Comolli's appointment by New England Sports Ventures (NESV) removes the last vestige of the boot-room culture at the club which imbued all the power in the legendary names of Bill Shankly, Bob Paisley and Joe Fagan and it raises questions about whether the Frenchman, whose responsibilities including player purchases, will be able to establish a better working relationship with Hodgson than with Martin Jol – with whom he clashed at Tottenham in a four-year tenure there.
But Hodgson, who yesterday refused to pick a fight with Benitez over the Internazionale manager's extraordinary attack on him at White Hart Lane earlier in the week, insisted that the idea of total power being vested in one man – as it was with Benitez, who would never have accepted Comolli's appointment – was "outdated."
The 63-year-old Liverpool manager said he expected to have the final say on acquisitions – "I do, yes. We will have to wait and see I suppose but there is no reason for me not to think like that" – though he acknowledged that a confrontation with Comolli was possible. "I can't imagine it happening, but who knows? Maybe it will and if that day comes, God forbid, I will deal with it. But I'm not going to be spending any time concerning myself with it at the moment."
Though Comolli's reputation has been tainted by his difficult relationship with Jol at White Hart Lane and the bad start to the 2008-9 season which saw him leave the club with Juande Ramos and Gus Poyet, he is considered by many to have been made a scapegoat for Ramos' failure at Spurs. The decision of John W Henry, principal owner of NESV, to appoint him reflects the new owners' fascination with the football model at Arsenal, where Comolli was chief European scout for seven years.
Comolli, who resigned his previous post at Saint Etienne yesterday, is already preparing to move in at the Melwood training ground. His appointment will raise questions about the future of Hodgson's position and calls into question where – if anywhere – Kenny Dalglish, the club's football ambassador, now fits in. The last remnant of the Benitez backroom regime, chief scout Eduardo Macia, also seems to be heading out of the club.
Hodgson is more familiar with power-sharing than most managers, having co-existed during his two spells at Internazionale with sporting directors Sandro Mazzola and Giacinto Facchetti.
Though the sporting director model is associated with internecine strife and failure in the British game – particularly among incumbent English managers, with Harry Redknapp quitting when Portsmouth introduced Velimir Zajec in 2004, attempts to impose the same structure at Birmingham were short-lived and the jury is out on Frank Arnesen at Chelsea – there have been instances of success. Dan Ashworth, a former academy director at West Bromwich, has worked very effectively in the role at The Hawthorns, acting as a buffer between Roberto di Matteo and Jeremy Peace.
Hodgson objected to the characterisation of Comolli as a failure at Spurs. "I think that must be a gross simplification of the matter," he said. "I would be surprised if managers and coaches of the class of Martin Jol and Juande Ramos just took players on someone else's recommendation, I don't know, but it won't happen here."
Henry, who has been on Merseyside since Monday, said Comolli's role would include "scouting, recruitment, player development and all of the other aspects necessary to build and sustain a club able to consistently compete at the highest level in European football." Hodgson said he had not recommended Comolli, but insisted the Benitez model of a hugely powerful manager was unsustainable.
"The new owners do not want that model where one man, whether that be me or anybody else, or Comolli for that matter, has all the cards in his hand and can decide everything that happens at the club," he said. "They want that responsibility shared about and don't want one person making all the decisions. That doesn't mean to say that what happened in the '60s and '70s is wrong. That was fantastic and Shankly will always be the great and the Paisleys and Fagans who followed him ... will always be great and worshipped. That's part of a club's football tradition. It's called living when you live. The days of the dictatorial-type English manager – when no one dared buy a paper clip without his approval – are gone."
Hodgson also had the aftermath of Benitez's extraordinary depiction of him as a "priest on a mountain of sugar" to deal with ahead of tonight's Europa League game with Napoli at Anfield.
"If I have upset him by saying something which I didn't mean to be in any way critical or negative about his work at the club then I would happily apologise, as there was never any intention on my part to do that," Hodgson said. "As far as I am concerned I will work at Liverpool and do my best for Liverpool and he will work and do his best for Inter Milan. I have no comment to make about other people's comments but I'll accept them if that's what they want them to be."
Hodgson is without Ryan Babel, who has bruised ribs, for tonight's match and is likely to leave out Steven Gerrard and Fernando Torres and allow David Ngog to lead the forward line again.
Join our commenting forum
Join thought-provoking conversations, follow other Independent readers and see their replies