Wilfried Zaha has finally come of age and Crystal Palace look all the better for it
The forward was exceptional on Monday night as he helped guide Palace to a well-deserved win over London rivals Arsenal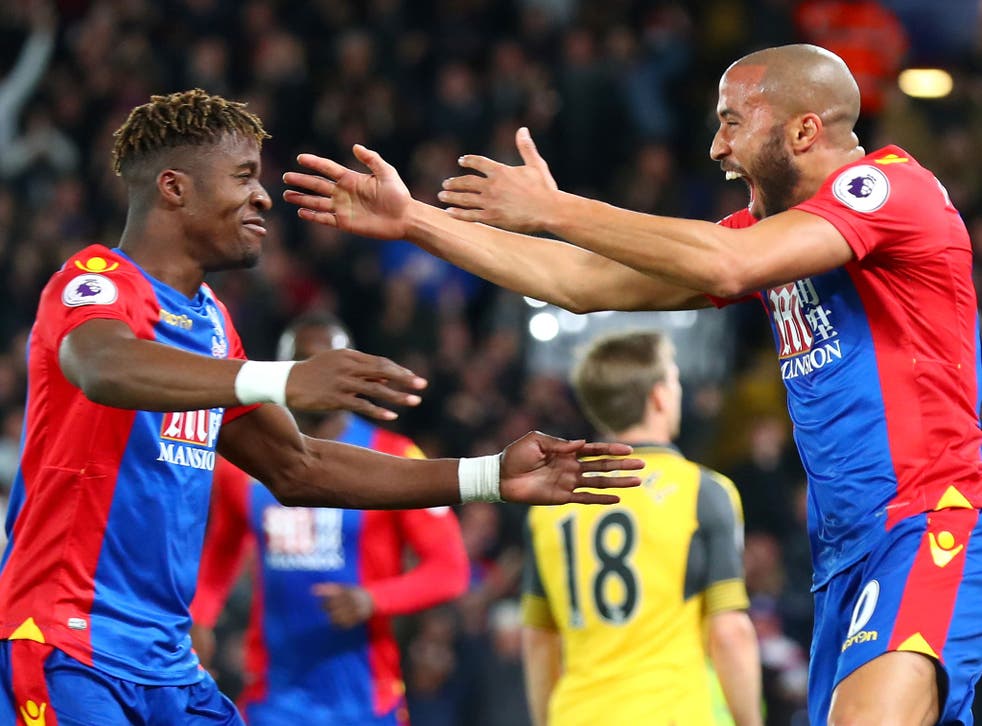 Wilfried Zaha is just one name on a list of players Arsene Wenger 'ummed' and 'ahhhed' about signing, only to think better of it.
And like Cristiano Ronaldo and Zlatan Ibrahimovic before him, he took revenge by putting Wenger's Arsenal to the sword and, surely, saving Crystal Palace from relegation.
Zaha was a supreme talent when the Gunners were eyeing his signature as a teenager, even visiting Arsenal's London Colney training ground as Manchester United dawdled over a transfer. He would end up moving to Old Trafford, a parting gift from Sir Alex Ferguson to David Moyes that the latter, horribly out of his depth, would treat with little more thanz contempt.
There is no doubt that the experience at United set Zaha's career back a little. A kid whose world was the familiar south London bubble that he lived in, was extricated to Cheshire and expected to behave way beyond his years in the way those schooled at The Cliff or Carrington would… but without ever receiving that education. Loan spells and an eventual return to Selhurst Park helped pick up a wilted Wilfried.
And yet the dead leaves of that experience are now fertilising the soil in which he grows, having furnished him with a series of valuable lessons on what is necessary to turn potential into performances at the highest level - and his displays this season mark him out as one of the Premier League's most dangerous forwards.
All feeble grasps at Zaha being unproductive have been dismissed. This is a player with more goals and assists than £50m man Raheem Sterling. Mesut Ozil, invisible at Selhurst Park, likewise has inferior numbers despite playing in a far superior attacking team. His pitiful performance merits many hundred words of its own as the dust settles on a harrowing defeat.
But back to Zaha, who Tottenham - in offering £25m for his services last summer - recognised the potential of but would now need to nearly double that figure to even get the Eagles to sit at the negotiating table. On the remote chance they should lose him, Palace will at least be reimbursed in a way that will allow them to re-stock their attacking ranks appropriately.
But for now the thought is not of them losing him but winning with him.
Outshining Eden Hazard at Stamford Bridge just ten days or so ago, the Ivorian international scored one and set up the other to dispose of Chelsea. In south London, he added two assists to his season tally, setting up Andros Townsend for the opener when the move had looked dead before cueing up Yohan Cabaye to hit a delicious pitching wedge over Emiliano Martinez in the Arsenal goal.
Even with the game done at 3-0, he was harrying and pressing defenders back to their own corner flag. Arsenal were run ragged by another talent that could have been theirs, with a little more conviction.
As the embers die on Wenger's reign, they are lacking so much more than just conviction.
Zaha was withdrawn, almost in pity for the Gunners, and received the standing ovation that his performance fully merited.
The ovation from the visiting fans was standing also, but only to walk up the stairs and out of the ground.
Register for free to continue reading
Registration is a free and easy way to support our truly independent journalism
By registering, you will also enjoy limited access to Premium articles, exclusive newsletters, commenting, and virtual events with our leading journalists
Already have an account? sign in
Join our new commenting forum
Join thought-provoking conversations, follow other Independent readers and see their replies