Frank de Boer reveals the words of wisdom from Louis van Gaal that mean he won't be changing his philosophy
The Dutchman heads into Sunday's fixture at Burnley fighting to retain his first job in Premier League management after a slow start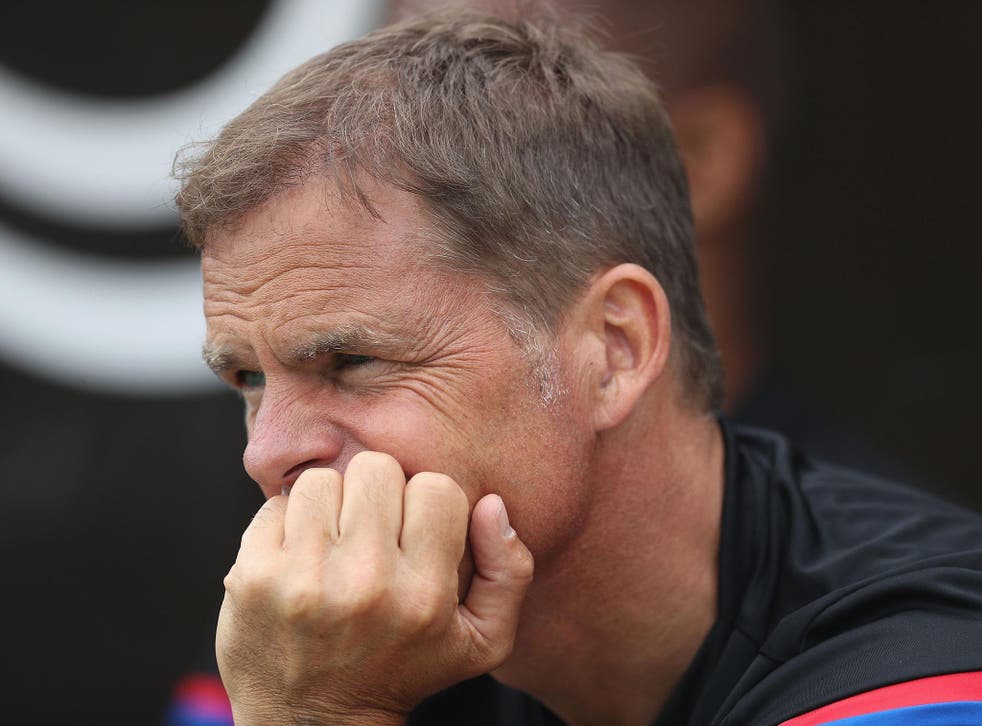 Frank de Boer has revealed the words of wisdom from Louis van Gaal that mean he won't be changing his philosophy despite Crystal Palace's slow start.
The Dutchman heads into Sunday's fixture at Burnley fighting to retain his first job in Premier League management having so far overseen three defeats from three.
Palace have so far struggled in his attempts to encourage a different style of a play from that seen under his predecessor Sam Allardyce, who this week has spoken of his belief greater pragmatism is needed.
Yet having spoken about English football to Van Gaal, his manager with Holland, Ajax and Barcelona, and seeing him sacked after two years at Manchester United after abandoning the plans he first adopted, he retains conviction in his methods.
De Boer even believes it could take six months before Palace become a team in his image, but the 47-year-old said: "I spoke to him before I came to Crystal Palace. 'How's the Premier League? What about assistants? Did you bring your own staff?' Those kind of questions you're going to ask. The only thing he regretted: he played 3-4-3 in pre-season, and then he lost the first game and changed it to 4-3-3. He regretted that, and that's why you have to stick to your own philosophy.
"He did the same at Barcelona when he put Rivaldo in the number 10 position; suddenly the team wasn't the team any more, and we went down in performance. Always stick to your own philosophy: that's a very important lesson."
Despite the pressure he is under to deliver at Palace having had his reputation damaged by being sacked in 85 days at Inter Milan and amid intense speculation surrounding his future, De Boer far from cut a figure feeling the strain.
A decorated career spent managing in the demanding environments of Ajax and Inter, and playing for the former, Barca, Rangers and Galatasaray has given him the ability to cope with that pressure. He regardless insists it remains greater in management, even if he is employed by a less illustrious club.
"As a manager you always have more pressure," said the Dutchman, who on Sunday again has James Tomkins and Ruben Loftus-Cheek available. "As a player I was nervous before games, you need tension to perform, and when the referee whistled, it was over, I was focused on the game. As a manager, you don't have that influence on the game itself.
"I want players that recognise what they have to do in certain situations. They have to recognise 'Okay, now we have to do this, now we have to do that'. That takes time. Automatically, so I don't have to shout from the bench. All those things.
"After six months, you'll see you're getting more back in every game. It always takes time. I was a youth coach, and after six months it was 'Hey, now they're playing the way I think they have to play'.
"Continue what you believe in. That's a process, and it takes time."
Register for free to continue reading
Registration is a free and easy way to support our truly independent journalism
By registering, you will also enjoy limited access to Premium articles, exclusive newsletters, commenting, and virtual events with our leading journalists
Already have an account? sign in
Register for free to continue reading
Registration is a free and easy way to support our truly independent journalism
By registering, you will also enjoy limited access to Premium articles, exclusive newsletters, commenting, and virtual events with our leading journalists
Already have an account? sign in
Join our new commenting forum
Join thought-provoking conversations, follow other Independent readers and see their replies