Luka Milivojevic misses stoppage-time penalty as Crystal Palace end Manchester City's winning run
Crystal Palace 0 Manchester City 0: The visitors lost both Gabriel Jesus and Kevin de Bruyne to injury while questions will be asked over the Eagles' late penalty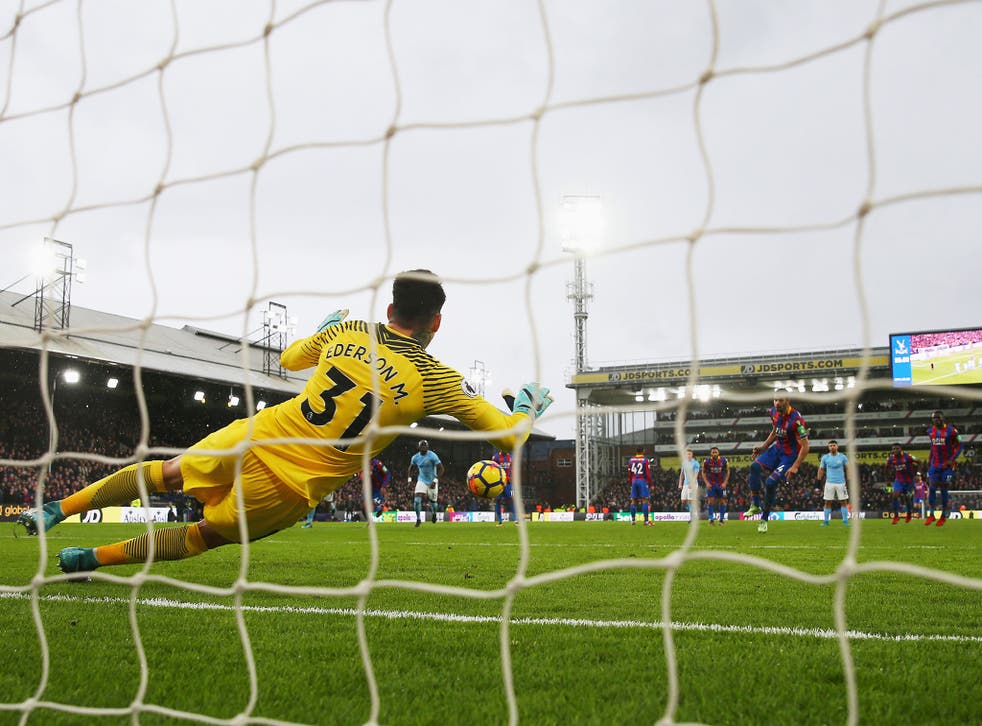 So, one moment of celebration for Manchester City in the 90th minute, but only amid what might well be as bad a day as Pep Guardiola and his league leaders are going to suffer this season. Jason Punchon, meanwhile, put in as bad a challenge as anyone will see this season, in a 0-0 draw at concrete-hard Crystal Palace that could have consequences for everything beyond the title race.
An Ederson save from a weak and - given Wilf Zaha's theatrics - controversial Luka Milivojevic penalty preserved City's unbeaten record but their record winning run stops at 18, and both Kevin De Bruyne and Gabriel Jesus went off in anguish with what looked like concerning injuries.
The Belgian had his hands on his head as he lay on a stretcher after Jason Puncheon's atrocious late challenge, while the Brazilian left the pitch in tears. Much of this is relative given there is already talk that City will now go out and sign Arsenal's Alexis Sanchez, but they have not had such worries since their 1-1 draw against Everton earlier this season and rarely impressed here at Selhurst Park.
That was down to a very impressive Palace. Roy Hodgson got his game-plan absolutely spot on, with every percentage play coming off, bar the final millimetres in attack. That could have of course could have been so different had Milivojevic put his penalty a few millimetres wider either side of Ederson, though the nature of the penalty, with Zaha going down easily, likely to draw as scrutiny – as will Puncheon's reckless challenge.
Such aggression is something City have had to live with in recent months, but they haven't quite had to live with opposition displays as disciplined and creditably frustrating as this. If Palace's penalty miss was in-keeping with a trend of their season, their approach here might set a new trend against City.
One of the remaining points of interest in the leaders' procession to the title is the best way to actually try and get a point off them, and how to nullify their attack.
As was so illustrated in the debate after Newcastle United's 1-0 defeat, the fundamental dilemma is one of balance. Managers have to work out a way of frustrating City and congesting the defence, but also give them enough to think about in their own high defence to take some of the sting out of their front men. Go too far one way and you invite them to do the inevitable in what seems a submissive performance. Go too far the other way and you instead grant them the freedom of your own half.
Hodgson, however, made those two halves meet so much better than most - especially in the first half. Palace were keeping City's exposed defence on edge through the pace of Zaha, but were also impressively sharp any time Guardiola's attack got forward. Even though it often looked like there was suddenly space to surge into, players like Patrick van Aanholt, James Tomkins and Jairo Riedewald were more than often quick enough to get a foot in. The balance was taut, but they were doing it.
That they were mostly doing it without Scott Dann was even more impressive. The captain had typically been leading every Palace defensive move in the early stages, before having to unfortunately go off on a stretcher after just 20 minutes, to be replaced by Martin Kelly.
It said much that Guardiola decided to switch the positions of Ilkay Gundogan and De Bruyne so early on, and the Belgian has rarely been reduced to the fringes of a match so much this season.
Even City's closest opportunity came from Palace's defensive sharpness, as another impressive Riedewald interception deflected substitute Sergio Aguero's shot onto the post.
Another part of that dilemma, however, is that you also have to balance the use of your energy. Executing that taut game-plan against such an excellent side takes a lot of effort, and the flipside is that you will tire as a match goes on.
That was when Leroy Sane forced a fine save off Wayne Hennessey, City had another effort cleared just in front of the goal, and De Bruyne had another shot blocked by Kelly.
It was that stage in the game when Palace were stepping back deeper and deeper, with Guardiola also bringing on Raheem Sterling to give City more angles.
And yet the natural balance of a football match meant there was then an expanse of space in behind, that the home side probably should have exploited. One rare late attack saw the ball flash across the area towards a completely free Andros Townsend, only for the winger to completely snatch at the chance and send it high over the bar.
It was that space that saw Zaha finally make a run that brought a nudge from Sterling for the penalty, only for Ederson to stand so strong by getting down well.
That didn't change the score, then, but what happened next might yet cause changes for this season, with Puncheon putting De Bruyne out of the game after his reckless challenge.
Guardiola now falls one game short of his own Bundesliga record of 19 successive wins, but that will feel insignificant next to potentially serious injuries.
Join our new commenting forum
Join thought-provoking conversations, follow other Independent readers and see their replies