Frank de Boer clinging on to Crystal Palace job as he accepts tactics must change ahead of must-win Burnley trip
The Dutch manager could still be sacked before reaching Turf Moor next weekend after a terrible start to life at Selhurst Park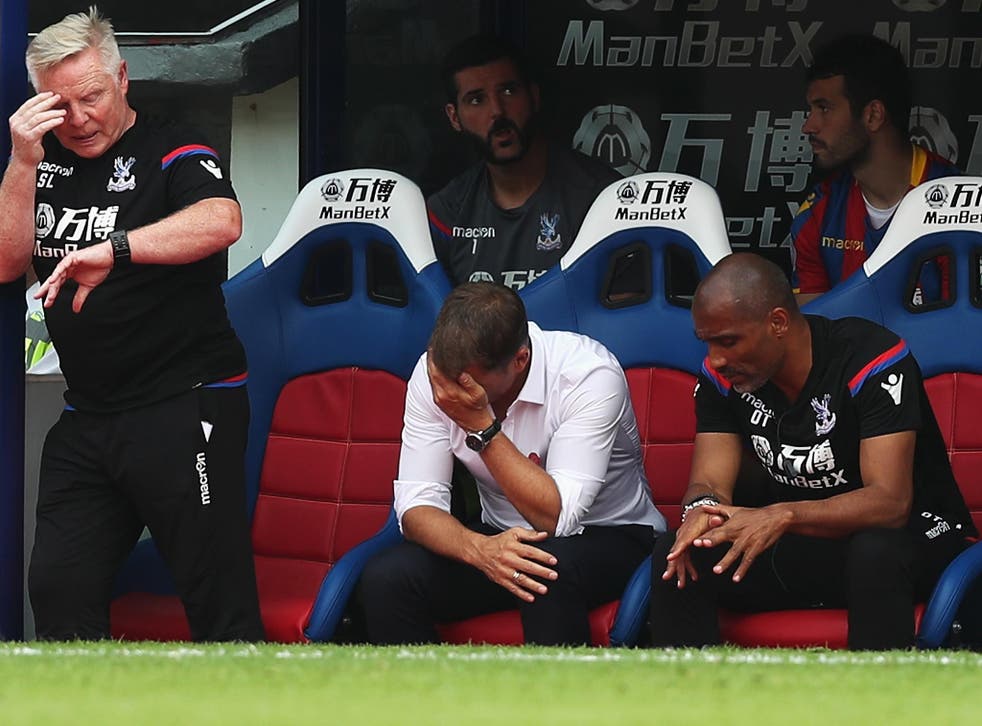 With zero wins and not a single goal from three games, now is not the time for being dogmatic.
Instead, Frank de Boer is willing to be pragmatic and is preparing to compromise on his deeply-entrenched coaching values by ditching the 3-4-3 formation that Crystal Palace players have struggled to adapt to.
De Boer is understood to be focused on Burnley away next Sunday, a game where his job is on the line, though he has been given no assurances that he will even last that long by a board that are ready to pull the trigger and have already sent out the feelers to potential replacements.
The Dutchman has endured a torrid start to his time in south London, losing all three Premier League games and two particularly damaging fixtures at home to sides expected to battle relegation.
It is no secret that members of the Palace hierarchy have been deeply unimpressed by the former Ajax and Inter Milan boss' start to life at Selhurst Park. Similarly, De Boer is aware of the reports swirling about his future but more aware that he simply needs to win.
His players have failed to fit in the new system, but have looked far more comfortable when reverting to a 4-3-3 during games, and De Boer is understood to see that as the way forward if he is in charge for the Eagles' trip to Turf Moor.
A switch in shape would, it is hoped, bring out the best in some of last season's key players that have underperformed so far this season, including January arrival Luka Milivojevic and unfit blue-chip talent Yohan Cabaye. Yet this will depend on De Boer's ability to transmit his message to the players and show a more human side, with some players feeling that the Dutch coach is a little cold.
De Boer was largely excluded from the club's desperate deadline day search for players, but that isn't a concern for a coach used to having a sporting director and further defined his job as simply turning the team's fortunes around on the training ground.
But there is a fear from those close to him that the club's inability to find a back-up striker to Christian Benteke could ultimately cost the head coach, whose only alternative is Connor Wickham - still injured nearly a year on from his last appearance.
The club also failed to move on some players that the Dutchman had made clear wouldn't feature in his plans and, rather than upgrading on goalkeeper Wayne Hennessey by finding a goalkeeper comfortable with the ball at his feet, instead thinned out the senior keeping corps.
The Eagles could yet look to add a free agent to address one of those holes but, whatever the personnel, De Boer knows Burnley will be do-or-die... should he get there.
Register for free to continue reading
Registration is a free and easy way to support our truly independent journalism
By registering, you will also enjoy limited access to Premium articles, exclusive newsletters, commenting, and virtual events with our leading journalists
Already have an account? sign in
Register for free to continue reading
Registration is a free and easy way to support our truly independent journalism
By registering, you will also enjoy limited access to Premium articles, exclusive newsletters, commenting, and virtual events with our leading journalists
Already have an account? sign in
Join our new commenting forum
Join thought-provoking conversations, follow other Independent readers and see their replies