British NBA star Luol Deng laughs off suggestions of Crystal Palace takeover
Despite admitting in January that it was his dream to buy Crystal Palace, the LA Laker, who grew up in south London, said now wasn't the time for such a project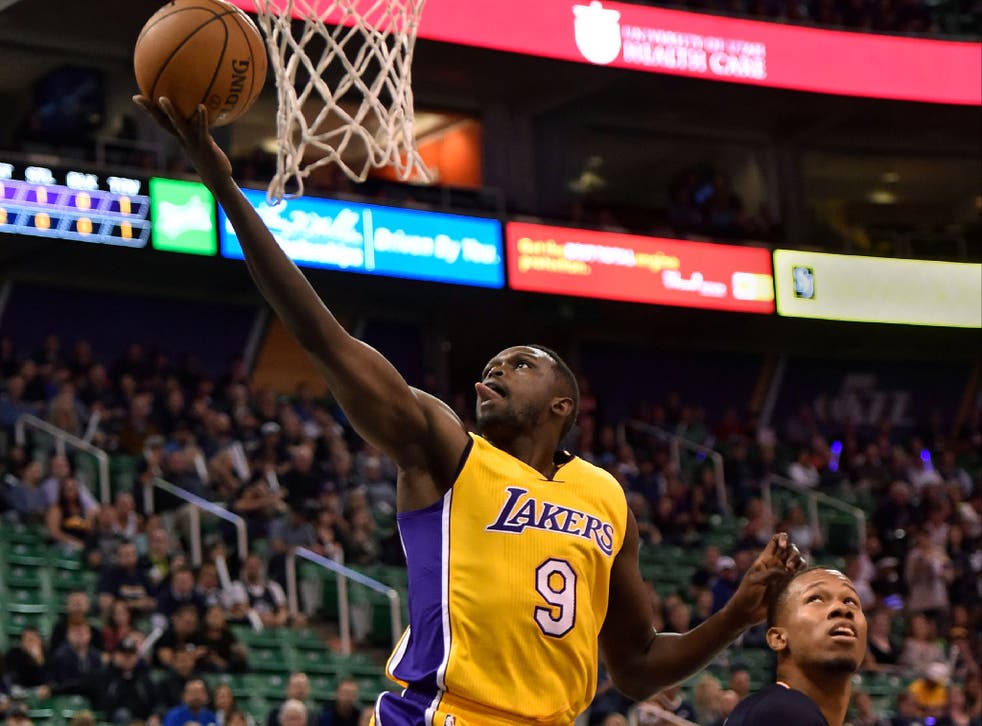 British NBA star Luol Deng has laughed off suggestions that he is poised to become the new owner of Crystal Palace.
The LA Laker, who grew up in south London after moving from South Sudan where he was born, said it was his dream to buy Crystal Palace in January.
The 32-year-old is a two-time NBA all-star champion and is, in fact, an Arsenal supporter.
When Deng was asked whether he would be interested in buying Crystal Palace he laughed and said: "I was asked if I had the opportunity, would I? Of course, I lived, from Selhurst Park, not even a five minutes' walk.
"I lived right next to Norwood Junction train station so for me I have spent a lot of time climbing up and trying to get a peek at the football games and matches but it's always been my second team."
He insisted, though, that the time wasn't right: "These talks are a long way from where I am at right now."
There was plenty of unrest towards the end of last season from Arsenal fans regarding the future of their manager, Arsene Wenger, but the Frenchman signed a new two-year deal a few days after the north London club won the FA Cup in May.
The NBA star has followed the Gunners for a long time and believes the club made the right decision by handing Wenger a new contract.
When Deng was quizzed whether he was a fan of Wenger, he said: ""Yes, definitely. I think what he has done in the past 20 years for Arsenal, has just been amazing.
"I think people are always going to ask for more. I think he's one of those guys you love him and you're going to love him, even more, when he leaves."
Deng, who is going into his 14th season in the NBA, believes the issue whether Arsenal are succeeding goes beyond the manager's role.
He said: "I think the frustration isn't really about the style he plays I think it's more about Arsenal spending money.
"I don't really know what's behind that whether that is him or the team concept in general."
Deng was speaking in London at his annual 'Deng Top 50 Basketball Camp' which caters to boys aged 18 from across the UK.
His camp runs in tandem with the Luol Deng foundation which offers basketball to the underprivileged in Africa, the US and the UK.
Deng said: "For me, developing basketball in the UK is a huge part of me I know a lot of people that are from here.
"Their kids are here now getting older; my family still lives here so for me to see other basketball players from the UK means a lot to me and I try everything I can to help these kids."
It was announced in August that there will be an NBA London Game in 2018 which will feature the Philadelphia 76ers and Boston Celtics who will play at The O2 on January 11.
Deng believes it's a great opportunity for basketball in England: "I think you know for these kids to see it and to see NBA players live and for the sport of basketball I think it's huge.
"For me, I wish when I was growing up here to see NBA teams were coming. To me, to see that now as a kid I think that's amazing."
Register for free to continue reading
Registration is a free and easy way to support our truly independent journalism
By registering, you will also enjoy limited access to Premium articles, exclusive newsletters, commenting, and virtual events with our leading journalists
Already have an account? sign in
Register for free to continue reading
Registration is a free and easy way to support our truly independent journalism
By registering, you will also enjoy limited access to Premium articles, exclusive newsletters, commenting, and virtual events with our leading journalists
Already have an account? sign in
Join our new commenting forum
Join thought-provoking conversations, follow other Independent readers and see their replies