Darren Fletcher: I didn't just want to sit on bench, says new West Brom signing
Burnley vs West Brom: Scot sheds no tears as he looks to make up for lost time at West Bromwich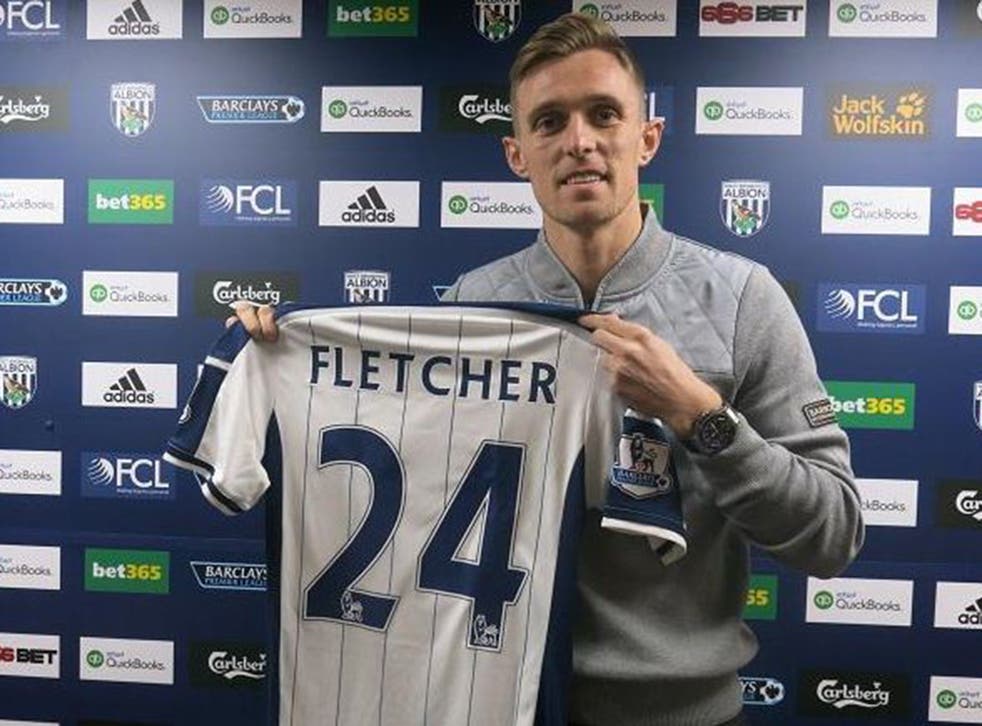 If Darren Fletcher had even the faintest doubt left about the wisdom of his deadline-day free transfer from Manchester United to West Bromwich Albion, it would surely have vanished with the sight of that photograph of Louis van Gaal's team sheet the following night.
The fact Fletcher's name, pictured with a line through it, was printed among the substitutes for United's FA Cup tie against Cambridge United underlined why the homegrown midfielder chose to leave Old Trafford. For a man who had battled back from a debilitating bowel condition for the dream of running on to a football pitch again, an automatic spot on the bench each week was simply not enough.
"After everything I have been through, to not be playing was difficult for me," said Fletcher, who underwent three operations during a lengthy struggle with ulcerative colitis in his later years at United.
"Fighting the illness was to keep playing football. I thought it would be at Manchester United but that's not the case. It's here now at West Brom. When I was fighting all those dark days, I was a young man and had worked all my life and dreamed of becoming a professional footballer and I didn't want to give up on that too early. My kids [twins Jack and Tyler, now seven] were still young and hadn't seen me play that much. All these things were driving me on."
The fact Fletcher lost virtually two years of his career between November 2011 and December 2013 – a period in which he made only 10 appearances – helps explain his frustration when, after starting Van Gaal's first three League matches, he began just one more, the draw at Aston Villa in December.
"You accept squad rotation and all these different things I had done over the years but when you are on the bench week upon week it does become difficult when you feel you have got so much to give," added the 31-year-old at Albion's training ground on Friday.
When Phil Neville departed Old Trafford for weekly first-team football at Everton a decade ago, he left Sir Alex Ferguson's house and, he revealed later, "went home and cried my eyes out for 24 hours". In Fletcher's case, he has taken Sir Alex's advice too, but there were no tears. "I never shed a tear, no. Although I've been at United my whole life, I left Scotland to come to Manchester United and now I'm moving on to the next chapter."
And like Neville, he hopes to write a successful chapter elsewhere. "Phil is the example and that is something I would like to repeat here at West Brom – having my career at Manchester United and achieving great success and now coming and having success at West Brom as well, whatever you may judge that to be. I've said before, why not go and win a trophy or finish as high up the league as possible?"
The first priority is survival. Fletcher's experience of 342 games in a United shirt, the West Bromwich manager Tony Pulis has told him, should be significant in "setting the standards" in the dressing room; Fletcher hopes the rhythm of regular starts will help him rediscover the best of himself at club level and with a Scotland side aiming for Euro 2016 qualification.
"I feel getting back to that level will come with a run of games and I've definitely noticed the intensity of training is a lot harder in the last few days here. With that combination of things, hopefully I can get back to the level I could be at. Even without the illness I would have adapted my game as I got older but I still feel capable of doing the things I used to do."
Until last weekend it had appeared that Fletcher, who has signed a two-and-a-half year deal with Albion, would be making this fresh start at West Ham. "When I went to speak to West Ham and discuss things, I had already done that with West Brom," explained Fletcher, whose negotiations with the Londoners fell through when they sought a loan rather than permanent deal. "Things [I was told] would happen didn't happen and I didn't feel like it was for me," he added. The result is Fletcher's debut today against Burnley at Turf Moor.
It is 12 years since his United debut against Basel in the Champions League yet Pulis is happy to keep one United tradition going. "He told me if I'm not doing it he'll be giving me the hairdryer treatment. He left me under no illusions – he expects his players to do this or that and if they don't do it, they'll be told. Great. I am used to that."
Probable teams:
Burnley: Heaton; Trippier, Keane, Shackell, Mee; Arfield, Jones, Marney, Boyd; Barnes; Ings.
West Bromwich Albion: Foster; Wisdom, McAuley, Dawson, Lescott; McManaman, Fletcher, Yacob, Brunt; Berahino, Anichebe.
Register for free to continue reading
Registration is a free and easy way to support our truly independent journalism
By registering, you will also enjoy limited access to Premium articles, exclusive newsletters, commenting, and virtual events with our leading journalists
Already have an account? sign in
Register for free to continue reading
Registration is a free and easy way to support our truly independent journalism
By registering, you will also enjoy limited access to Premium articles, exclusive newsletters, commenting, and virtual events with our leading journalists
Already have an account? sign in
Join our new commenting forum
Join thought-provoking conversations, follow other Independent readers and see their replies