The art of dribbling: Darren Huckerby on City, Messi and that goal against Manchester United
In the latest instalment of our series, one of the Premier League's most skilful carriers of the ball explains how he honed an instinctive talent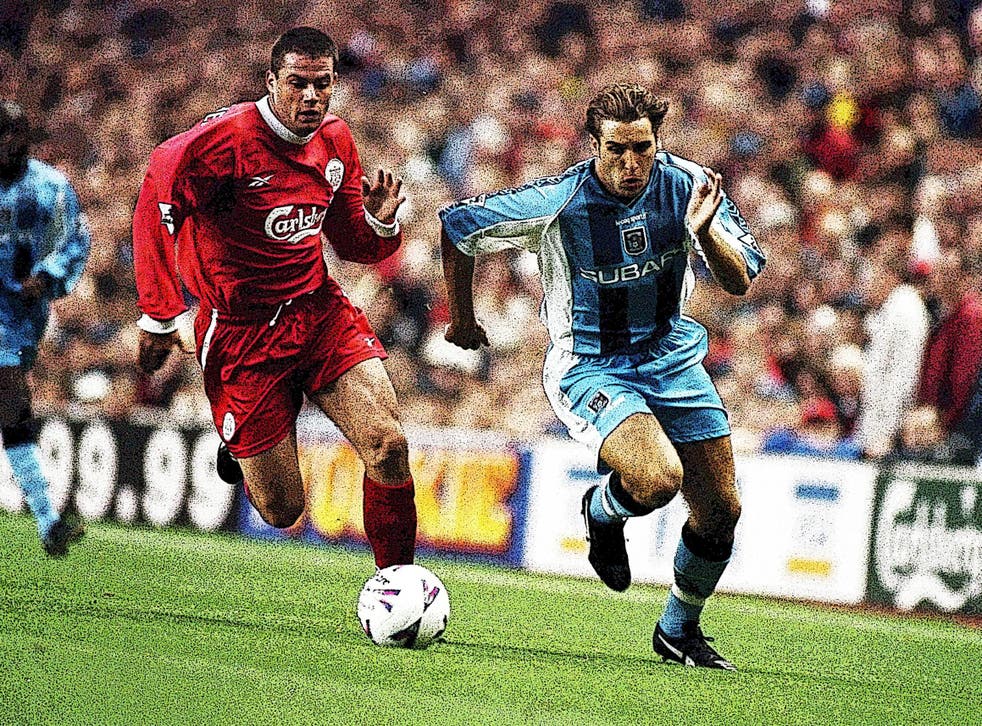 It was one of the most iconic Premier League goals of the 1990s, combining the fearlessness of youth, a David-vs-Goliath underdog triumph and the kind of solo run every hopeful young footballer dreams of.
In the 1997-98 season, the Festive fixture list offered champions Manchester United what ought to have been a routine win three days after Christmas, in the form a trip to Highfield Road to face perennial strugglers Coventry City.
Leading 2-1 thanks to goals from Ole Gunnar Solskjaer and Teddy Sheringham, United were drawn level in the 86th minute when Dion Dublin scored from the penalty spot. Then, with just two minutes to play, 21-year-old Darren Huckerby, who had won the spot-kick his strike partner converted, rode the game's shifting momentum to seal an unlikely victory for Coventry with an unimaginable goal.
"As soon as I got the ball, I was going for goal," Huckerby tells The Independent, recalling the moment he collected possession wide on the right flank, 45 yards from the United goal. "Obviously, I didn't know I was going to run through and score like that, but I was just trying to put them on the back foot, to keep the pressure on."
Slipping infield, Huckerby swept past a desperate lunge from Gary Neville. He then slalomed between Henning Berg and Nicky Butt, jinking into the penalty area. Confronted by Kevin Pilkington, deputising in the United goal for Peter Schmeichel, he calmly rolled the ball into the bottom-left corner.
"That's the one that gets remembered," Huckerby says, "but I must have done that 25, 30 times in my career. Sometimes you don't score, sometimes you get tackled. Luckily for me, I managed to ride a couple of tackles – I think Gary Neville tried to snap me halfway through. I scored a good one against United the season before – I think we lost 3-1 – and no one remembers it. But this was the winning goal and that's what everyone remembers."
By that stage, Huckerby was one the most exciting young forwards in England. He'd go on to fulfil his early promise, scoring more than 100 league goals in a 15-year career which began humbly with Lincoln City and included star turns for Coventry, Leeds United, Manchester City and Norwich City.
Huckerby's speed, low centre of gravity and weaving dribbling style meant he was as much of a thrill to watch as he was a threat to defend against, but his ability to breeze away from would-be markers was a relatively late addition to his arsenal.
"When I was in the youth team at Lincoln City, I could dribble with the ball, but I was more of a Michael Owen kind of number nine, who waited around the box and scored goals that way," he explains. "It was only really when I got slightly older, probably around 16 or 17, that my running with the ball really came through and that's what I was known for.
"My heroes as a kid were Peter Beardsley and Gary Lineker. I ended up going to Newcastle for a little bit, so I got to see [Beardsley] in the flesh every day. And at that time there were also players like [David] Ginola and [Keith] Gillespie, so for my type of player it was perfect to see those players day in, day out. Even though I didn't play very much, I was involved in training every day and it showed me how I wanted to play."
Although he brought together aspects of such prominent and distinguishable influences, Huckerby developed a style instantly recognisable as his own. What most made him stand out as a dribbler was his unflinching directness.
"My plan was always to put whoever I was playing against on the back foot straight away. Early in the game, I just used to relentlessly go at them until they realised they were going to be in a bit of trouble. Whoever I played against, I knew that I was quicker than them and I knew that I would be able to run longer than them. It didn't matter how good they were, I was going to get a chance in the game to create something – that was my belief."
Perhaps more so than with any other position on the pitch, a winger's longevity is determined by their ability to adapt to their fading physical gifts. Pace is the wide player's primary weapon; it is also the first tool to be blunted by age. In his later years, Huckerby remained an effective attacking force by becoming a more selective dribbler.
"You just know when to do it a bit better. You still want to do the same kinds of things, but it's all about end product. Sometimes you don't have to beat anyone to cross it; it's just getting yourself in better positions and making better decisions.
"Instead of getting it and having to beat four men and run 50 yards with the ball, you get yourself where you're one-v-one and you've got to get past someone in 10 or 15 yards."
While he contests that the dribbling skills of the best wide men are, to a degree, innate, the former Norwich under-23s coach advises aspiring wingers to hone their unpredictability.
"If you can only cross with one foot, the defender only needs to push you one way. Being able to go both sides makes it a lot more difficult for the defender because he doesn't know where to put you then.
"As a wide man who likes to cross the ball, being confident with both feet is a massive thing. Dribbling with the ball is about confidence and believing you can beat your man one-on-one. If you're tentative and you don't like running at people, I don't think you can get that. You've got to believe that you can go past people.
"You can improve anything if you practise it enough. But you see a lot of the people who run with the ball at the top end of the game – I'm talking [Lionel] Messi, [Cristiano] Ronaldo when he was a bit younger, [Gareth] Bale – they tend to do it naturally. I don't think you can get someone who isn't good at dribbling the ball and make them unbelievable at it – it is natural."
The wide attacker's role has undergone several evolutions in the decade since Huckerby hung up his boots. The fading prominence of 4-4-2 has meant old-fashioned, touchline-hugging wingers are a rarity. The duties of wide players now often see pressing, off-ball movement and goal-scoring prioritised over one-v-one battles with full-backs and crosses into the box. But Huckerby does not believe the dribbler is a dying breed.
"Man City are the best team in the Premier League at the minute, and they have got four really good wide men. They all do it slightly different. At Man City, a lot of it is running without the ball. But then you've got [Leroy] Sane who can run and dribble past people. I think they just mix it up a bit more now.
"Whatever happens, people still love players going past people."
Join our new commenting forum
Join thought-provoking conversations, follow other Independent readers and see their replies