David Wagner admits 'the grass is not always greener' as he sticks by Huddersfield
'I've always said - and I say it again today - as long as I'm happy with where I am and what I do ... why move on?'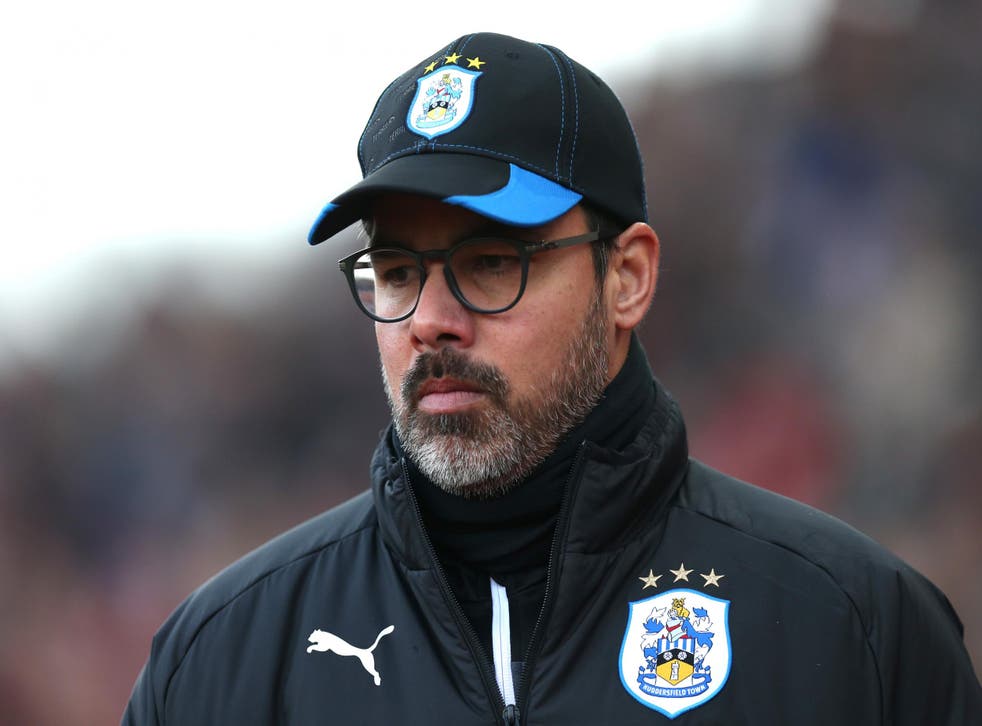 Of all the transfer traffic witnessed during the summer, it is who Huddersfield retained rather than attained that is most likely to dictate how their season will ultimately pan out.
For David Wagner, the club's manager, to still be in the Huddersfield dug-out, orchestrating yet another pragmatic-over-dramatic performance from his doughty side, as he did on Saturday at Goodison Park, is nothing short of astonishing.
Put frankly, how on earth is Wagner still in west Yorkshire when he should have been – and deserved to be – the No.1 name on the managerial wish-list of maybe as many as half of the clubs in the Premier League in the summer?
Every goal scored in the Premier League this weekend

Show all 14
Wagner was asked for his general thoughts on life at Huddersfield after the type of performance that has become a byword for his club's time in the Premier League.
Like his side, he was unapologetic regarding their defensive mindset and remains more than happy even though the clamour for him to move elsewhere will surely grow exponentially in the coming months as the Premier League hits its traditional bottom-six firefighting mode around Christmas.
"I've always said – and I say it again today – as long as I'm happy with where I am and what I do, as long as my family are happy with where they are and what they do and as long as the supporters and the owner are happy, why move on?" Wagner said.
"The grass is not always greener everywhere. This is how I deal with it. Some would say this is not intelligent to move on or not but I don't care – this is how I make decisions on whether I like to stay or move on."
This was a match between a home side that cannot keep a clean sheet and an away side that cannot score goals. Anything, or nothing, could have happened. In the end, supporters got a bit of both yet only one set of fans went home the least bit happy with a workmanlike point from a workmanlike game.
Those fans were in the away section – an away section so used to seeing Wagner's side play dire and defensively that they regaled the Goodison faithful with several verses of "How sh*t must you be, we've just had a shot" when Huddersfield did have the temerity to chance their arm halfway through the first half.
After 34 minutes, Philip Billing put the visitors ahead with a close-range headed goal from a corner before Dominic Calvert-Lewin equalised just 87 seconds later, beating Jonas Lossl with a decent header of his own.
Further real chances were rare, further moments of inspiration, non-existent.
Yet Wagner loses no sleep over the way he has his team set up and, crucially, he also has the backing of his squad, who have realised that grunt rather than grace is their best chance to again escape the drop.
"Ok, ok, listen," the Huddersfield manager added. "You have to do what you have to do in the Premier League. It's all about the points and how you will get them and that means deal with the circumstances you have, the opponents you're facing and the players you have in your squad.
"Our learning lesson was last season when we played Tottenham at home and after 20 minutes we were 3-0 down with our idea and our style and that was exactly the lesson we needed.
"We then played differently and we were not always successful but we were able to get points against United, against Chelsea, against City. We have the dressing room together and the passion and the desire in this dressing room and we have a chance. [Avoiding relegation] would be like a third trophy in a row for our football club, there is absolutely no shadow of a doubt about that."
For Everton, the more things change, the more they stay the same.
Saturday's back-four combination was the fourth new set-up in just five games this season and, once again, they could not nullify a set-piece opportunity that saw Billing seize his chance.
Successful football teams require defensive bedrock, not shifting sands, but in Marco Silva's defence his tinkerings have been more forced than favoured. He has eight first-teamers out with injury and Richarlison also absent via suspension and he admitted that the international break has fallen nicely.
"I think really it's a good time," he said. "Today you saw this afternoon, even on the bench there was not a great number of solutions to change the game. Once you have everyone ready to play and compete we will be good. I hope in the next 10 and 15 days I hope they start to recover and help us. I have confidence in all of them."
Register for free to continue reading
Registration is a free and easy way to support our truly independent journalism
By registering, you will also enjoy limited access to Premium articles, exclusive newsletters, commenting, and virtual events with our leading journalists
Already have an account? sign in
Register for free to continue reading
Registration is a free and easy way to support our truly independent journalism
By registering, you will also enjoy limited access to Premium articles, exclusive newsletters, commenting, and virtual events with our leading journalists
Already have an account? sign in
Join our new commenting forum
Join thought-provoking conversations, follow other Independent readers and see their replies