Dele Alli goal will be shown on 'every TV' around the world, says Tottenham boss Mauricio Pochettino
Alli scored a stunning goal during the 3-1 win
Declan Warrington
Saturday 23 January 2016 20:02 Comments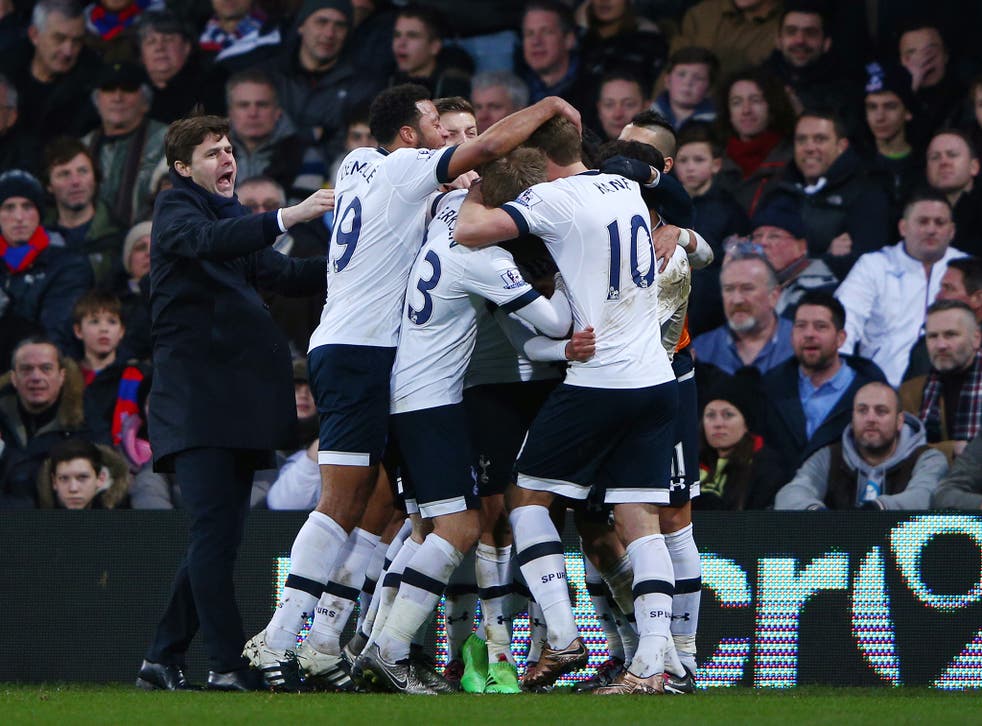 Mauricio Pochettino hailed Dele Alli's "amazing" goal after the midfielder inspired Tottenham to a 3-1 Premier League victory at Crystal Palace.
Harry Kane cancelled out Jan Vertonghen's first-half own goal before, in the 84th minute, Alli used brilliant control to flick the ball over Mile Jedinak and volley into the bottom left corner.
It was a world-class finish that further demonstrated his outstanding potential and importance to Pochettino's promising team, and even after Nacer Chadli added a fine third deep into stoppage time it remained the defining moment of the match.
The combination of Spurs' win and Manchester United's 1-0 defeat by Southampton further strengthened fourth-placed Spurs' pursuit of a Champions League place as they built a five-point advantage over their rivals.
Even so, Alli's goal was at the forefront of Pochettino's mind after the match.
"He showed tremendous quality, it will be shown around the world on every TV," he said. "It was fantastic. I am very pleased because it was a difficult game. They (Palace) had a clear week to prepare, we played against Leicester in the FA Cup (in Wednesday's 2-0 away victory). I'm pleased because the performance and effort was fantastic from the squad.
"I think Dele shows his quality in every game. He's capable of that. He has fantastic potential, (he's) difficult to price like Harry Kane. They have big potential because they are very young. We need to keep working hard."
There was one concern for Spurs as Vertonghen was substituted with ankle and knee problems.
"We need to assess him," Pochettino said. "It's dIfficult to explain. I prefer to wait. It was difficult from my position to see (his condition)."
Vertonghen was replaced shortly after a robust challenge from Palace's Connor Wickham, but manager Alan Pardew, whose team have slid to 11th after three consecutive defeats, claimed he had not seen the incident before criticising Alli's conduct and also praising the 19-year-old's goal.
"I haven't heard anything from my analysts about that (challenge)," he said.
"I certainly do know that I was in front when Yohan Cabaye got stamped on by Dele, so you know... These things happen, I'm not into retribution. It's just honest challenges I think and we move to the next game.
"It's something that he (Alli) needs to cut out of his game, I don't know why he did it. It was something he shouldn't have done. He is a great player though. I'm not going to moan about spilt milk.
"It was a great goal. Spurs have that individual talent to produce a goal out of nothing. It's something we're lacking at the moment.
"Not a great goal for Crystal Palace, but it was a great goal."
PA
Register for free to continue reading
Registration is a free and easy way to support our truly independent journalism
By registering, you will also enjoy limited access to Premium articles, exclusive newsletters, commenting, and virtual events with our leading journalists
Already have an account? sign in
Join our new commenting forum
Join thought-provoking conversations, follow other Independent readers and see their replies