Dele Alli stands on the brink of something 'special' as Tottenham golden boy continues to blossom
Mauricio Pochettino hailed the 20-year-old as one of Europe's best young players on Saturday. In light of his recent form, there's no denying that Alli is in touching distance of greatness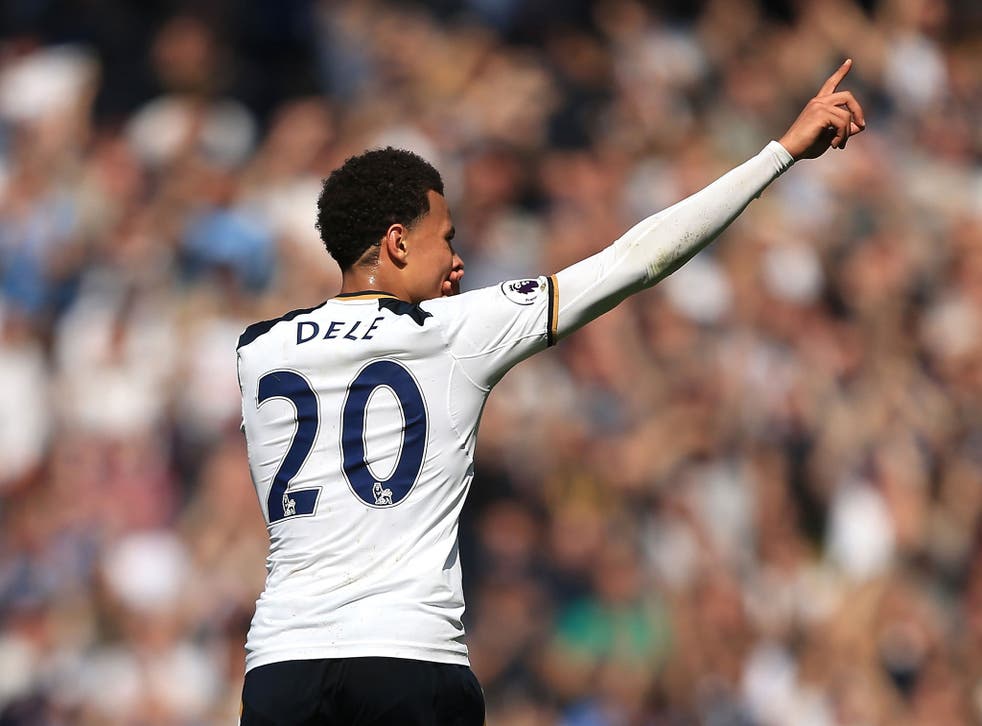 By the time Harry Kane entered the fray at White Hart Lane on Saturday – returning from a three-week injury lay-off – Tottenham's victory was all but assured. Mauricio Pochettino's men had fired four past their London rivals Watford who, just four days prior, had impressed at home against a notoriously stubborn West Brom side.
It was a rounded and dynamic performance from Tottenham, with every white shirt dancing to the beat of the same drum – one that has been meticulously orchestrated by Pochettino these past few weeks as Spurs continue to chase Chelsea. If the win at the Liberty Stadium had demonstrated Tottenham's mental "character" – as the Argentine had said – Saturday's victory reaffirmed the togetherness that now underpins the side.
That Tottenham have scored 17 goals from their last five games, without Kane in the equation, bears testament to the load of responsibility that is now being shared across the entirety of the team. From man-of-the match Kieran Trippier to the effervescent Son Heung-Min, Tottenham's players demonstrated on Saturday their ability to function as what Pochettino calls a "collective unit".
But no-one has blossomed under the aura of their own talent more than Dele Alli this season. Firing home a delicious curled effort to open the scoring on Saturday, the 20-year-old's performance was yet another reminder of how much the player has matured.
Indeed, the past three weeks have seen the youngster reach unseen heights, thriving in the absence of Kane – a player it has previously been suggested his finest form depended on. Unlike earlier in the season, when Alli struggled to influence games without Kane playing in front him, the midfielder has flourished in the past three weeks since the forward injured his ankle against Millwall.
It fell to Alli on Saturday to break the deadlock against an initially resilient Watford side while the player's late strike at the Liberty Stadium three days earlier kick-started Tottenham's sensational turnaround.
Alli is looking more and more like the real deal and Tottenham are all the better for it. "He's a special [player]," Pochettino said after the game. "He's a bit different to all the players that play now at his age. He's so experienced. His energy, his character, his quality. I think he is a unique player. He's different to another, it's so difficult to compare to another."
The youngster's strike on Saturday was also the first of his 16 league goals this season to come from outside of the penalty area. With growing confidence comes greater belief in one's own ability and there's no doubt that Alli is only just beginning to uncover the outer reaches of his "unique" talent.
Most impressively, Alli has now been involved in 40 Premier League goals at Tottenham since making his senior debut - the same figure that Frank Lampard, Steven Gerrard and David Beckham combined had managed before their 21st birthdays. Lampard conceded on Sunday morning that the youngster is "a special player" and "better than me when I was 20, that's for sure".
Pochettino went further and argued that Alli is now the best player of his age in Europe. "I think today, his age and with his stats, I think so. If not he's the best, he's one of the best for sure."
Injury and attitude are, perhaps, the only two factors that can now stop Alli from rising to greater heights, with the player coming under particularly fierce scrutiny for the latter.
His hot-headed temperament, and the tendency to lash out that comes with it, have cost him dearly on occasion and suggest this is a player whose maturity of mind has yet to match his maturity of feet. Sixteen yellow cards and one red in the past 20 months certainly attests to this, while his horror tackle on Gent's Brecht Dejaegere in February, for which he was handed a three-match ban from European competition, showcased a darker, sinister side to the 20-year-old.
But for Pochettino, this passion is what makes Alli so special. "This character is perfect for a player," he said. "When you are winning and you feel that to lose on the pitch is like losing your life – that is what we want in a player. He is young and he needs to improve, but he needs love. To improve is not to punch him or to punish him."
Nonetheless, the Argentine warned that the player still has much to learn - as does any young gun tipped for the future. "He's a great. First of all a great kid, I think he's a lovely, lovely person. And then he is a great player. And then, he is so young he can improve a lot, he can learn a lot, his potential is massive. But everyday he's improving, and every day he gets more mature. He's improving in his skills but in his character as well."
There's no denying, then, that the youngster is on the brink of something special. Only time will now tell just how good he can become.
Register for free to continue reading
Registration is a free and easy way to support our truly independent journalism
By registering, you will also enjoy limited access to Premium articles, exclusive newsletters, commenting, and virtual events with our leading journalists
Already have an account? sign in
Register for free to continue reading
Registration is a free and easy way to support our truly independent journalism
By registering, you will also enjoy limited access to Premium articles, exclusive newsletters, commenting, and virtual events with our leading journalists
Already have an account? sign in
Join our new commenting forum
Join thought-provoking conversations, follow other Independent readers and see their replies