Dele Alli showed character coming through 'tough period', says Tottenham manager Mauricio Pochettino
The 21-year-old reminded everyone of his qualities with two brilliantly taken goals as Spurs came from behind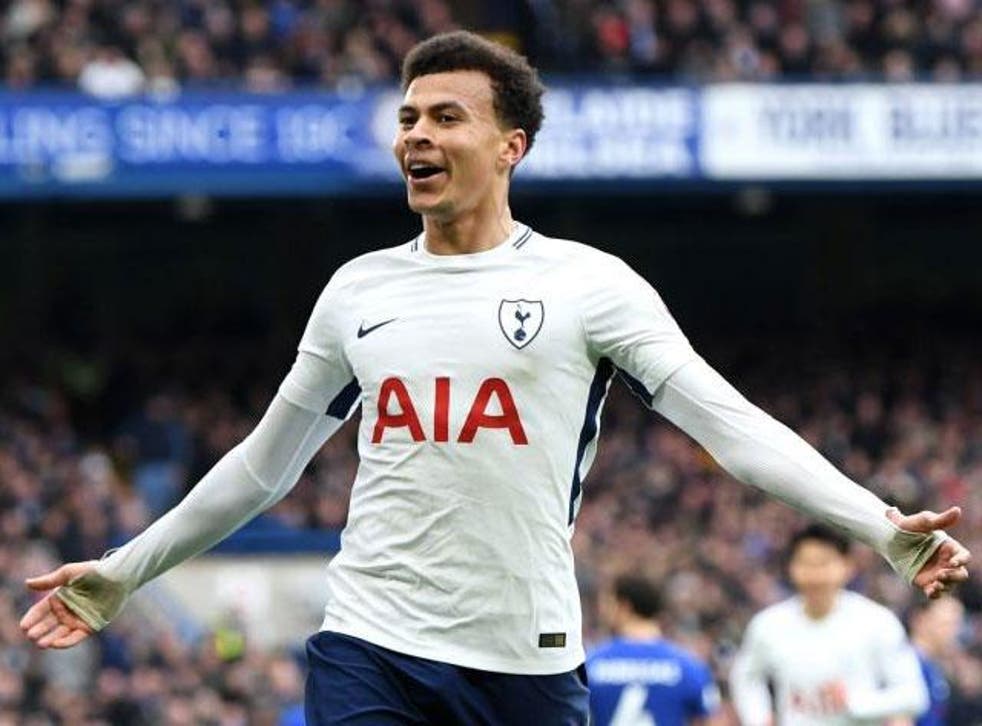 Mauricio Pochettino says that Dele Alli has shown his character in coming through a "tough period" but says he has nothing to prove to anyone, after scoring the two killer goals in Tottenham Hotspur's 3-1 win over Chelsea, their first victory at Stamford Bridge for 28 years.
The 21-year-old has faced criticism of late for diving, and was also dropped from the England starting XI for the recent international friendlies, but reminded everyone of his qualities with two brilliantly taken goals as Spurs came from behind. Alli celebrated the third goal as if it meant a lot, as he ran towards Tottenham's jubilant fans.
"I'm very, very pleased for Dele," Pochettino said. "It's been a tough period for him, but I like his talent, his character. I'm so happy for him because he deserved it. In the end, he's a great talent, only 21 years old, and sometimes we lose the focus on that. He's only 21. Sometimes the expectation is too much.
"I didn't see the celebration. But, of course, he has a strong character and personality. But I didn't see it. He needs to show us nothing, because we trust and believe in him.
"Dele is not one to be affected if he plays or does not play. He's so strong, with the personality. He's a fighter, very competitive. He won't be affected. Then we need to help him. If he doesn't play with the national team, he needs to compete and give his best to try and win again the confidence of his manager in the national team. The only way to win the confidence and trust from your manager is doing what he did today: scoring the goals and playing like he did.
"I think it's about the characteristics of the players. Dele's best skill is arrive fro the second line to get the ball. I think he's scored a lot of goals like this. Of course we have focused and tried to bring every single skill into our play, but it was a fantastic goal: control, finish, amazing."
Alli more than made up for the absence of Harry Kane, who could only come off the bench after his recent ankle injury. Pochettino however said the striker could be back for Spurs' next match, away to Stoke City.
"We'll see. To play 20 minutes or 30 minutes, he was ready. We'll never take a risk with any player. We'll see now during the week. He's working hard and if he has the possibility to play against Stoke."
Reflecting on Spurs' first win at Chelsea since 1990, Pochettino said: "Yes, but I am so happy, we are so happy for our fans after 28 years. Winning here at Stamford Bridge again is a massive thing again, for our fans and for Tottenham. But it's still only three points. I celebrate the same as I did in the past."
Register for free to continue reading
Registration is a free and easy way to support our truly independent journalism
By registering, you will also enjoy limited access to Premium articles, exclusive newsletters, commenting, and virtual events with our leading journalists
Already have an account? sign in
Register for free to continue reading
Registration is a free and easy way to support our truly independent journalism
By registering, you will also enjoy limited access to Premium articles, exclusive newsletters, commenting, and virtual events with our leading journalists
Already have an account? sign in
Join our new commenting forum
Join thought-provoking conversations, follow other Independent readers and see their replies