As Crystal Palace dice with disaster, remembering the worst Premier League team of all: 2007/08 Derby County
Palace are winless and goalless but they still have some way to go to match Paul Jewell's record-breaking team of a decade ago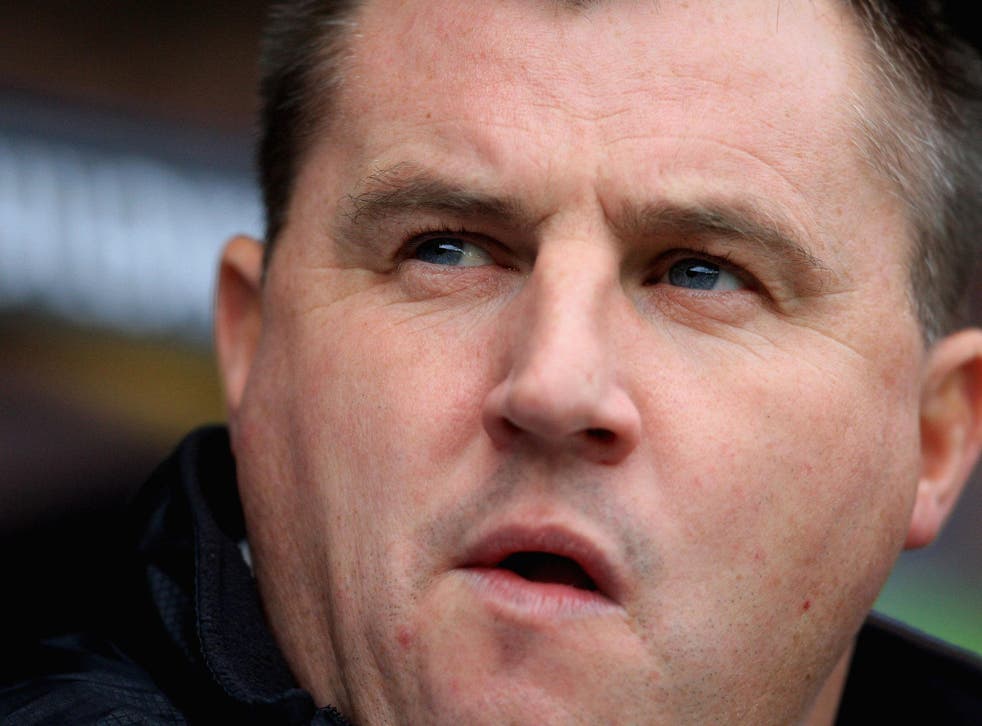 Seven games, no wins, no goals, seven defeats. Nobody has ever started a Premier League season as badly as Crystal Palace have. The good news is that they have time to turn things around: 12 of the other 22 sides who haven't won any of their opening seven Premier League games have survived. The bad news is, even Derby County's record-breaking team of 2007/08 started better than Palace.
It was perhaps a portent for what would come that, when the Rams won their first and only league game that year, TV viewers missed the goal because they were being shown a replay of a previous incident. Kenny Miller's strike in the 1-0 win over Newcastle, a vicious swerving half-volley from 30 yards out, was worth waiting for, but their fans might have savoured it even more if they knew it would be the last league winner for 361 days.
It started badly before it even started. Billy Davies was appointed in the summer of 2006 with a vague plan to get Derby to the Premier League in three years. It was thus a surprise to most, including them, that they found themselves in the playoff final at the end of the season, beating West Brom 1-0 at Wembley. But Davies spent his media interviews after the game not revelling in their ahead-of-schedule success, but raising long-term complaints about the club's failure to bring in his favoured assistant, David Kelly, offering jabs at fans who were apparently "quick to criticise" and hinting darkly that he might not even be around to lead Derby into the top flight.
Kelly arrived and Davies stayed, but alarm bells started to gently ring when, instead of recruiting seasoned top-flight talent, their big summer signings were Robert Earnshaw and Claude Davis. Still, the season started pretty well. Or, at least, the first 27 minutes of it were OK. Matt Oakley scored five minutes into their opening game with Portsmouth, but they were pegged back and drew 2-2. The third game was where it really became clear that a long season lay ahead. Spurs had lost their first two games, the team was in mild disarray and Martin Jol was a couple of months away from an undignified sacking. Tottenham were 3-0 up inside 14 minutes, and eventually won 4-0.
A couple of weeks later Derby lost 6-0 at Liverpool, where their own fans sang 'Premier League, we're having a laugh,' and Davies likened them to "the primary-school kid at secondary school, standing back, looking about the place and admiring who's who." It was after this game that one of the giddier bookmakers paid out on their relegation. This was September 1. The more sensible firms waited until the drop was guaranteed: Ladbrokes settled bets in December.
That win over Newcastle came next, but the following week they were beaten 5-0 by Arsenal, although Davies remained upbeat, claiming "I honestly didn't think there's any need for spirits to be down." After a draw with Fulham, he was even more bullish, confidently reporting that "with the people we've got, we can consolidate ourselves in the Premier League."
Tunes were changed the following week, when a 2-0 defeat to Everton prompted Davies to complain: "We can only work with what we've got until January." A 5-0 thrashing by West Ham marked the snuffing out of most sensible hope, as Davies reported that "the belief drained out of us."
The following week they lost 2-0 to Chelsea, after which Davies offered the rallying cry that "the team we've got at the moment is not good enough for the Premier League", but nevertheless seemed confident in his own position. "He's already said if we go down I'm the right manager to bring us straight back up," he said about conversations with new chief executive Adam Pearson, on November 24. Davies was sacked on November 26.
Paul Ince was the man pegged to come in, but in the end Paul Jewell - a man in some demand, with Wigan, Leicester, Bolton and Ireland credited with interest in him - was given they keys to a ship riding suspiciously low in the water. "Absolutely we can stay up," Jewell roared. "We are not adrift." Technically this was true: they may have only won one game, but they were a mere four points from safety. "If I don't believe it, if the players don't believe it, if the fans don't believe it, then we have no chance."
The high-ups were, behind the scenes at least, not quite so bullish. "I never envisaged at any point since Paul got there that we would stay up," said Pearson the following March, when relegation was confirmed. "We were well adrift. We both knew it was going to be a Championship club."
In his second game Jewell did manage something approaching progress, as for their first time in just under 12 hours of football, Derby scored a goal, Steve Howard netting against Manchester United. The final score was 4-1, but still - baby steps and all that. "Our powers of concentration aren't what they should be," complained Jewell.
By Jewell's third game in charge, a 1-0 defeat to Middlesbrough, he was already broken. "If we are to stay in the Premier League, it'll be a miracle," he said. An encouraging performance in a 2-2 draw with Newcastle followed, but a late defeat to Liverpool smacked down their hope again. In the 13 matches since Liverpool had scored six goals against them in September, Derby had managed five. "Conceding late goals has been a trait of ours all season, as well as not scoring enough goals," said Jewell, indicating he had identified the problem. "That's why we're bottom of the league."
January brought new signings, including Robbie Savage (who was made captain straight away), Laurent Robert, Emanuel Villa and Danny Mills. The latter's tenure summed things up quite neatly: he arrived on loan from Manchester City, played two games, promptly got injured and never played again. None of the arrivals made much of a difference to a team that was spiralling.
"It was soul-destroying, because we knew we were going to lose," wrote Savage in his autobiography. "Players hid because the crowd would start to have a go at them, me included. You didn't want to anything that might go wrong and attract even more stick."
The manager was all over the place too. By February he announced the squad were playing for their places in the Championship, after relegation. He declared a 6-1 defeat to Chelsea "the worst performance I've ever seen from a so-called Premier League team…We're becoming a laughing stock. We were disgraceful. We were embarrassing." When they lost to Spurs, he became irate that Tottenham's club secretary had handed in the teamsheet before the game. "It should be the manager or one of the senior coaches," he complained.
One would think he'd have more pressing concerns, not least a rather surprising appearance in the News of the World. It transpired that, a few years earlier, Jewell had made some rather personal home movies which the paper gleefully splashed on their front page. Derby, perhaps even grateful for the distraction, were relatively sanguine about it, and the story petered out, although for anyone who saw the still from the video, Jewell staring straight at the camera, it wasn't forgotten quite so easily.
The inevitable was confirmed by a 2-2 draw with Fulham, making them the first ever team to be relegated from the Premier League in March. After the game Fulham manager Roy Hodgson said he didn't regard Derby as "a bad team". One shudders to think what did qualify as bad in his mind. Iceland? OK, bad example.
Even their reserve team was terrible: Derby's second string finished bottom of their league, with one win and six points from an 18-game season. The only bright spot of the whole sorry affair was the fans, who more often than not filled Pride Park and were even blessed with the prestigious 'Nuts Magazine Fans Of The Year: Sponsored by WKD' award, presented by Chanelle from Big Brother.
Derby finished the season with 11 points, one win, 29 defeats and with a goal difference of -69. It was the biggest points difference between top and bottom (76) in the history of the English top flight, and the greatest gap between bottom and second bottom (24). They were the first team in 108 years to go a season winning only one game. Over the course of the campaign, Derby held the lead for a total of just 254 minutes – or, if you prefer, 7.4% of the season.
Blame everyone or no-one: this was a season of flamboyant incompetence across the board, a team patently unprepared for life in the Premier League from the start. "Everything that could go wrong, did go wrong," said Jewell. He was specifically talking about a 6-0 loss to Aston Villa, but it could have been the whole season.
On September 13, 2008, Derby beat Sheffield United 2-1 in the Championship, four days shy of a year since their last league win. "It's just such a relief," said Jewell. That feeling will be replicated tenfold when Palace finally win a game.
Join our new commenting forum
Join thought-provoking conversations, follow other Independent readers and see their replies