Despite striker crisis at Liverpool, recalling Andy Carroll 'isn't something I have considered' says Brendan Rodgers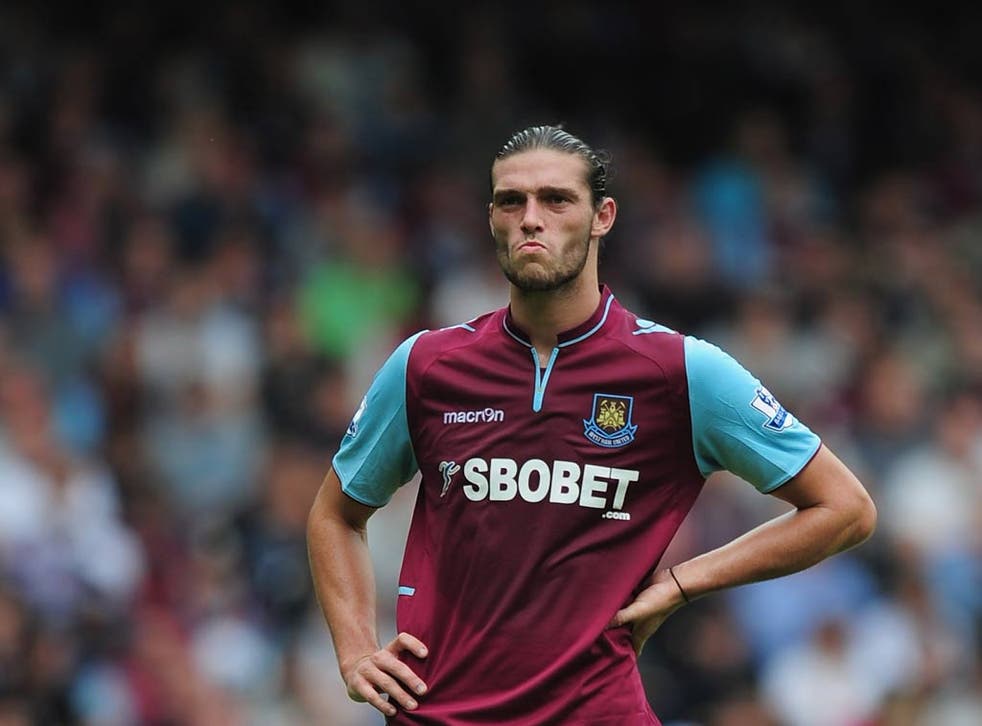 Despite being faced with an injury crisis that has left Liverpool with only one recognised striker, Brendan Rodgers says recalling Andy Carroll "isn't something I have considered".
It was announced yesterday that Fabio Borini, a summer signing from Roma, would be out of action for around three-months after an operation on a fractured bone in his foot.
It means Luis Suarez is the only recognised first-team striker available to Liverpool.
The situation has led to questions over why a striker that cost Liverpool £35m was allowed to leave the club to join West Ham on loan.
But Rodgers was defensive today when asked whether he may consider a recall for the England striker.
"It isn't something I have considered, to be honest," said Rodgers.
"Andy has obviously gone out to get games. We have people watching when he plays and they report back on how he is doing.
"But with Fabio's injury just coming up we will assess it from there."
There is uncertainty over the terms of Carroll's loan to the Hammers, although it would seem Liverpool are not be permitted to recall the 23-year-old before January even if they wanted.
West Ham co-owner David Gold was asked on Twitter yesterday: "What's the chances of Caroll (sic) being recalled now Borini out for 3 months?"
Gold replied: "Can't be recalled until January."
Earlier in the season, Gold tweeted: "The exact terms of AC year long loan deal is subject to a confidentially agreement but we are hopeful he will be with us the whole season."
Liverpool had hoped to sign Clint Dempsey from Fulham to bolster their attack but after angering the Cottagers over their pursuit of the American, the west Londoners took a tough stance during negotiations and Dempsey ended up at Tottenham instead.
Rodgers says Liverpool will look at the possibility of bringing in new faces in January, but until then he will have to manage Suarez as best he can as his side look to build on this season's solitary Premier League victory.
"I've rested him a couple of times knowing the squad we have and the games we have, looking to prioritise, but like most footballers he wants to play every minute of every game," said Rodgers.
"It is something I need to assess. The most important thing is winning games - that is what we need to do and in order to do that as often as we can I need the best players on the field.
"Luis will absolutely love playing three times a week but I need to try to nurture him because there are still many games to play between now and January.
"And even in January if we bring someone in it may not be January 1, so that is something which, over time, I need to assess and we'll look to manage the squad."
Rodgers concedes mistakes were made in the summer transfer window but says Liverpool must simply make the best of the situation.
"The reality is it has happened so we have to deal with it. I'm not going to cry over it.
"It leaves us a bit short, there's no getting away from that, but it's what we've got so we'll just crack on.
"If anything else happens it will provide an opportunity for another player."
Those other players include Raheem Sterling, the 17-year-old whose performances this season saw him called into the England squad. Suso is another option, and with the announcement earlier today that he will sign a new contract, is clearly a prospect Liverpool have high hopes for.
German youth international Samed Yesil could be promoted, having made his debut as a substitute in the Capital One Cup last month, but Rodgers said throwing youngsters in at the deep end was not always the best option.
"We have other players that we may be able to have some flexibility within the team," he said.
"It is great for me to see the young players: Adam Morgan scored a couple of excellent goals for the reserves and Samed Yesil is a goalscorer.
"It is just a case of weighing up whether they come in or not.
"Not every young player can play: this is an unforgiving league and my job is to nurture the talent and not destroy it."
Liverpool are at home to Reading this Saturday.
Register for free to continue reading
Registration is a free and easy way to support our truly independent journalism
By registering, you will also enjoy limited access to Premium articles, exclusive newsletters, commenting, and virtual events with our leading journalists
Already have an account? sign in
Register for free to continue reading
Registration is a free and easy way to support our truly independent journalism
By registering, you will also enjoy limited access to Premium articles, exclusive newsletters, commenting, and virtual events with our leading journalists
Already have an account? sign in
Join our new commenting forum
Join thought-provoking conversations, follow other Independent readers and see their replies