The Independent's journalism is supported by our readers. When you purchase through links on our site, we may earn commission.
Didier Drogba reveals former Manchester United defenders Nemanja Vidic and Rio Ferdinand were Chelsea legend's toughest opponents
Drogba named Frank Lampard as the best player he ever played with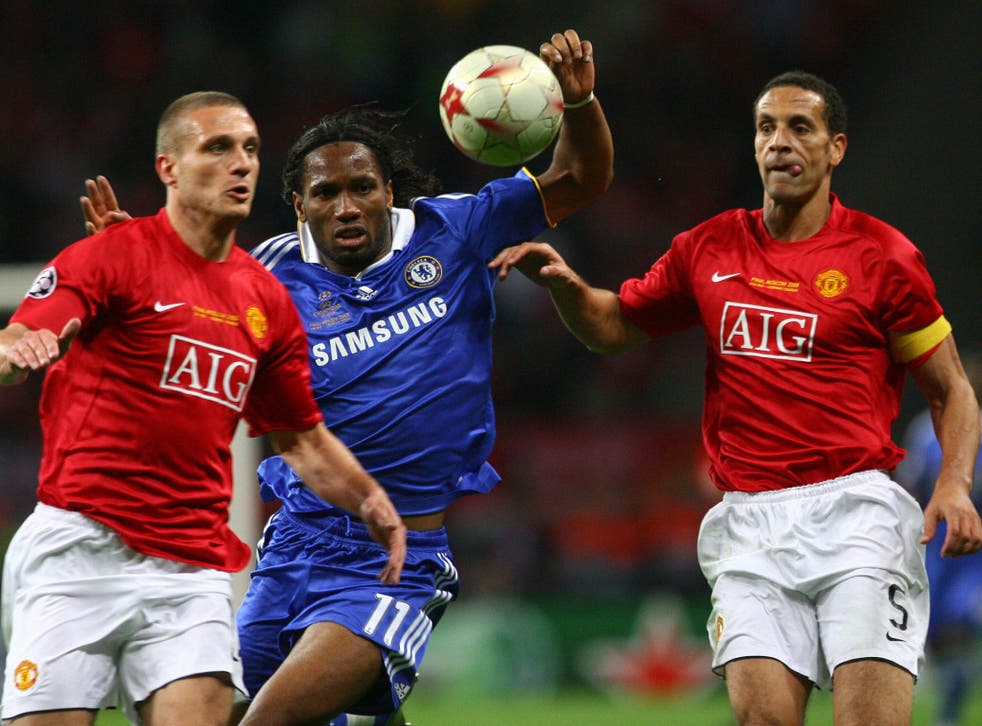 Chelsea legend Didier Drogba has revealed that his two toughest opponents were former Manchester United pair Rio Ferdinand and Nemanja Vidic.
The Ivorian, who left Chelsea for a second time this summer after winning a fourth Premier League title with the club, was interviewed by former United captain Ferdinand in an exclusive interview that is to air tonight on BT Sport 1 at 8.30pm.
The 37-year-old also said that Frank Lampard, not Eden Hazard, Michael Ballack or Arjen Robben, is the best player who he has ever played with.
Chelsea celebrate winning the title

Show all 10
Ferdinand: So, just talking about some individual battles over the years, obviously we played against Chelsea a lot – tough games – who's been your most enjoyable and toughest battles to fight against?
Drogba: I've always said you and Vidic. People say I scored a few goals against Manchester United and I would say when I was scoring against Manchester United I was really, really happy because I didn't score much. So for me to score against you guys means that I had a good game. So, you two and Carles Puyol because he's tough, is a very good defender but he's a gentleman.
Drogba said that he believed the Chelsea team from Jose Mourinho's first spell at the club is better than the current one, although there is lots of room to catch up.
Drogba: I would say the first one was better because I was involved more as a player but there is a difference in the way that when I joined the team it was a bit more mature. Frank [Lampard], [Claude] Makelele, William Gallas - all these players were I think around 24, 25 and plus, so this time it's younger and I can see and I can feel that there is a gap, it can progress together so it's good for the players."
Rio: Who is the best player you've played with?
Drogba: For me I respect and think Frank Lampard because he is a hard-worker. He didn't get like this, you have to work hard and you know he's clever, and for me a football player isn't the one that keeps the ball best – it's the one who's smart.
Rio: A lot of people ask me about Frank, he is maybe not as good to watch, if you want to see skills or razzmatazz and big drama, but he's efficient.
Drogba: He is efficient and for me I improved being next to him. Because every day after training, me and him in front of the goal, working on our finishing; how do I want the ball? Do I want to receive the ball or not, and he's in most of my goals.
Watch 'Rio Meets Didier Drogba' on BT Sport 1 from 8.30pm tonight. Visit BT Sport for more information
Register for free to continue reading
Registration is a free and easy way to support our truly independent journalism
By registering, you will also enjoy limited access to Premium articles, exclusive newsletters, commenting, and virtual events with our leading journalists
Already have an account? sign in
Register for free to continue reading
Registration is a free and easy way to support our truly independent journalism
By registering, you will also enjoy limited access to Premium articles, exclusive newsletters, commenting, and virtual events with our leading journalists
Already have an account? sign in
Join our new commenting forum
Join thought-provoking conversations, follow other Independent readers and see their replies