Dimitar Berbatov: 'Tottenham or Manchester United? It's like you have two kids – who do you love most?'
Ahead of The Independent's live webinar on Monday, Berbatov discusses his affiliation with two of the clubs headlining the restart of the Premier League season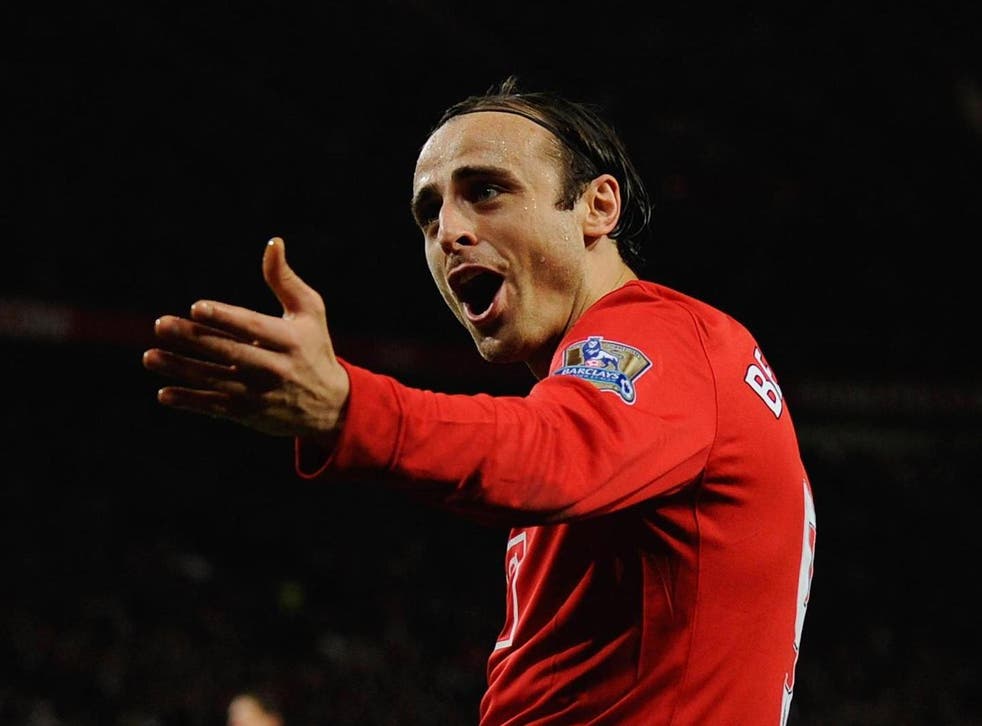 For a player so elegant he should never have been denied the ball, you can guess how Dimitar Berbatov would have spent lockdown.
"Kicking a ball against the wall and stopping it," he tells The Independent. "That's the perfect exercise. You can improvise and improve. Even in tight spaces, if you have a small ball, a tennis ball, try to keep it in the air, to train that reflex, that habit of keeping the ball close to your feet. This kind of improvisation can add to your game – especially if you don't have the best first touch."
Berbatov smiles as he says the last few words. That was obviously never true of him. He had the perfect touch, which makes him something of a connoisseur on the issue – and whether Premier League players will be up to speed.
He is smiling about that, too. Berbatov is excited about football being back, and particularly about that big first game between his two main English teams – Tottenham Hotspur and Manchester United.
It's something he's all too excited to talk about, especially at Monday's live webinar with The Independent.
"Health comes first and we all understand, but you hope things come back to normal as soon as possible. We see now, slowly but surely, the Bundesliga was first, now the Premier League is coming back, I'm excited, especially that first game – Spurs vs United. The bad thing is there are no fans, but safety first.
"Harry Kane is back, Son [Heung-Mn] is back, Spurs are getting back their firepower, [Paul] Pogba is back for United which I think is a great, great bonus for the team. People ask me who I support in this game, and I am always 'you have two kids, who do love most!'
"So I support both teams, the only thing I would like to see is good football, but as you mentioned, as we all know, the break was too big. So I'm curious as to how they handle the first game, especially for United, if they win and Chelsea lose, they're even points for the Champions League. For Spurs it's a bit difficult because they are seven points behind top four so if they take a win, it's a great bonus for them. So that first game is so important for both teams. Hopefully we can watch good football."
That's one of the biggest questions: how rusty the players will be; how off their touch will be. The master says it's down to the quality of the player.
"I think it depends on the quality you have in the team, for example, Bayern Munich at the moment, they are destroying the opposition, and it's not like they're 100% ready, they have so much quality they know how to get the results they need. Even if they play badly, 1-0, three points, 1-0, three points, and I watch them because at the moment they're one of the best in Europe, and if you have that quality I think you will get the advantage over the opposition."
Berbatov specifically refers to finishing.
"Look at [Robert] Lewandowski, he goes in, starts scoring straight away, for fun, that's why, in my opinion, it depends who you are, the quality you have, how you see football, but if you're a really good footballer, like Lewandowski, like Harry Kane, I don't think you're going to have problems. I think you're going to go straight back because the hunger in these players is so high."
So is the excitement. Berbatov is ready to speak about it all on Monday.
Join the Indy Football Podcast live for an online event as the panel discuss the resumed season and the ramifications for the transfer window, next season and the future of football, with special guest and Betfair ambassador Dimitar Berbatov. Book your ticket today.
Join our new commenting forum
Join thought-provoking conversations, follow other Independent readers and see their replies