Drogba puts Chelsea in total control
Fulham 0 Chelsea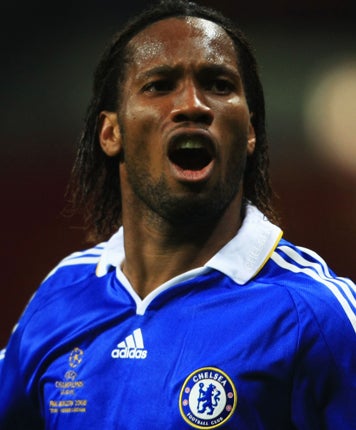 Sometimes it is the power of Didier Drogba that wins Chelsea games, sometimes it is his pace. Yesterday, Fulham just seemed to capitulate on the basis of his reputation alone. This was the old warhorse at his very best, sweeping aside a defence, winning a game, all on his own.
Drogba scored the first, Nicolas Anelka the second and the pair of them were just too much to handle for a woeful Fulham. The biggest cheer of the day from the home fans was for England's victory in the Ashes, hastily announced at the end of the game. This was a good day to bury bad news and for Fulham there was lots of it.
For Carlo Ancelotti, with three victories in his first three games, this is turning into a dream start, although previous Chelsea managers have seen such dreams become cold-sweat nightmares by January. In the sunshine, with their travelling fans buoyant, Chelsea swept the other club in Fulham away just as aggressively as they did in the glory years under Jose Mourinho.
John Terry said afterwards that Chelsea have the advantage over the rest of the big four. "I'm delighted we kept our squad together unlike the other two," said the Chelsea captain, which was a bit rich coming from the man who did so little to discourage the intense interest from Manchester City this summer. By the "two" he could easily mean any pair from Manchester United, Arsenal and Liverpool but you get his point.
Ancelotti finds himself in the unusual position of being second place in the Premier League only to Tottenham Hotspur, which is not something any Chelsea manager in recent history has experienced. "It is a great start," he said. "We wanted to do this. It's a good moment for the team. We have trust in our potential. It's a very good moment. The most important thing is that the players have good motivation."
Last season it took Drogba until 26 December to score his first goal in the Premier League. This time round he has three already and has been unplayable at times. Yesterday the striker said that there was "never any doubt" that he and Anelka could play together. "We are intelligent people and we know how to play together. We just need some time."
For now, Ancelotti is happy to look like the genius who has managed to get two of the moodiest strikers around to work together. He said yesterday: "I was sure the two of them could play together. They are fantastic strikers. They have different qualities: Anelka made a fantastic pass to Drogba for the first goal and Drogba made the second for Anelka."
Before anyone gets too carried away, Chelsea under Ancelotti are fundamentally no different in formation to Chelsea under Guus Hiddink, Scolari or Avram Grant: they have all lined up the team in the 4-1-4-1 formation created by Jose Mourinho. There has been the occasional attempt to adapt the system, some with more success than others, but Ancelotti is showing little chance of deviating too radically.
Anelka had started nominally on the right side of midfield yesterday which Ancelotti said he changed at half-time by encouraging Anelka to push on and support Drogba in a variation on 4-1-4-1. It looked good when they went forward but with this system there is the nagging sense that with Anelka pushed forward, Chelsea's right side looks a bit under-clubbed.
Anelka's pass was the one that sent Drogba free of the Fulham back-line in the 39th minute, timing his run beautifully to get away from a home defence that looked ponderous. The Chelsea striker does that so well, and he finished even better, rolling the ball past Mark Schwarzer.
Ancelotti's team were completely dominant save for one period before their first goal when Fulham actually looked confident enough to emerge from their own half and apply some pressure. Otherwise they looked star-struck in the presence of their illustrious neighbours.
The dissatisfaction amid the Fulham support at their team's general lethargy found its focus with Zoltan Gera who was having a dreadful time of it on the right side of midfield. One too many bad touches and the groans turned to outright hostility. The placid folk from down by the Thames have got it in for Gera and there were cheers when he was substituted.
Drogba made the second goal exquisitely, taking the ball on his chest before slipping it through to Anelka. He walked the ball around Schwarzer for the perfect finish and the game was over with time to spare.
Roy Hodgson, the Fulham manager, bemoaned Jonathan Greening's agent Mel Stein taking so long on Friday to negotiate his fee that the midfielder on loan from West Bromwich Albion was not registered in time to play yesterday. Greening cannot come soon enough with Danny Murphy injured yesterday. The boos for Fulham from their fans at full-time showed the ludicrously-inflated expectation that last year's seventh place has encouraged
Fulham (4-4-2): Schwarzer; Pantsil, Hangeland, Hughes, Konchesky; Gera (Kamara, 62), Etuhu, Murphy (Baird, 70), Duff; Zamora (Nevland, 75), Dempsey. Substitutes not used: Zuberbuhler (gk), Kelly, Seol, Riise.
Chelsea (4-1-3-2): Cech; Bosingwa (Hutchinson, 82), Carvalho, Terry, A Cole; Mikel; Ballack, Lampard (Deco, 81), Malouda; Drogba, Anelka. Substitutes not used: Turnbull (gk), Ivanovic, Essien, Kalou, Sturridge.
Referee: A Marriner (West Midlands)
Man of the match: Drogba
Attendance: 25,404
Join our commenting forum
Join thought-provoking conversations, follow other Independent readers and see their replies