Antonio Conte's failed Eden Hazard experiment shows why Chelsea need Olivier Giroud so badly
The arrival of Olivier Giroud couldn't come soon enough for the Blues as they stooped to a 3-0 loss to Bournemouth - their biggest defeat of the season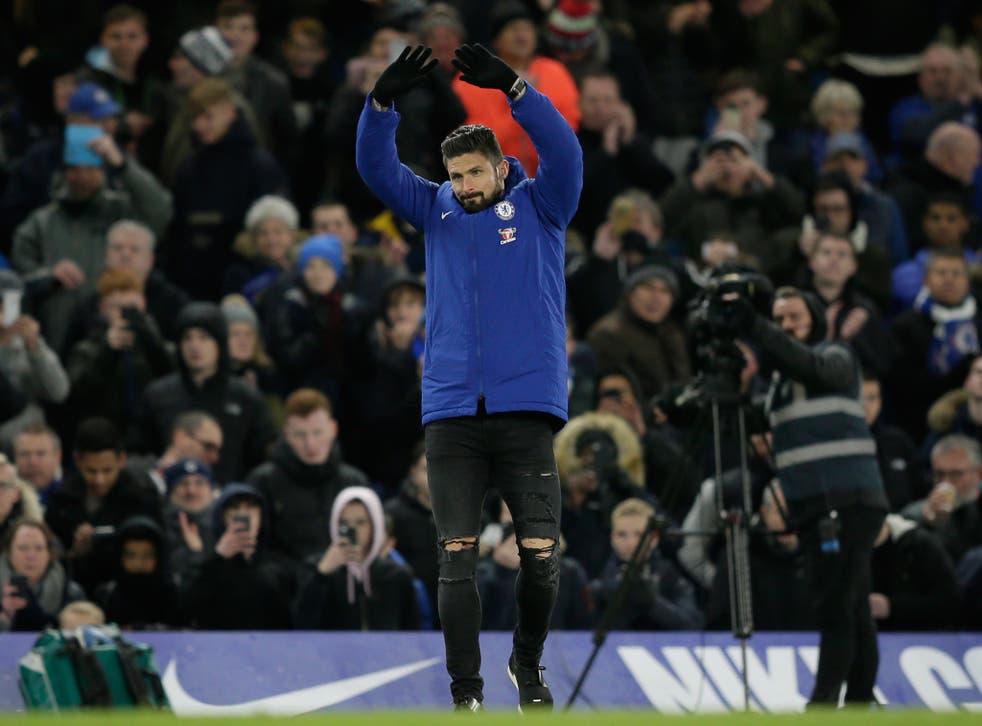 As the team sheet hit the printers at Stamford Bridge, the only recognisable striker in blue was a 31-year-old bearded Frenchman, busy posing for photos with his new admirers from the sidelines. Olivier Giroud's signature was far too late to make the cut.
With Alvaro Morata injured, and Michy Batshuayi slipping through the German transfer window on loan, Antonio Conte was forced to take a gamble in fielding Eden Hazard up front on his own.
Improvised attempts to see this method work this season have come up fruitless for Hazard. A goalless draw at Goodison Park just before Christmas, and a one-nil win over free-falling Southampton being the previous two. He hasn't been among the goals for any game this tactic has been deployed in. But alas, with fewer options than Conte would have liked, he chose to roll the dice once more.
Wednesday's Premier League action in pictures

Show all 31
The Belgian was his lively self in the early stages, showing typical streaks of skill. Soon he was gifted one of Chelsea's best chances of the game, a free header from a perfectly-weighted Marcos Alonso cross. The chances then kept coming, and Bournemouth were generous with space in the six-yard box – moments where you'd think Morata, Giroud, or even Batshuayi might have given them the edge they needed.
As the Blues re-emerged for the second half, they seemingly left their impetus in the dressing room. Bournemouth had absorbed any ambition, and started to take the game by the collar. A cocktail of clever link-up play between Callum Wilson and Jordon Ibe, and sloppy spatial awareness gifted the visitors an opening goal.
The absence of a genuine striker left Chelsea's response bereft of a focal point. Hazard couldn't fight his way through the defence and his shots were easily kept at bay. Frustration began to show. While the hosts were struggling in first gear, Bournemouth began to fire on all cylinders, scoring twice in quick succession.
Hazard continued to fall away, both in quality and more literally into his more natural positions on the wing and behind the empty space in attack. The introduction of Cesc Fabregas and debutant Callum Hudson-Odoi did nothing to change the tempo, or Conte's despondent expression, the Italian traipsing his technical area in a more subdued manner that he's slipped into in recent weeks.
"I predicted this tough night," he admitted after the game. "You remember I said [in the pre-match press conference] it will be very tough for a lot of reasons."
"It's not right to find an alibi, to find excuses," Conte added. "Now is not the right moment to talk about Giroud and Emerson. I hope [they can make a difference]."
A loss like this isn't far from a career-ending calibre given the size of both clubs. It's certainly one to leave managers of this ilk reeling for days after. Conte was aware the Giroud-Batshuayi-Aubameyang transfer triangle would impact the team, he was just pinning his hopes on Hazard masquerading as a striker once more to bridge the gap. Watching this plan fail, Conte should know he needs to find an alternative.
As Giroud's smile disappeared beneath his jacket through the second half – he's now watched his two teams concede six goals in just 24 hours – he must have begun to sense the pressure he'll soon be under to make an impact.
Join our new commenting forum
Join thought-provoking conversations, follow other Independent readers and see their replies