How Ederson proved Pep Guardiola right and redefined what is expected of Premier League goalkeepers
In just his first season in English football, Ederson has established himself as one of the league's best goalkeepers, fuelling Manchester City's title charge in the process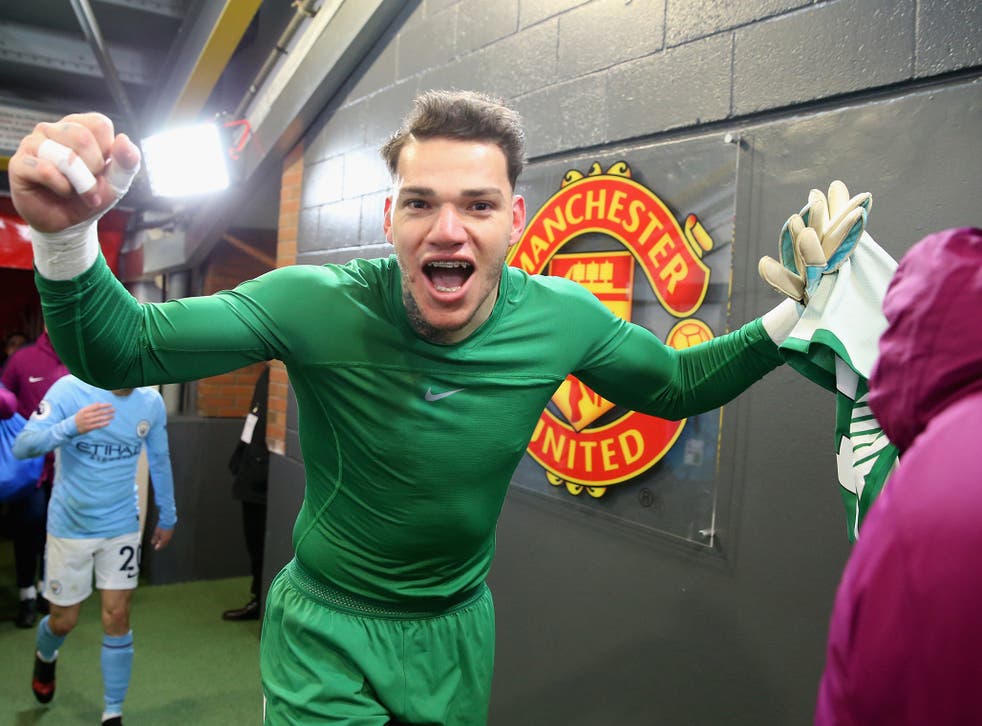 Pep Guardiola has spent close to £1bn in transfer fees during the nine seasons he has spent at Barcelona, Bayern Munich and now Manchester City, recruiting players as illustrious as Zlatan Ibrahimović, Xabi Alonso and Gabriel Jesus. And yet a strong case can be made that none of his 49 signings have proven quite so influential — or important — as Ederson Santana de Moraes, who arrived at City in a £34.7m move just one season after breaking into Benfica's first team.
Khaldoon Al Mubarak, City's impeccably well connected chairman, didn't have a clue who Ederson was when Guardiola and director of football Txiki Begiristain first began lobbying for his signature. But the Spaniards were convinced by Ederson's quality and made it their mission to win over the club's key decision makers, arguing through detailed analytical reports that the youngster was "perfect' for their aggressive style of play.
In fact, Guardiola had been a fan of the player ever since his Bayern Munich days. The German side were drawn to play Benfica in the Champions League quarter-finals in 2016, with Ederson quickly singled out as a key threat. An impromptu team meeting was even called. "Guys, what's the matter? What is that?" Guardiola asked, as his squad were shown several videos of Ederson creating goal-scoring chances from deep. All that extra homework eventually paid off: Bayern progressed 4-3 despite a number of fine saves from the man they had worked so hard to frustrate.
Less than two years later and Guardiola had already come to view Ederson as the perfect signing, albeit one arriving at a decidedly imperfect time. So dominant have City been this season that it is already easy to forget how they struggled last time around: how Guardiola privately admitted he may have underestimated the competitiveness of the Premier League, having previously sneered "I know you like to hear, 'It is the toughest one, congratulations'" to a room of hostile journalists in his first few weeks in the job.
His decision to jettison Joe Hart — a favourite of Al Mubarak's — in favour of Claudio Bravo ultimately proved to be a disaster. A series of high-profile gaffes ruined the confidence of a man with Champions League and Club World Cup medals on his mantelpiece, with his indecision and poor form spreading to City's defence — in particular £50m arrival John Stones. Bravo was eventually dropped for Willy Caballero, as City slumped to an underwhelming third-place finish.
These then were the circumstances Ederson arrived in last summer, with the Brazilian expected to both restore some solidity to City's backline, while also helping to rebut growing criticism of Guardiola's expansive style of play through his confidence on the ball. He has already achieved both of these objectives. More — he has almost single-handedly transformed a position that we had already thought comprehensively transformed in this country, first by Peter Schmeichel at Manchester United from 1991 onward, more recently by 'sweeper-keepers' such as Thibaut Courtois and Hugo Lloris.
"The position has evolved and moved on in recent years and has done so again this season," the former City goalkeeper Shay Given tells The Independent. "Ederson is almost like an outfield player in a position that Guardiola recognises as one of the most important on the pitch. Yes he saves shots and keeps the ball, but he is also so important in starting attacks and retaining possession. He's one of the best in world football in those respects."
It's all a far cry from the waifish teenager who first began carving out his career at Champions Ebenézer FC, a youth team formed purely to productively occupy the time of boys from Osasco — one of São Paulo's bloodiest suburbs. The gangly Ederson — quickly handed the ironic nickname "Gordo" (Fat Boy) — played at left-back and earned a reputation for his beguilingly powerful left-footed shot, before impressing even further when moved further back, between the sticks.
He hasn't looked back since. But his move into goal did not curtail his desire to play with the ball at his feet. As was to be expected for any football mad kid growing up in Brazil during the nineties, Ederson worshipped the maverick Brazilian goalkeeper Rogério Ceni, who scored no fewer than 131 goals during his 25-year association with São Paulo. "He is my only idol and will always be my main inspiration," Ederson later explained. "I still watch many of his videos making amazing saves and showing his quality to start his team's play from the back. His quality was extraordinary."
Ederson was eventually to sign for São Paulo where this instinct to defend using his feet was encouraged. Criminally he was released after just one season, enjoying stints at Ribeirão and Rio Ave before breaking through at Benfica, but the lessons he learned while playing for his boyhood club were to stand him in good stead years later.
It is this footballing ability that proved so attractive to Guardiola when he finally resigned himself to the fact that Bravo, a decade older than Ederson, was no longer fit for purpose. Because of how Guardiola likes his teams to play — unflinchingly building out from the back, holding a high defensive line, dominating possession — his goalkeepers need to be particularly athletic and confident under pressure. That is why Victor Valdes and Manuel Neuer were such vital parts of Guardiola's Barcelona and Bayern teams respectively, and it is testament to Ederson's performances this campaign that he is already being spoken about in that regard.
Like both Valdes and Neuer before him, Ederson is arguably Guardiola's most tactically significant player. When City find themselves robbed of possession, he is athletic enough to cover the whole of his half to ward off the counter-attack. But when City have the ball — which is usually around three quarters of the entire match — he operates as a de facto fifth defender, with his centre-backs splitting wide and deep leaving the opposition effectively needing to press an extra player.
Some managers, in particular Tottenham's Mauricio Pochettino and Basel's Raphaël Wicky, have responded to this tactic by instructing their front-lines to press Ederson relentlessly, eliminating the potential for a short, sideways pass. But Ederson is equally capable of going long. His 85.4% pass success rate is higher than players including Paul Pogba (85.1%), Kevin de Bruyne (84%) and Cesc Fabregas (83.2%), and makes him the league's most accurate goalkeeper by a comfortable distance. In this sense he is more than just a sweeper-keeper: he is a bona fide eleventh outfield player.
"The job description for goalkeepers has now changed again," the Premier League winning keeper and former City player David Seaman acknowledges. "Now you cannot simply be good with your feet, you have to be very comfortable using both of them, with the confidence to pass to your players and build attacks even when you are being chased down."
But Ederson is not just valued for his role in creating goals. He's just as good at stopping them. "His hands are fantastic as well, and he's not often given credit for that," adds Given. "He has made some big saves in big games that have sometimes gone unnoticed, particularly against Napoli when he denied Jose Callejon just before Sergio Agüero's goal. Obviously Agüero got the headlines but Ederson was responsible for that key moment.
"He is also very positive when coming off his line for crosses and corners, and when dealing with set-plays. He has a super positive outlook in that respect which ultimately rubs off on the defence and the rest of the team. He is quick and has a very good spring — all of those basics he gets right."
And yet despite the many eye-catching moments Ederson has been responsible this season — both with his hands and feet — the enduring memory of his first campaign at the Etihad will always be him lying stricken on the turf, following that sickening clash with Liverpool's Sadio Mané last September. Ederson was given oxygen before being stretchered off, later requiring eight stitches to treat a deep gash running down the side of his head. Just four days later he passed himself fit to play against Feyenoord in the Champions League.
Guardiola — a manager who prides the "balls" of his players — was delighted. "We play so high the goalkeeper has to play on the 18-yard box to help us with these forward balls," he smiled after the 5-0 win. "When the pitch was wet and the ball goes into that position, we have to defend with our goalkeeper. It is so important for us to feel that for our central defenders, with long balls, we have one guy to help us. Ederson had to be brave."
Ederson had a reputation for bravery prior to his move to Manchester, but his attitude and maturity have also endeared him to the City hierarchy. Still just 24, he has settled quickly, living in Cheshire with his wife Lais and their ten-month old daughter Yasmin. He has also formed tight bonds with his compatriot Fernandinho — who has helped him with translation — and Nicolás Otamendi, and has demonstrated a commitment to learning English.
One of the few remaining criticisms impetuously lobbed at this City side is that they're a 'chequebook club', who have crudely outspent their opponents and are now reaping the rewards. There is an element of truth in that, of course, but the club has also worked hard to create an environment of success, where a player such as Ederson can move and immediately begin fulfilling his potential.
Not that anybody at the club thinks Ederson is even remotely close to reaching the outer limit of his talents, mind you. "Already he is one of the best but with his age and his desire to improve he will become an extraordinary goalkeeper," an approving Guardiola commented recently. "He is young and has to improve a lot of things, but he is, for me, already one of the best in the world and in the future he will be even stronger."
And that is what is so exciting about Ederson, a player in his first season in the Premier League, in just his second full season as an automatic starter, who is already changing how we think about goalkeepers with the capacity to get even better.
Shay Given was speaking on behalf of TAG Heuer to promote the TAG Heuer Premier League Pressure Test. TAG Heuer is the Official Timekeeping Partner of the Premier League.
Register for free to continue reading
Registration is a free and easy way to support our truly independent journalism
By registering, you will also enjoy limited access to Premium articles, exclusive newsletters, commenting, and virtual events with our leading journalists
Already have an account? sign in
Register for free to continue reading
Registration is a free and easy way to support our truly independent journalism
By registering, you will also enjoy limited access to Premium articles, exclusive newsletters, commenting, and virtual events with our leading journalists
Already have an account? sign in
Join our new commenting forum
Join thought-provoking conversations, follow other Independent readers and see their replies