Eight-game Suarez ban leaves Reds 'surprised and disappointed'
Carl Markham
Tuesday 20 December 2011 21:10 Comments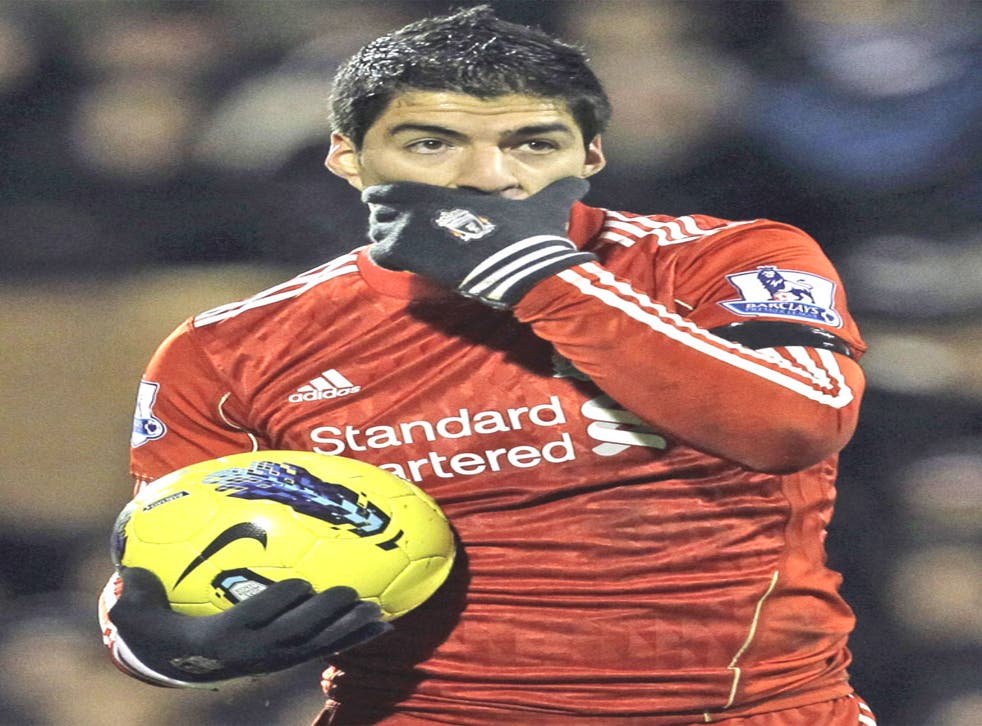 Liverpool will almost certainly challenge the eight-match ban given to Luis Suarez after the striker was found guilty of racially abusing Patrice Evra.
The Football Association imposed the punishment, suspended for 14 days pending any appeal from the club, and a £40,000 fine after a ruling by an independent regulatory commission.
Liverpool have steadfastly supported the Uruguay international since the incident was occurred in mid-October and in a strongly-worded response have stressed they do not believe the player is a racist.
The club also said they were "looking forward to the publication of the commission's judgment" and have also questioned the credibility of Evra's evidence.
A statement read: "Liverpool Football Club is very surprised and disappointed with the decision of the Football Association Commission to find Luis Suarez guilty of the charges against him.
"We will study the detailed reasons of the commission once they become available but reserve our right to appeal or take any other course of action we feel appropriate with regards to this situation.
"We find it extraordinary that Luis can be found guilty on the word of Patrice Evra alone when no-one else on the field of play - including Evra's own Manchester United team-mates and all the match officials - heard the alleged conversation between the two players in a crowded Kop goalmouth while a corner kick was about to be taken.
"It is our strong held belief, having gone over the facts of the case, that Luis Suarez did not commit any racist act.
"It is key to note that Patrice Evra himself in his written statement in this case said 'I don't think Luis Suarez is racist'.
"The FA in their opening remarks accepted that Luis Suarez was not racist.
"It is also our opinion that the accusation by this particular player (Evra) was not credible - certainly no more credible than his prior unfounded accusations."
The mention of "prior unfounded accusations" is a reference to racism allegations Evra made against Chelsea groundsman Sam Bethell in 2008 which were not proven.
Liverpool made a staunch defence of their stance on racism, which the club "considers in any form to be unacceptable - without compromise".
"The club takes extremely seriously the fight against all forms of discrimination and has a long and successful track record in work relating to anti-racist activity and social inclusion," said the statement.
"We remain committed to this ideal and equality for all, irrespective of a person's background.
"Luis himself is of a mixed race family background as his grandfather was black.
"He has been personally involved since the 2010 World Cup in a charitable project which uses sport to encourage solidarity amongst people of different backgrounds."
Suarez's defence was based on claims that he was unaware language that is acceptable in Uruguay is viewed as racist in Europe.
Liverpool also accused the FA of being intent on bringing charges before they had even spoken to Suarez.
"It seems incredible to us that a player of mixed heritage should be accused and found guilty in the way he has based on the evidence presented," the club statement continued.
"We do not recognise the way in which Luis Suarez has been characterised.
"It appears to us that the FA were determined to bring charges against Luis Suarez, even before interviewing him at the beginning of November.
"Nothing we have heard in the course of the hearing has changed our view that Luis Suarez is innocent of the charges brought against him and we will provide Luis with whatever support he now needs to clear his name.
"We would also like to know when the FA intend to charge Patrice Evra with making abusive remarks to an opponent after he admitted himself in his evidence to insulting Luis Suarez in Spanish in the most objectionable of terms."
Suarez himself admitted it had been a tough day, writing on Twitter: "Today is a very difficult and painful day for both me and my family. Thanks for all the support, I'll keep working."
The commission's ruling, which emerged just after 8pm, stated: "An Independent Regulatory Commission has today found a charge of misconduct against Luis Suarez proven, and have issued a suspension for a period of eight matches as well as fining him £40,000, pending appeal.
"Mr Suarez used insulting words towards Mr Evra during the match contrary to FA Rule E3(1); "The insulting words used by Mr Suarez included a reference to Mr Evra's colour within the meaning of Rule E3(2)."
Lord Herman Ouseley, chairman of Kick It Out, tonight said: "The FA has shown leadership and intent through what has clearly been a difficult and complex complaint to deal with, and invested time and expertise to ensure this outcome.
"It has demonstrated that it will not stand for discrimination, something organisations such as FIFA and UEFA should take heed of.
"Kick It Out will continue to work with clubs and players, at professional and grass roots level, offering education on what is deemed offensive and unacceptable behaviour."
Liverpool boss Kenny Dalglish said tonight, via his twitter account: "Very disappointed with today's verdict. This is the time when luis16suarez needs our full support. Let's not let him walk alone. KD."
Suarez added on Twitter: "I'm upset by the accusations of racism. I can only say that I have always respected and respect everybody.
"We are all the same. I go to the field with the maximum illusion of a little child who enjoys what he does, not to create conflicts."
Register for free to continue reading
Registration is a free and easy way to support our truly independent journalism
By registering, you will also enjoy limited access to Premium articles, exclusive newsletters, commenting, and virtual events with our leading journalists
Already have an account? sign in
Join our new commenting forum
Join thought-provoking conversations, follow other Independent readers and see their replies