El Hadji Diouf claims former Liverpool captain Steven Gerrard 'never did anything for his country'
This follows his claims from November of last year when he argued that Gerrard was 'nothing at all' when he first joined Liverpool from Lens in 2002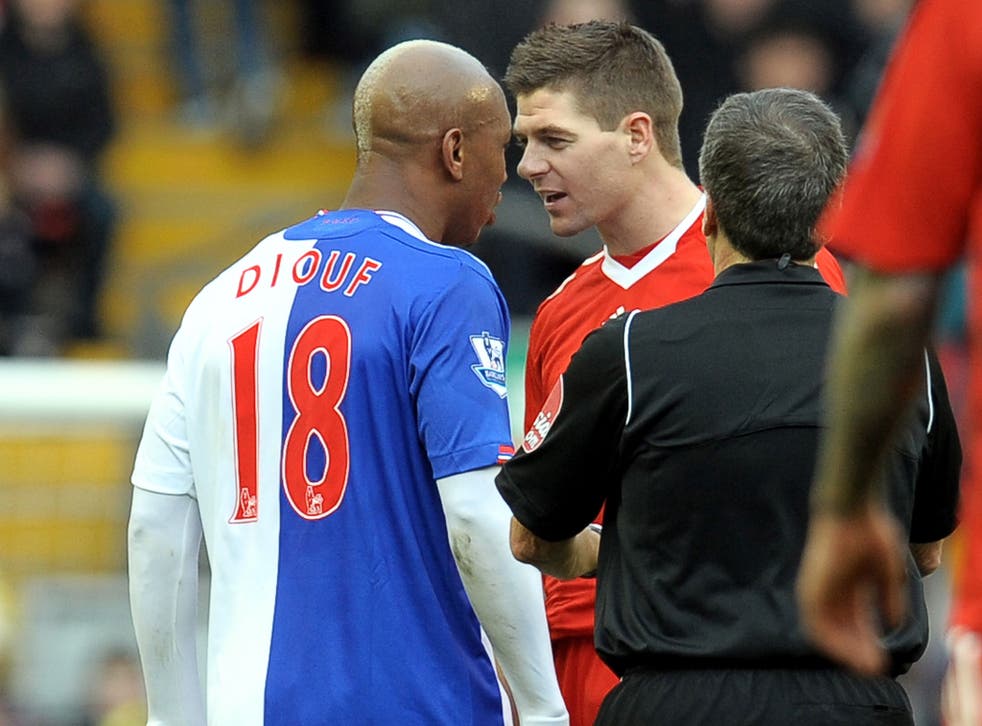 El Hadji Diouf has taken a fresh swipe at former teammate Steven Gerrard, claiming the midfielder "never did anything for his country" and that "Senegal is bigger than Liverpool".
The two share a hostile relationship that stretches back to their playing days at Anfield from 2002 to 2005.
After his underwhelming spell at the club came to an end, the ex-winger went on to make a habit of publicly criticising his former captain, stating in late 2016 that Gerrard "was afraid of looking into my eyes".
And now, in his latest attack on the Liverpool icon, Diouf has prompted further controversy after claiming the retired England international "never did anything for his country" in a recent interview with the BBC.
"I have no problem with him," he said. "Gerrard is a strong character and I am a strong character. 'Stevie G' was a very good player, people like him in Liverpool but he never did anything for his country.
"I am Mr El Hadji Diouf, Mr Senegal but he is Mr Liverpool and Senegal is bigger than Liverpool and he has to know that."
This follows his claims from November of last year when he argued that Gerrard was "nothing at all" when he first joined Liverpool from Lens.
"People told me at Liverpool, there was some guys you could not touch, but I touched them. That is why it was complicated for me," Diouf said at the time.
"When I arrived I showed him he was nothing at all. He was nothing at all.
"…he was afraid of looking into my eyes. He was afraid of talking to me. Let's not forget when I arrived I did not ask for his shirt. He asked for my Senegal shirt for one of his mates."
Gerrard has similarly vocalised his grievances with Diouf over the years, admitting he had "no respect" for the player during their time together at Liverpool.
During his days in the Premier League, Diouf earned a reputation for courting controversy with his on-pitch antics.
He notably spat a Celtic fan during a UEFA Cup match between Liverpool and the Scottish side at Parkhead in March 2003, and was repeatedly criticised for his "unprofessional" attitude.
But Diouf has defended his fiery personality while insisting that he is an "easy target" for critics.
"I am a lion, I am a bad loser and it's not wrong to be a bad loser," he said to the BBC. "I have got character and I want people to respect me.
"I am an easy target. It's easy to talk about El Hadji Diouf and I let them talk but I know in my heart I am a good guy. My family know, my population knows, my continent knows I am a good guy and that's the best thing. The rest is not my problem."

Register for free to continue reading
Registration is a free and easy way to support our truly independent journalism
By registering, you will also enjoy limited access to Premium articles, exclusive newsletters, commenting, and virtual events with our leading journalists
Already have an account? sign in
Register for free to continue reading
Registration is a free and easy way to support our truly independent journalism
By registering, you will also enjoy limited access to Premium articles, exclusive newsletters, commenting, and virtual events with our leading journalists
Already have an account? sign in
Join our new commenting forum
Join thought-provoking conversations, follow other Independent readers and see their replies