Everton 1 Chelsea 0 match report: Steven Naismith leaves Jose Mourinho fuming with decisive strike
Naismith goal kick-starts Martinez era at Goodison Park after three draws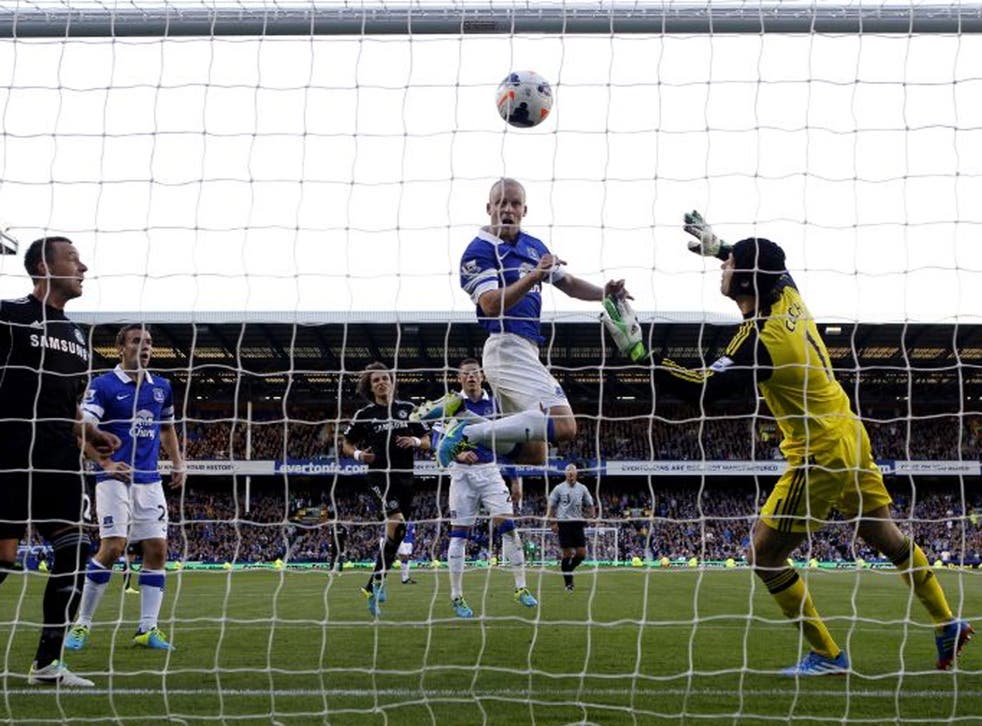 Jose Mourinho stood on the touchline on a piece of grass that carried the slogan he and Chelsea's owner, Roman Abramovich, have always lived by.
Stung by the criticism that accompanied their removal of Nil Satis Nisi Optimum from the club badge, Everton ensured that the Latin for "only the best will do" is plastered everywhere around Goodison Park, including by the dug-outs.
This was not the best and it would not do for a man who deals purely in silverware or for an owner who fired the man who brought him the European Cup on the grounds that, frankly, Roberto di Matteo was not famous enough.
Mourinho is the ultimate managerial celebrity and he would argue that this was both a game Chelsea should have won and that, once they were behind, he tried everything in his power to drag them level – an early double substitution and then the gamble of replacing Ashley Cole with Fernando Torres.
He moaned: "If they don't have a killer instinct, then they will have to get one. When you have an easy match in which to score goals, then you have to score them. Before they scored, we had easy chances."
Having given him his debut, Mourinho excluded Samuel Eto'o from criticism, saying: "Samuel has been a killer all his career."
Chelsea have seldom relished their games at Goodison. It was here, in the old stadium's narrow corridors, that Carlo Ancelotti, the one Chelsea manager of modern times who could match Mourinho's achievements, was fired. The man himself had never lost here – until now. Mourinho has claimed to have mellowed but his pledge to be nicer to Arsène Wenger may not survive a glance at the league table.
The more Chelsea lumbered forward, the more they were exposed to Everton's counterattacks. David Luiz was fortunate not to be shown a red card by Howard Webb when he hauled down Kevin Mirallas andlate on Leighton Baines, the man Roberto Martinez had somehow managed to keep from Manchester United's clutches, sent a free-kick slamming against the post.
This was Martinez's first League win since succeeding David Moyes and it was a profoundly impressive one tactically and for its impact on a crowd who may have started to judge his appointment sceptically.
In honour of their new manager, Everton had designated this as a Spanish-themed evening with paella and sangria available in the Goodison fan zone and Julio Iglesias on the loudspeakers. During the bitter years of General Pinochet's dictatorship his torturers used to play the one-time Real Madrid keeper's songs at maximum volume over and over again to unsettle their victims.
The last chords to Begin the Beguine had not long died away when you sensed that this might be an evening that would stretch and break Everton as surely as any of the general's thumbscrews.
Chelsea took command and the only question appeared to be whether, of the men who accompanied Mourinho in his second coming, it would be Samuel Eto'o or Andre Schurrle who opened the scoring.
Soon after the interval, Schurrle wheeled away apparently convinced he had equalised only for the ball to strike the side netting.
That Martinez was allowed to deliver his half-time team talk with his side improbably ahead was down to a close-range header from Steven Naismith and some wonderful tackling from Gareth Barry.
Of the three signings Martinez took to Goodison on deadline day, Barry was the most famous and provoked the least comment. In part it may have been because at 32 he is regarded as a footballer who already belongs to yesterday. He is the kind of midfielder whom you would take if you required a gritty, goalless draw in Ukraine but he was not considered for that even by Roy Hodgson. From the moment Manuel Pellegrini took over, Manchester City gave the impression that, naturally, he was someone they no longer needed.
Everton, however, certainly did, partly because one of the jobs Marouane Fellaini did very well was to break up attacks, although, like Barry, he conceded plenty of yellow cards in doing it.
Twice, Barry swept the ball from Juan Mata's feet and then denied the evening's other debutant, Eto'o a certain goal. It began with a move that summed up much of the play as David Luiz began a long, sweeping run that finished with the ball punted aimlessly forward. Phil Jagielka then passed it back to his goalkeeper and panic broke loose.
Tim Howard, who is sporting the shaven head and luxuriant beard look that would get him a game in any Taliban Select XI, passed straight to Schurrle, who picked out Eto'o facing a more-or-less empty net. Then came Barry's block.
The waste was punished with the final move of the first half and it was one that Chelsea misjudged badly. Leon Osman's cross to Petr Cech's far post should have been cut out by Ashley Cole but it was John Terry who moved to intercept and was beaten to the ball by Nikica Jelavic. His header across the goal was met by another from Naismith at point-blank, unmissable range.
Everton: (4-2-3-1) Howard; Coleman, Jagielka, Distin, Baines; Osman, Barry; Naismith (Stones, 88), Barkley, Mirallas (Deulofeu, 90); Jelavic (McCarthy, 68).
Chelsea: (4-2-3-1) Cech; Ivanovic, Terry, Luiz, Cole (Torres, 70); Ramires, Mikel, Hazard, Mata (Oscar, 60), Schurrle (Lampard, 60); Eto'o.
Referee: Howard Webb
Man of the match: Barry (Everton)
Match rating: 7/10
Register for free to continue reading
Registration is a free and easy way to support our truly independent journalism
By registering, you will also enjoy limited access to Premium articles, exclusive newsletters, commenting, and virtual events with our leading journalists
Already have an account? sign in
Join our new commenting forum
Join thought-provoking conversations, follow other Independent readers and see their replies