Everton apologise and vow to ditch unpopular new crest after one season following fans' Twitter backlash
Club issue statement after 22,500 fans sign online petition protesting at the new design
James Legge
Wednesday 29 May 2013 12:31 Comments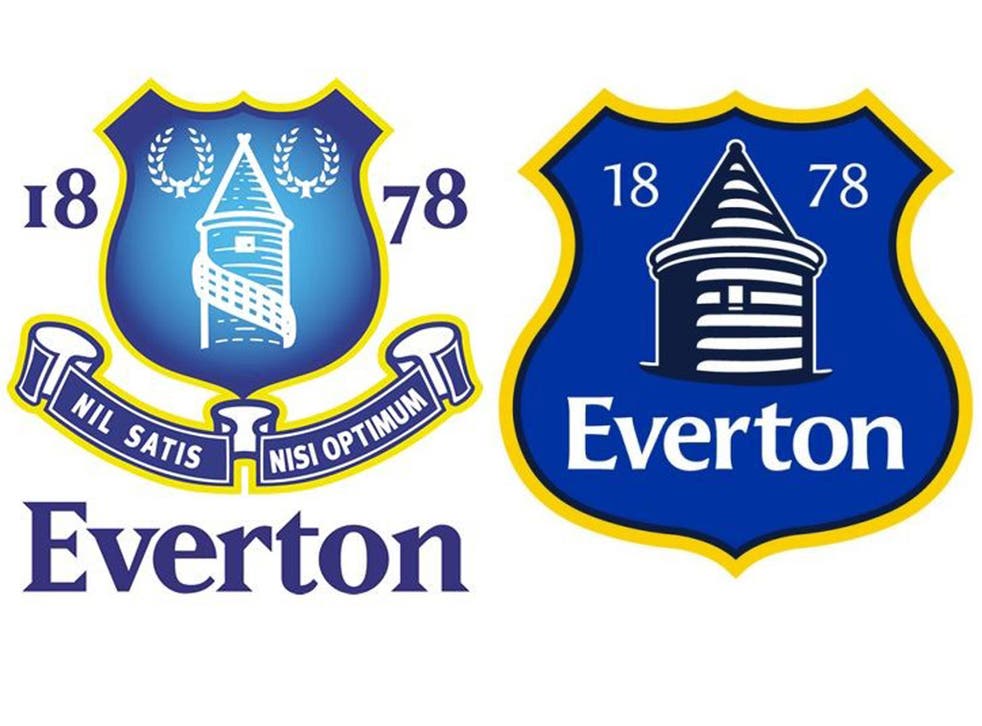 Everton have apologised to fans after an angry backlash over changes to the club crest.
In a long statement, the club conceded that the badge can't be changed in time for the new season because merchandise has already been made, but promised a "transparent consultation process" on a replacement for the 2014/15 season.
On Saturday the club confirmed that the badge was changing to a "modern, cleaner and dynamic design," ditching the club's motto of "nil satis nisi optimum" - translated as "nothing but the best is good enough" - and the crest's Roman-style wreaths.
Within hours, a campaigning Twitter account, called @NoToNewEFCBadge, had sprung up and garnered a thousand followers, and an online petition began, calling for the new crest to be scrapped.
The petition, which now has more than 22,000 signatures - more than half the capacity of the club's Goodison Park stadium - stated: "Keep the wreaths and motto of Everton Football Club, don't change the badge.
"This will not only be an embarrassing crest to represent the club but it will also make the club lose money on merchandise, due to no one wanting to buy any merchandise with that awful crest printed on to it."
That evening, Liverpool's elected mayor Joe Anderson, himself a big Everton fan, tweeted at the club's official Twitter account: "Listen to the fans please. Badge design poor no NSNO (Nil Satis Nisi Optimum) absolutely out of touch, act now this will not become popular major mistake.
"Don't ignore what fans are saying listen to what is being said and act now. The fact is it is very poor not NSNO."
And an open letter published for fans to send to the club said: "I am not against change, I am not a fan who is 'stuck in the past' and I absolutely acknowledge the need of the club to modernise the badge for various reasons. What I cannot accept however, is the way in which a small group of faceless individuals have torn the heart out of a key part of the identity of our club.
"Along with our name, club colours and stadium…the club crest is an intrinsic part of who we are and where we have evolved from."
The club has now released a statement, saying: "We have reached a decision; a decision that starts with an apology. We are sorry.
"We regret we didn't ask every Evertonian about something that matters so much to every one of you.
"We remain firm in the belief that our Crest should be modernised - not a unique or unprecedented situation and one we know our fans would accept and embrace. Effective logos are simple and streamlined. Simplicity achieves stand-out recognition."
Robert Elstone, Everton's CEO, told fans: "Clearly the weekend's response has meant that we have reviewed how we went about the whole of the re-design process and whilst many objectives were achieved, we recognised we missed the key part out. Our Chairman had demanded widespread consultation and we stopped short of that. We talked to our Fans' Forum, our commercial partners and our experienced staff around the Club. That was not enough.
"We have worked hard over recent years to give our fans a greater sense of involvement in the Club and dialogue flows openly and freely in many areas from the Fans' Forum, to Supporters' Clubs and of course, via Everton in the Community. We will ensure the same happens with the future development of your Club Crest."
Joe Jennings, who was behind the Twitter campaign, told The Independent he was "disappointed that we will still have to stomach this design for a whole season, however we are relieved that common sense has prevailed and a proper consultation will take place prior to next season.
"The overall feeling though is one of disappointment and annoyance that the club's executive staff have once again proven to be so out of touch with the fans and that it has taken a 20k plus petition for them to see how bad a misjudgement they have made."
Register for free to continue reading
Registration is a free and easy way to support our truly independent journalism
By registering, you will also enjoy limited access to Premium articles, exclusive newsletters, commenting, and virtual events with our leading journalists
Already have an account? sign in
Join our new commenting forum
Join thought-provoking conversations, follow other Independent readers and see their replies