Chelsea take giant step towards Premier League title with win at Everton
Everton 0 Chelsea 3: Goals from Pedro, Gary Cahill and Willian ensured the Blues will be at least four points clear with four games to go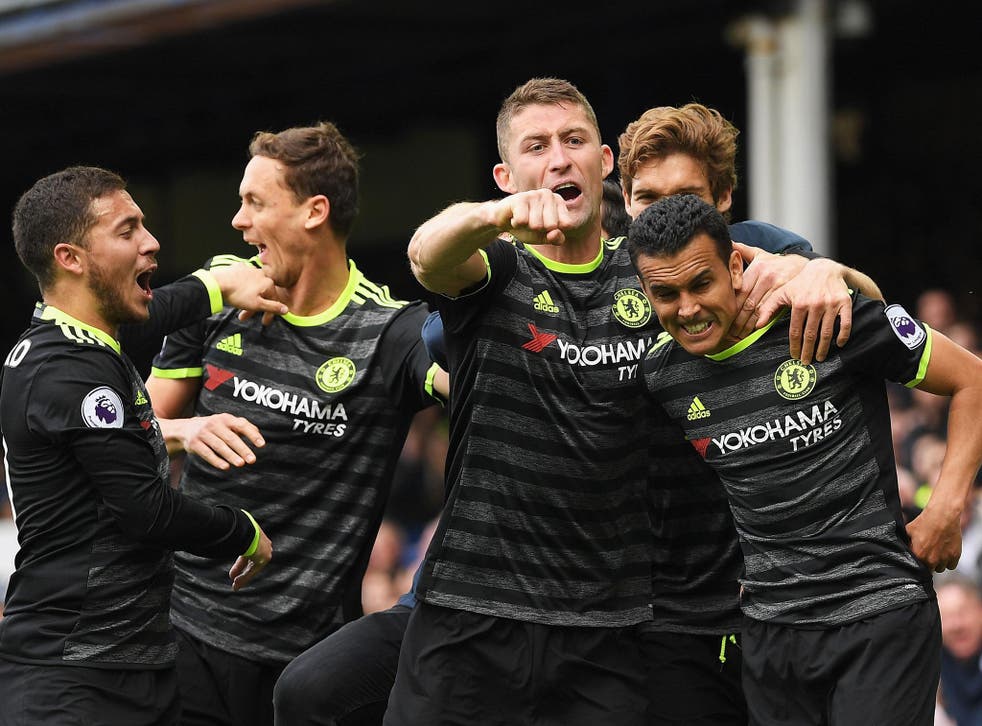 "Not words but hugs, hugs," said Antonio Conte, describing his response to the players in the dressing room at the end, and his euphoria in front of the supporters also revealed that he knows the title is Chelsea's now. The going was tough for an hour or so but it was a day when a depth of world class did the necessary.
Everton man-marked Eden Hazard and put Diego Costa into a compression chamber, rendering him a ball of pent-up frustration, so Pedro stepped forward to solve the conundrum, instead. Doing a job on a third attacking force proved too much for Everton. There is only so much watchfulness 11 men can accomplish. A 29-year-old who has won 20 major honours with Barcelona is a valuable individual to call upon.
"They wait and they are really clinical," Everton manager Ronald Koeman said of the victors. "Without playing on a high football level they know they will win the game because they have this quality." With the greatest respect to Middlesbrough, West Bromwich, Watford and Sunderland - the leaders' remaining opponents – it will take a minor miracle to halt them now.

What impressed most was Chelsea's sangfroid – their patience when Everton tried to shut them down. There was no panic. They seem utterly indifference to Tottenham's presence in their rear-view mirror, even though Diego Costa's ballooned first half effort into the stands from in front of goal suggested it was one of those days when they would be better off without them.
Idrissa Gana Gueye's man-marking of Hazard was effective. Koeman is an impressive tactician. Yet Conte's players always looked capable of ripping through the home ranks, with Pedro the sharpest in their number. It is the speed of thought and ball transfer when possession is turned over which makes them such a threat. Goodison was flinching long before the game was up.

​
Everton helped with "mistakes in ball possession" as Koeman described it afterwards. A disappointing Ross Barkley was a multiple offender. Neither he nor Romelu Lukaku commanded enough possession to affect the course of the game. Occasionally, the Belgian looked physically threatening but this won't have much enhanced his appeal to Chelsea.
Sam Davies was the most impressive individual in Everton's ranks. The 18-year-old's challenge which left Diego Costa writhing on the turf to collective cheers 15 minutes in, was an entirely legal one, after the striker's heavy controlling touch. It was a 'welcome to Goodison moment for him. But the absence of Morgan Schneiderlin with a thigh injury picked up on Saturday afternoon left Everton limited and unbalanced in defensive midfield, with Gueye holding back a tide.

There was a fleeting glimpse of the danger when Costa span around Ashley Williams deep in Chelsea territory, advanced at a backpedalling Everton rearguard and despatched Hazard, who rounded Martin Stekelenburg. The angle Hazard worked was too acute and he found the side netting.
Everton's first half resistance was a measure of the muscularity that Koeman has introduced to a club who were almost single-handedly destroyed here by Costa in the 6-3 defeat two seasons back. But 20-year-old Dominic Calvert-Lewin's 70th second shot against the base of the post was as good as it got. Koeman has taken them back to the Europa League but here was a glimpse of the class divide between them and the best.

The opener arrived just as they were starting to believe that they had weathered the storm. Pedro flipped back on himself around the edge of the 'D' and unravelled a shot which beat Stekelenburg for sheer power as it zeroed into the goalkeeper's top right hand corner.
The game was up when a 79th minute Hazard near post free kick was palmed by Stekelenburg straight to the boot of Gary Cahill. The goalkeeper might have done better. Conte then made changes and watched two of his substitutes combine to make the victory emphatic. A Costa reverse pass sent Cesc Fabregas into the left side of the Everton area, where he found Willian unmarked to sidefoot in, three minutes from time.

​In his still improving English, Conte struggled to articulate the word 'hugs', though served a reminder of how little time he has needed to mould such a force out of the remnants of last season. "I started to work for Chelsea only eight months ago and see this type of relationship with the fans is great for me," he said.
Asked how close Chelsea now stand to the title, he said he didn't know. "If we don't win against Middlebrough…" Nobody was fooled.

Everton (4-1-4-1): Stekelenburg; Holgate, Jagielka, Williams, Baines; Gueye; Valencia (Kone 72); Calvert-Lewin (Mirallas 72), Davies, Barkley; Lukaku. Substitutes: Robles, Kone, Mirallas, Barry, Lookman, Pennington, Kenny
Chelsea (4-2-3-1): Courtois; Alonson, Cahill, Luiz (Ake 82), Azpilicueta; Kante, Matic; Moses, Hazard (Willian 85), Pedro (Fabregas 82); Costa. Substitites: Begovic, Zouma, Batshuayi, Chalobah
Referee: J Moss
Star man: Pedro
Match rating: 7
Join our new commenting forum
Join thought-provoking conversations, follow other Independent readers and see their replies