Everton's dithering in search for a new manager reveals a worrying lack of planning behind the scenes
With every passing day the 'least worst' option to replace Ronald Koeman - David Unsworth - becomes more likely while options like Sean Dyche and Marco Silva fade away
Mark Critchley
Monday 20 November 2017 17:07 Comments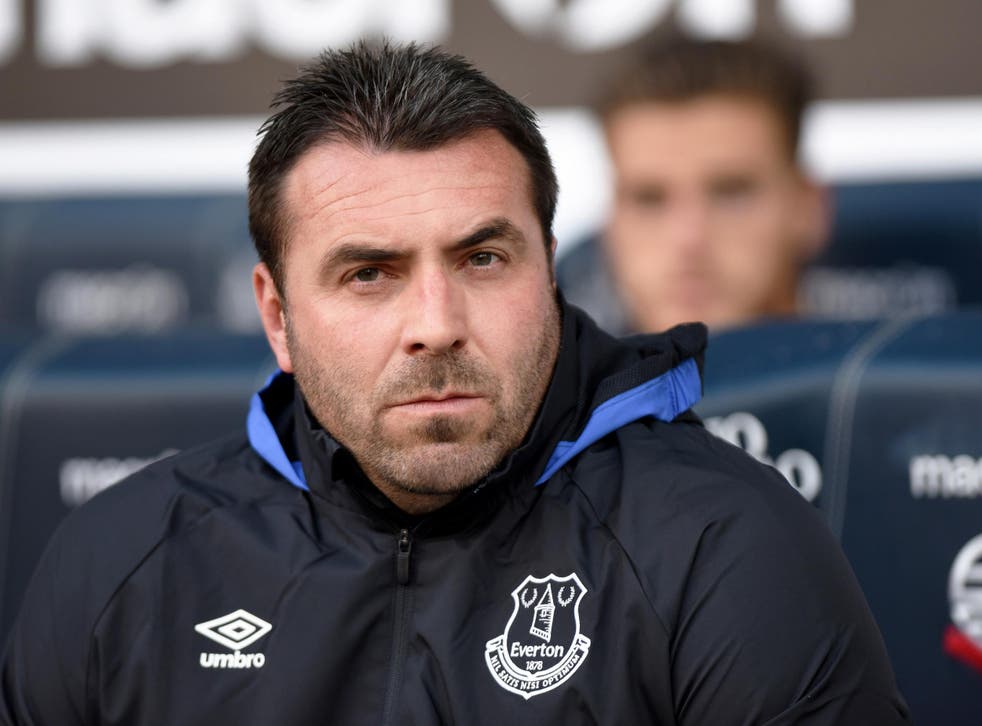 It is now 29 days since Ronald Koeman was sacked by Everton and yet the club's search for a new manager continues to resemble one long game of spin the bottle in which nobody gets a snog.
The lack of a permanent replacement in the Goodison Park dugout would be more understandable if a plan could be discerned from the list of candidates, but the sheer number and the diversity of those linked over the last month suggests otherwise.
The first favourite was Sean Dyche, a manager who has proven he can extract the best out of a limited group of players with pragmatic, results-first football. The Burnley manager, however, insists he has not been approached.
One man who was considered by Farhad Moshiri and Bill Kenwright is Sam Allardyce, who broadly shares a playing style with Dyche. The key difference between the two, perhaps, was that Allardyce has a recent history of securing short-term results at the wrong end of the Premier League table in his favour. It will not happen, though. Everton dithered, Allardyce pulled out.
The current bookmakers' favourite is Marco Silva, whose effervescent Watford outfit could hardly be more different in style from either a Dyche or an Allardyce team. On balance, he is probably the best man for the job having gone close to turning Hull City's tanker around last season, but it may not matter in any case. Watford themselves insist that no money will persuade them to part with Silva in the middle of the season.
The names of Carlo Ancelotti, Thomas Tuchel and Diego Simeone have all been dropped and all are at much longer odds. Even if each of them was not a fanciful suggestion, they are radically different coaches with radically different approaches who have little more than strong continental reputations in common.
All of which raises an obvious question: what are Everton actually looking for? As the search for Koeman's replacement stretches into its second month, it becomes all too reminiscent of what got the club into this mess in the first place: a summer transfer window that was heavy on spending but had little sign of a plan.
Just as it was hard to see the logic behind replacing Romelu Lukaku with three slow, expensive and similar No 10s, it is unclear whether the club want their next manager to be a conservative or a cavalier, a sticking plaster or a 'project', a renowned coach with a big reputation or a promising upstart who deserves a chance. If Silva is first-choice, why was Allardyce considered? Does Moshiri change tack again if Watford stand firm?
The upshot of all this is that Everton may be led towards the 'least worst' option: persisting with caretaker David Unsworth until a clear and consistent idea of what they want from their next manager is found. They must form one quickly. With every day that passes, it becomes more important that the next appointment is the right one.
Register for free to continue reading
Registration is a free and easy way to support our truly independent journalism
By registering, you will also enjoy limited access to Premium articles, exclusive newsletters, commenting, and virtual events with our leading journalists
Already have an account? sign in
Join our new commenting forum
Join thought-provoking conversations, follow other Independent readers and see their replies