Everton hammer Manchester City as Pep Guardiola suffers biggest ever league defeat
Everton 4 Manchester City 0: Lukaku, Mirallas, Davies and Lookman all find the net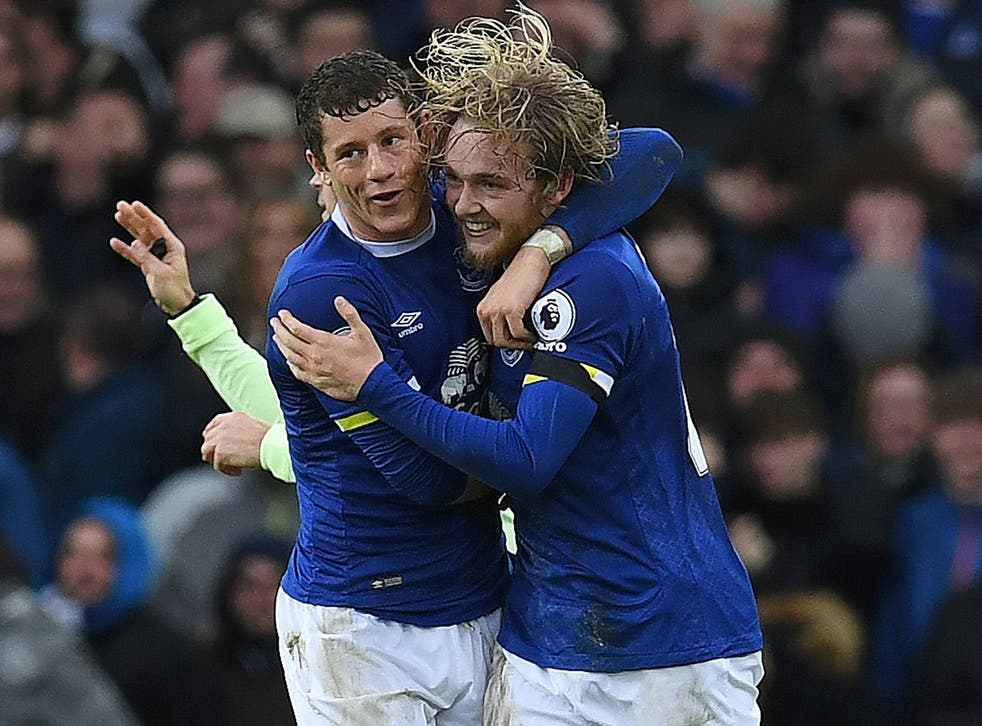 Indeed, Pep, but can you do it in a tough borough like Walton when vile January winds whoosh up Goodison Road and cold Irish Sea rains soak shirts, potentially dampening spirits?
Not on this occasion; not when he is also facing a midfielder with the talent and raw-enthusiasm of Tom Davies, the teenage Everton midfielder who chose this game to propel himself into the nation's spotlight, scoring a goal that only the great 18-year-olds tend to score.
Davies hails from the same football family as Alan Whittle, the former Everton forward many describe as a maverick. After leaving Everton, Whittle's career took him to Iran where he played for Persepolis for a year until he was forced to return to Britain after Ayatollah Ruhollah Khomeini led the Islamic Revolution of 1979.
Whittle's emigration, at a time very few footballers chose such a path, meant he became a recognisable sporting figure in the country, or as he put it – telling the Evertonian in 2008, "I was big in Iran."
Should his nephew Davies continue to perform as he did here, he might gain rather more fame than his uncle in his homeland. Davies's involvement in Everton's opening goal had already been an outstanding feature of the day before he made it 3-0; sprinting down the length of the Bullens Road stand before executing a sublime piece of skill that made Yaya Touré and Gaël Clichy look like yesterday's men. Ross Barkley's pass left him running towards the Gwladys Street end, the famous end in the ground. That didn't bother Davies, though. His lift over Claudio Bravo was cool.
This was a terrible afternoon for Pep Guardiola and City; one which exposed where their problems lay, largely due to the youthful magnificence of Everton menfolk like Davies, Mason Holgate and Ademola Lookman, who scored on his Everton debut to make it 4-0.
Guardiola's all-conquering teams at Barcelona and Bayern Munich had great players but there was also a platform to build from involving midfielders at their peak condition, able to dominate and control their space on the field. He also had full-backs able to embrace their creative responsibilities.
Look at the age of City's players in those areas: Bacary Sagna will be 34 next month, Clichy is 31, Pablo Zabaleta will be 32 tomorrow and Touré (with strapping on his knee) is 33.
Everton vs Manchester City player ratings

Show all 22
Guardiola must know that over the course of a campaign, facts like these will prove to be significant. He is unfortunate that İlkay Gündoğan's injury is season-ending. Though Fernandinho was suspended for this game, he probably needs to replace three or four players to make City better.
The sight of Touré trying to stop Davies had been a regular theme. Everton's opening goal was beautiful in its simplicity and a consequence of some sluggish reactions in City's midfield. Clichy was at fault for City, passing straight to Davies; though from there, there remained much to do.
The way he glided through the midfield, ignoring the opponents of considerable girth like Touré, suggested there is a calmness to his confidence. Davies was able to hold his release, appreciating the right time to supply Kevin Mirallas with the weight of pass which made it easier for the Belgian make a quick switch, which in turn found Romelu Lukaku on the penalty spot in front of the Park End with an open net in front of him.
It was the seventh time this season City had conceded following the first shot from the opposition on their goal. When Everton's second shot of the game came, there was the same outcome: a goal, this time for Mirallas, who shoveled his finish past Bravo, giving the Chilean no chance.
John Stones, returning to Goodison for the first time since his £50million move to City, had slipped in the moments before, affording Barkley possession. City had been hopeless in both boxes but they were, perhaps, unfortunate too. In the first half - at 0-0 - a penalty could have been theirs when Joel Robles and Leighton Baines combined to bring down Raheem Sterling. Baines's facial expression suggested a level of guilt but referee Mark Clattenburg concluded, however, there had been no infringement.
By the end, Goodison was juddering and shuddering, its old buttresses moving. Lookman was sent on by Koeman, the £11million signing from Charlton Athletic. He needed just two minutes to score after being introduced in injury time. His goal meant it was Everton's biggest victory over City in 31 years.
Join our new commenting forum
Join thought-provoking conversations, follow other Independent readers and see their replies