Everton and Liverpool left wondering what might've been after damp squib of a derby
Everton 0-0 Liverpool: There were fleeting reminders that this was a Merseyside derby but, in all, this was a curiously flat affair that produced very few moments of genuine quality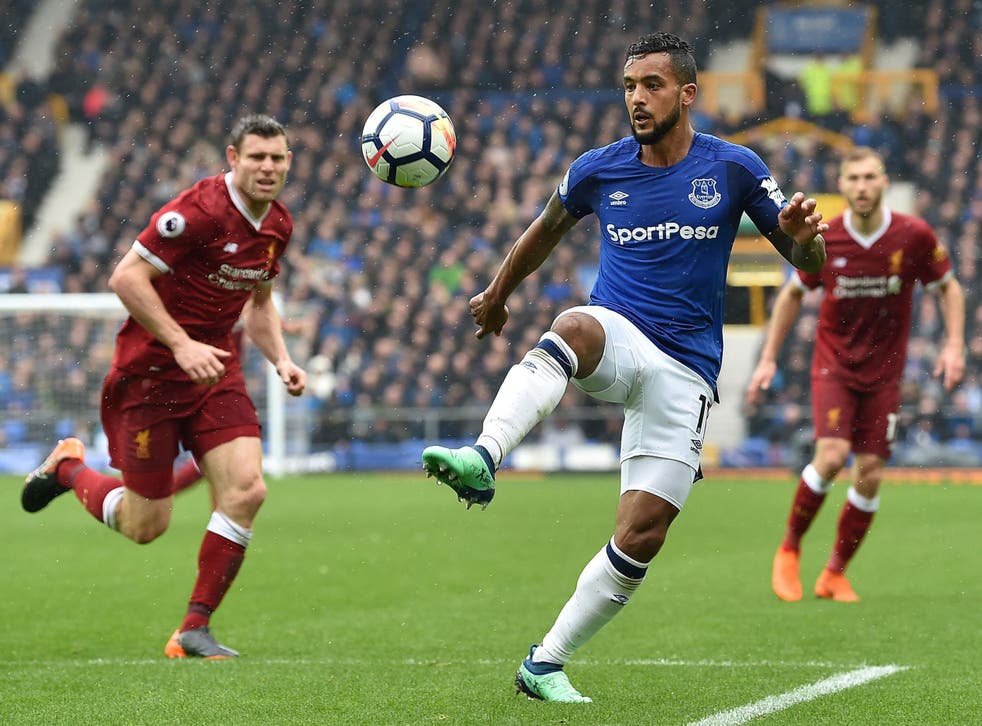 Perhaps, for Sam Allardyce, the end ultimately justified the means. Not many sides will keep Liverpool at bay this season, even if this was a quiescent and experimental Liverpool, still on a European comedown from their midweek victory. Yet the howls of anguish from the stands told their own story. The 231st Merseyside derby was as damp a squib as the day that bore it.
Doubtless Allardyce will point at the last 15 minutes, in which his Everton side finally plugged themselves into the mains, pounced on a tiring Liverpool, and probably should have won the game. Yet the truth is that until then, this was a curiously flat affair, played in dispiritingly persistent afternoon drizzle on a squelchy surface with the consistency of cake. Everton's stirring ending to the game merely posed the question of how much more they might have managed to create had they been a little braver, a little sooner.
Instead, their winless run in this fixture stretches to a record 17 games in all competitions, and as they filed glumly out of Goodison Park, the home fans will surely reflect on a missed opportunity to land the decisive blow on their depleted rivals. With no Mo Salah, no Andy Robertson, with Roberto Firmino and Alex Oxlade-Chamberlain left on the bench, with a greasy pitch and a baying crowd, all the ingredients were in place for Everton to set about their bitter rivals with extreme prejudice.
And yet under Allardyce, this is a side that will only ever be a fraction of its full potential. There are good players at this club, players with craft, players who long to create. Tom Davies. Wayne Rooney. Morgan Schneiderlin. Yannick Bolasie. Theo Walcott. Here, they settled instead for the secure embrace of the safe out-ball, the 45-yard back-pass, the 60-yard thump, the satisfying clearance to touch. Up front, Cenk Tosun was forced to live off scraps. The sparky Walcott opened his legs and showed his class once or twice, but was more often employed as an auxiliary right-back. The sleepy Bolasie was substituted on the hour to relieved cheers.
Everton vs Liverpool player ratings

Show all 23
As for Liverpool, they will at least be glad to have emerged from a potentially hazardous encounter with a point and no further injuries. Certainly Danny Ings, earning a rare start up front, was lucky to walk away unscathed after getting his ankle trampled on, a challenge that really should have earned Bolasie a card. Alongside him, Dominic Solanke will go to bed reliving the moment he put the ball straight at Jordan Pickford from six yards in the first half. It is now 23 games without a goal for him, and he will have had few better chances than that.
At the other end, Liverpool had Loris Karius and Virgil van Dijk to thank for their clean sheet. Van Dijk was immense throughout, winning virtually all of his 50-50s and again injecting the sort of gentle assurance that the Liverpool defence has so often lacked in recent years. Karius, meanwhile, made the save of the game, a brilliant fingertip flick to deny Bolasie from 25 yards.
But by and large, the game settled into a fairly predictable holding pattern: opting for shape rather than disruption, Everton allowed Liverpool to work the ball to the edge of their penalty area almost unimpeded. As the home fans beseeched their players to push higher up the pitch, Everton remained in their cagey crouch, too deep even to counter effectively.
There were fleeting reminders that this was a Merseyside derby. Ings clashed angrily with Seamus Coleman after a spicy confrontation in front of the dugouts. Within seconds of coming on for James Milner, Oxlade-Chamberlain whistled a shot from distance just over Pickford's bar. And finally, at the urging of their own fans, Everton began to take the game to Liverpool. Tosun was inches away from getting a foot on Leighton Baines's spiteful low cross. Walcott began to come into his own.
Everton could easily have stolen the game in those final minutes. Tosun outmuscled Dejan Lovren but took too long on the ball. Later, the Turk headed the ball back across goal when he should probably have gone for it himself. Dominic Calvert-Lewin tried to curl the ball in at the far post from 15 yards, but put it wide. As the minutes leaked away, the Goodison crowd finally got to its feet, as if something might happen. But nothing did.
Register for free to continue reading
Registration is a free and easy way to support our truly independent journalism
By registering, you will also enjoy limited access to Premium articles, exclusive newsletters, commenting, and virtual events with our leading journalists
Already have an account? sign in
Register for free to continue reading
Registration is a free and easy way to support our truly independent journalism
By registering, you will also enjoy limited access to Premium articles, exclusive newsletters, commenting, and virtual events with our leading journalists
Already have an account? sign in
Join our new commenting forum
Join thought-provoking conversations, follow other Independent readers and see their replies