Everton revival and Romelu Lukaku's goal rush owe so much to Gerard Deulofeu's wing play, writes Danny Higginbotham
INSIDE FOOTBALL: In four homes games when Deulofeu has played, Lukaku has scored
Danny Higginbotham
Friday 11 December 2015 17:36 Comments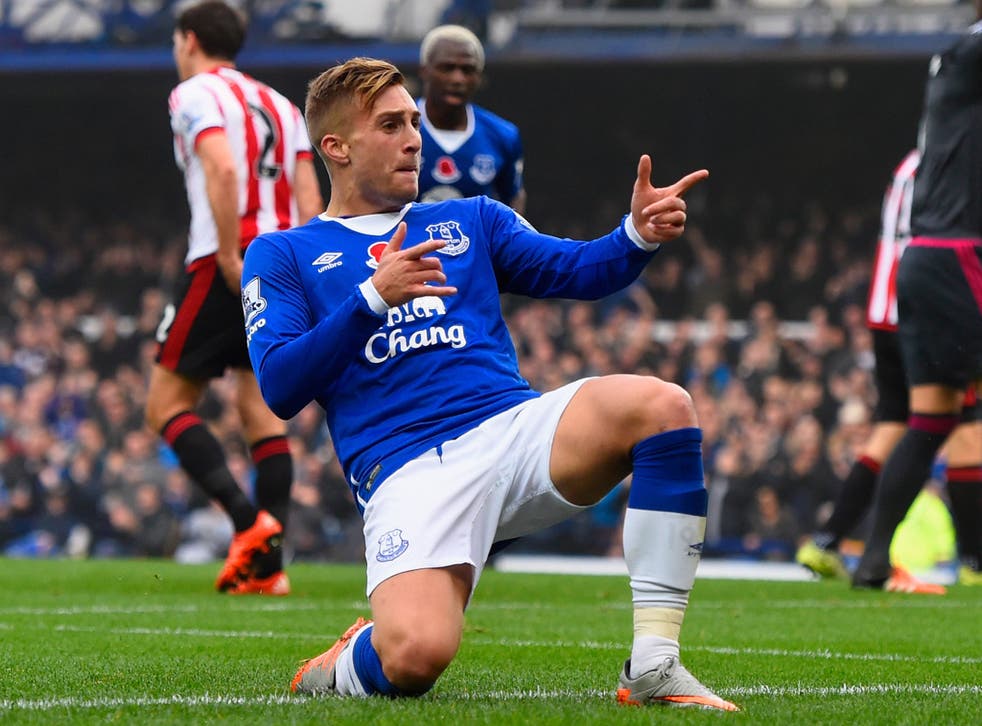 We've questioned before in this column the way Everton play and are set up, attempting to analyse how at times across the course of the last 18 months they've been dreadfully predictable and ponderous. Well, football itself is not so predictable and what we've seen in the past few months is a real uplift in the way the side is playing. Like everything else in the sport, there's a reason for that. Cause and effect, as we always say.
The change is about a player, and his name is Gerard Deulofeu.
When we look at the way Everton operate, using the valuable Opta average position charts we called on when looking at Manchester United's problems recently, we can see that it is the Spain international's ability and – moreover – manager Roberto Martinez's way of using him which is paying dividends. Let's acknowledge Martinez's intelligence here, because I've criticised his set-up at times.
It works like this. Martinez is deploying the 21-year-old Deulofeu in a very wide role on the Everton right, telling him to get that touchline white paint on his boots and to stay out there. By hugging that flank and proving his ability to deliver crosses and passes with unerring accuracy, he is causing distinct problems for opposition sides.
The main one is the horrendous difficulty the opposition left-back faces when the ball is coming into the area from the opposite flank to the one he and Deulofeu occupy. The left-back absolutely must venture into the centre of defence at that moment, to help cover for the defenders who head out to meet the left-sided advance. If the left-back stays out wide with Deulofeu, there will be big holes in the centre. But it is a horrible situation because he knows he is leaving Deulofeu unmarked and able to get a run on him if Everton switch play at pace.
And, boy, are the side proving capable of doing that. Of course, a ball moves faster than a man, so once that switch is made, the defence is in trouble. One example was in the exciting 3-2 win at West Bromwich, where Chris Brunt, a good defender, was stuck between the devil and the deep blue sea in this respect.
And because Deulofeu is getting on the ball with time and space in this way, Romelu Lukaku is finding himself the big beneficiary. When we saw Everton so ponderous in their build-up last year, with five or six 10-yard build-up passes when three or four would do, Lukaku was isolated and frustrated. But he scored for the sixth successive match against Crystal Palace on Monday, has 14 in all competitions – and the numbers show that in five of the 11 Premier League games in which Lukaku has found the net, Deulofeu has provided the assist. Deulofeu has started every game bar one that Lukaku has scored in.
The partnership is particularly marked at Goodison Park, where in four home games when Deulofeu hasn't played, Lukaku hasn't scored. In four homes games when he has played, Lukaku has scored.
The average position charts show the two ways Everton have worked it. The first shows the positions from the Watford home game on the opening day of the season: the full-backs, Brendan Galloway and Seamus Coleman, are the only ones providing the width but Lukaku and Kevin Mirallas are both operating in a similar central area and it's all very narrow. Deulofeu didn't play. The second for the 6-2 home win over Sunderland shows Deulofeu getting that width and the Sunderland average position chart reveals just how isolated their left-back was.
There's an element of gambling in the way the Spaniard is being used. Martinez is quite obviously saying to him: "Stay up there sometimes. You don't have to track back every time." If I were Coleman I'd probably have something to say about that, with all the extra work it's creating!
But though it can be risky, it also plays into Everton's hands. The opposition left-back bombs on and with Everton willing to use the 20-yard pass when they turn over possession that opposition defender is often unable to get back in time when the ball finds Deulofeu.
Everton are flying when that happens, because the defensive midfielder has to come out to meet the danger and try to head it off, leaving space in the centre of midfield that Ross Barkley can move into and capitalise on. Another beneficiary of that extra space is Arouna Koné, who generally operates on the left of the line of three behind Lukaku but likes to come and play narrow, too.
It really is a substantial change from the Everton we were talking about only a few months ago, when they were playing so narrow and were all on top of each other as they tried to be too intricate.
It's also clever because it makes the most of the fact that most teams set up as 4-2-3-1 now, as opposed to 4-4-2 – a system with the in-built width to be able to stifle Deulofeu in the way he is operating. Everton are 4-2-3-1 also, though they always have Coleman as an attacking full-back to join up with Deulafeu, to create a 2v1 against opposition full-backs.
There's always a new strategy or new idea around the corner and every team knows it won't be long before opponents spot it and create a strategy to counteract it. That's Premier League life for you!
In the meantime Everton are eighth in the form table, taking on Norwich City – a lowly 18th in those particular rankings – and they have every reason to consider Europe within their grasp.
A new defender won't solve United's failings in attack
Interesting to read in The Independent that Manchester United are ready to make John Stones a summer target. But all the defenders in the world won't help if United can't find rediscover that attacking personality.
Manchester United player ratings vs Wolfsburg

Show all 14
We talked the other week about how Leicester's players race ahead when they turn over possession, meaning defenders don't even need to look up to know where they'll find them with accurate, long, counter-attacking passes. As a defender, it's always a great sign when you can see the number on your team-mates' backs because it means they're advancing towards an attacking possession. The player in possession when United's defenders turn the ball over are seeing team-mates' faces instead, because they're encouraged to play deep and compact to receive the ball. We said this struggle was to do with tactics, rather than Wayne Rooney, and Tuesday's defeat at Wolfsburg in the captain's absence demonstrated that fact.
Register for free to continue reading
Registration is a free and easy way to support our truly independent journalism
By registering, you will also enjoy limited access to Premium articles, exclusive newsletters, commenting, and virtual events with our leading journalists
Already have an account? sign in
Join our new commenting forum
Join thought-provoking conversations, follow other Independent readers and see their replies