Everton's pioneering trips down memory lane
The Toffees are providing innovative gatherings for dementia sufferers to recall their sporting heroes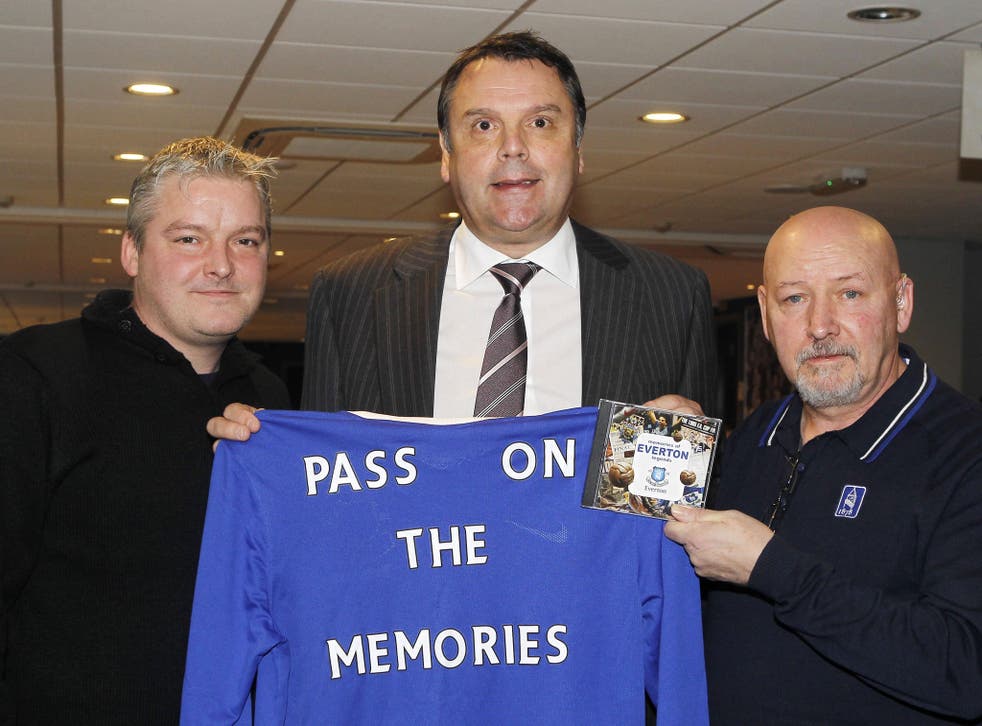 That was the best goal ever. It was a pity it was not for Everton." Billy Kennedy is remembering the famous own-goal that Sandy Brown scored with a diving header in a Merseyside derby more than 40 years ago.
A lifelong Evertonian, the 66-year-old suffers from memory loss but his sense of humour has not left him, and nor have the pictures in his mind of matches down the years. "There are games and players I've seen and I can't remember the names but I can still remember the games. Sometimes I can't get my own son's name," he explains.
Kennedy is speaking at Goodison Park, where a group of 20 dementia sufferers, including those with Alzheimer's disease, and their carers gather once a week to attend the Pass On The Memories programme organised by Everton in the Community and the Mersey Care NHS Trust. There are souvenirs of yesteryear on the tables – old, brown-leather football boots and balls, sepia-hued newspapers and magazines – which help to unlock memories and get conversations flowing.
"Something you don't realise when you're playing is how much football is part of people's lives," says Graeme Sharp, the former Everton striker who has contributed to a CD of Goodison Park recollections for Pass On The Memories participants.
A similar sentiment could apply to sport in general, and Everton's initiative is part of a growing national trend in the care of dementia sufferers to exploit the rich seam of memory that sport leaves in so many minds.
Tony Jameson-Allen, a director of the Sporting Memories Network, explains: "Sport, for some odd reason, has never been a focus for reminiscence therapy, which is strange. The traditional stuff tends to be where you worked, holidayed, school life, family, but not sport, and yet it probably creates some of the strongest emotions we have."
The former psychiatric nurse, who helped Everton set up their programme, adds: "Sport provides us with so many heroes and also so many golden moments – be it being in the crowd, or sat with your family watching on TV, or playing it yourself."
Established in 2010, the Sporting Memories Network have created a guidebook for launching projects like Everton's, for which they provide a collection of legends cards.
Jameson-Allen says such memorabilia "unlocks memories which are there but need something to trigger them", which in turn facilitates communication.
"Time and again we see that people who maybe struggle with word-finding and communicating on a daily basis will engage in a group where the discussion is purely about a sporting legend, where there isn't the pressure of having a conversation in the here and now."
There are women as well as men on Everton's programme and football is not the only topic of conversation – in many cases sport is simply a gateway for people to remember their youth. And yet it seems fair to say that the growth in sports-reminiscence therapy has proved particularly beneficial for men. After all, says Jameson-Allen, it provides "an opportunity to go and talk about sport".
The Sporting Memories Network's tentacles are reaching far and wide. They have groups running on NHS wards in London and Newcastle, and a planned collaboration with the Glasgow Housing Association will help form part of the city's Commonwealth Games legacy in 2014.
Moreover, a "vibrant" programme of sports-reminiscence therapy is currently taking place in 15 care homes across Leeds. This has the support of Leeds United, Leeds Rhinos and The Yorkshire County Cricket Club.
Neil Warnock, the Leeds United manager, is among a cluster of local personalities who have shared their favourite memory, and fans are invited to give theirs too. Indeed, visitors to the Sporting Memories website can discover a bank of recollections provided from across the world of sport, with contributions from the likes of Formula One driver David Coulthard and golfer Sam Torrance.
The network are also involved in staging dementia-awareness events at football and rugby league matches – the next taking place in March at the Huddersfield Giants v Bradford Bulls Super League fixture.
The origins of this focus on sport in dementia care lie in Falkirk, where the local football club's historian, Michael White, began visiting old people's homes to give pictorial talks on football. That was 12 years ago; today, with the support of Alzheimer's Scotland and the Scottish Football Museum, his own Football Memories project encompasses 37 groups – "The furthest north is in the Shetland Isles, and the furthest south in Stranraer," he says.
In Stenhousemuir he unlocked some particularly rich memories. "One of the other chaps [in the group] said, 'Bill used to be quite a good player'," he says of Bill Corbett, a former Celtic, Preston and Leicester footballer. Corbett had been "reluctant to take part in any activities" but ended up supplying a detailed account of his Scotland debut alongside Matt Busby and Bill Shankly in a wartime international at Wembley.
"On the back of the pictures he was recalling every single player, the line-up, the instructions he was given – his task was to mark Tommy Lawton," White recalls. Like Billy Kennedy at Goodison Park, Corbett could still remember the games.
For more information, visit: www.sportingmemoriesnetwork.com
Register for free to continue reading
Registration is a free and easy way to support our truly independent journalism
By registering, you will also enjoy limited access to Premium articles, exclusive newsletters, commenting, and virtual events with our leading journalists
Already have an account? sign in
Register for free to continue reading
Registration is a free and easy way to support our truly independent journalism
By registering, you will also enjoy limited access to Premium articles, exclusive newsletters, commenting, and virtual events with our leading journalists
Already have an account? sign in
Join our new commenting forum
Join thought-provoking conversations, follow other Independent readers and see their replies