Everton's impressive run of form continues against lacklustre Sunderland
Everton 2 Sunderland 0: Goals from Idrissa Gueye and Romelu Lukaku move the Toffees within four points of Manchester United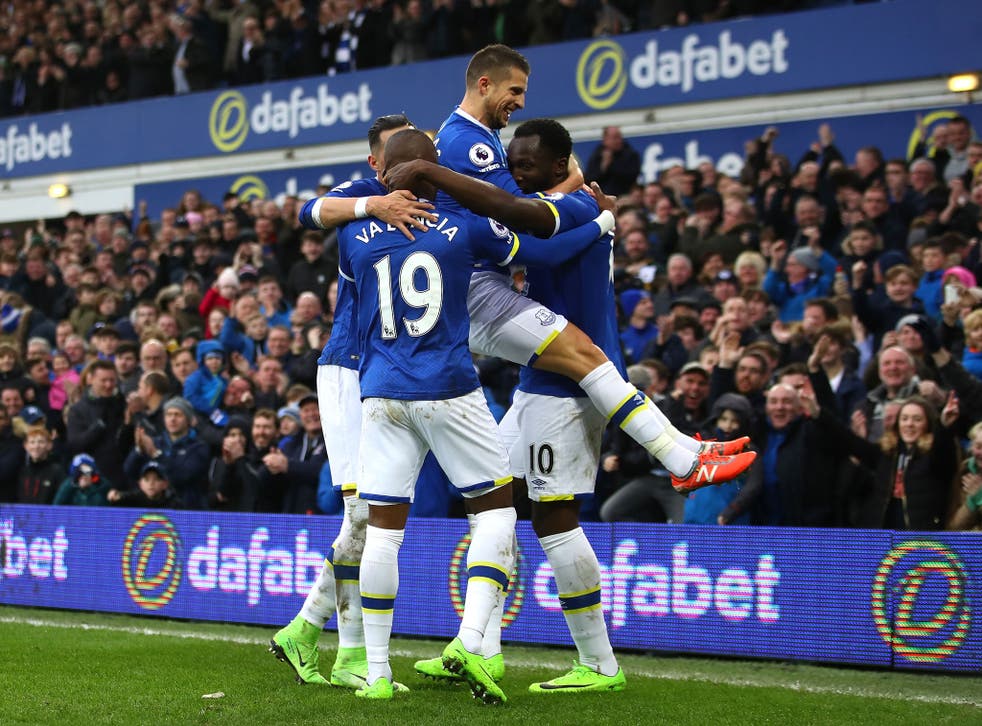 This was an encounter that might lead to questions about the immediate benefits of mid-winter breaks involving seven hour flights there and back.
Everton had spent last weekend in Dubai. Sunderland had spent last weekend in New York City. One training camp was held in warm weather, the other in blizzards.
Everton had scored ten goals in each of their last two home games. Sunderland had scored four against Crystal Palace before conceding four at home to Southampton. All very exciting indeed.
And yet here, neither team appeared particularly energised by the experience. The game only threatened to break beyond an amble towards the end, when Sunderland's players – attempting to equalise finally gave Jermain Defoe the support he needs to create his own space. Defoe shifted the ball one way and then the other and the shot that followed struck the underside of the crossbar, bouncing on the line and away from the goal.
Encouraged, Sunderland committed more men forward. Within seconds, Everton counter-attacked, scoring again. And that was that.
It won't bother Everton the game was won this way. Their impressive post-Christmas form continues. A couple more wins in October and November, when morale was sagging, and Everton would be competing for a Champions League place.
Sunderland, though. David Moyes has so much work to do if he is to keep them up this season. It's all very well having Defoe in your team and he will score you goals but if he's left alone – as he was here – his threat is minimal and Sunderland do not look like a team capable of scoring one, never mind four as they somehow did at Palace.
Nevertheless, until Everton's opener five minutes before half time, Moyes would have been delighted by the pattern of the game. Using a mix of big, powerful players and others, prepared to run around, harassing the opposition, Sunderland had road blocks everywhere, making it difficult for Everton to put pressure on Jordan Pickford's goal. This was threatening to be a shut-down.
There was a sense, however, that if Everton were going to make a breakthrough, it would be down Sunderland's left; an area of the field stocked with plenty of energy but not much awareness. The combination between Bryan Oviedo and Fabio Borini – considering too, the presence of Lamine Koné in the middle, were finding it harder and harder to regulate the movements of Ross Barkley and Seamus Coleman. Barkley was selected in an attacking midfield three but in possession, the aim was to get him closer to Romelu Lukaku, affording Coleman a straight run at Oviedo, the Costa Rican who was allowed to Everton for Sunderland only last month.
For space to be created, though, it needed someone in a central position to appreciate when to spring a pass. Here, that person was Thomas Davies, the teenager who looks every inch a top Premier League player. When Davies saw Coleman making an overlapping run, he switched play immediately and from there, Coleman sprinted forward. The cross that followed was more of a pass and Idrissa Gueye, who spent the first half the season sitting effectively in Everton's deepest midfield role and has been freed from those responsibilities since the signing of Morgan Schneiderlin, appeared on the edge of the box, smashing the ball past Pickford using the side of his foot. It was a glorious finish.
Sunderland's reaction to Everton taking the lead was not immediately promising and after Davies swiped a volley against Pickford's left post, half time could not come soon enough for the away side.
Sunderland eventually threatened through Defoe but within seconds, fell into the trap of sending too many players forward all at once and suddenly, Romelu Lukaku was bearing down on goal. The Belgian can look like a force of nature when he runs like this and Oviedo, the left back chasing him, did not have the pace or power to do anything but try his best.
Sunderland, indeed, tried their best. But effort alone might not see them in the Premier League next season.
Everton (4-3-3): Robles; Coleman, Williams, Funes Mori, Baines; Davies(Valencia 70), Schneiderlin, Gana; Barkley (McCarthy 82), Lukaku, Lookman (Mirallas 60). Subs not used: Jagielka, Barry, Stekelenburg, Holgate.
Sunderland (4-4-1-1): Pickford, Jones (Manquillo 90), Kone, O'Shea, Oviedo; Januzaj, Gibson (Honeyman 80), Ndong, Borini (Khazri 80); Larsson, Defoe. Subs not used: Mika, Lescott, Love, Gooch.
Register for free to continue reading
Registration is a free and easy way to support our truly independent journalism
By registering, you will also enjoy limited access to Premium articles, exclusive newsletters, commenting, and virtual events with our leading journalists
Already have an account? sign in
Register for free to continue reading
Registration is a free and easy way to support our truly independent journalism
By registering, you will also enjoy limited access to Premium articles, exclusive newsletters, commenting, and virtual events with our leading journalists
Already have an account? sign in
Join our new commenting forum
Join thought-provoking conversations, follow other Independent readers and see their replies