Everton turn down £14m Chelsea bid to lure rising star Rodwell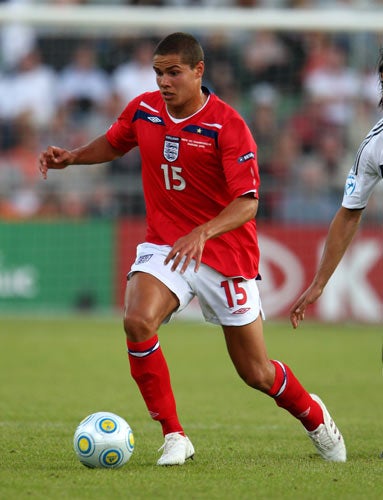 Chelsea have made their first significant move since their transfer embargo was suspended by making a preliminary £14m offer for the Everton teenager Jack Rodwell, which has been rejected by the Merseyside club.
Rodwell, 18, who has made 18 appearances this season, has impressed to such an extent that he has become the most sought after young English player. There has already been interest signalled by Manchester City and Manchester United, but Chelsea are the first team to make a serious offer to Everton.
The teenager began his career at Everton's academy as a centre-back but has developed into an elegant central midfielder. Over 6ft tall, he made his debut at 16 and is established in the England Under-21 side.
It has become a point of principle for David Moyes that the player is not sold within the next 12 months. The Everton manager is keen that Rodwell is given an improved deal despite signing a five-year contract in February.
Chelsea's interest shows that while Roman Abramovich, the owner, is less willing to spend large sums on transfers, he is still happy to pay for the best young players. With Peter Kenyon now gone, Frank Arnesen is in charge of player acquisitions and, despite his poor track record thus far, Abramovich is still prepared to back him in the transfer market.
Ideally, Chelsea would like Rodwell to play in the holding midfield position ahead of John Obi Mikel. If they are successful he could be signed in January and would provide crucial cover for Mikel and Michael Essien in that position when they play in the African Cup of Nations. However, the long-term plan would be that Rodwell would make the holding position his own.
In the past Arnesen has signed much younger, less well-known players from the academies of clubs such as Leeds United, Sheffield United, Feyenoord and, infamously, Lens from whom they signed Gaël Kakuta, but this is the first time they have made a move for a more established young player. Daniel Sturridge, 20, had played only five times for City before he joined Chelsea on a free transfer in the summer.
Rodwell is regarded as a much safer bet than Sturridge, who has failed to make any impression so far at Chelsea. Rodwell is advised by his father Malcolm, and the licensed agent Mick McGuire, formerly the deputy chief executive of the Professional Footballers' Association.
Chelsea are permitted to sign players in January because Fifa agreed to suspend their two-window transfer ban, while the club appeal the decision at the Court of Arbitration for Sport.
Join our commenting forum
Join thought-provoking conversations, follow other Independent readers and see their replies