Everton vs Liverpool: Five things we learned as Mohamed Salah misses prove costly
Five things we learned: Liverpool lack composure at key moments and hand initiative to Manchester City in the title race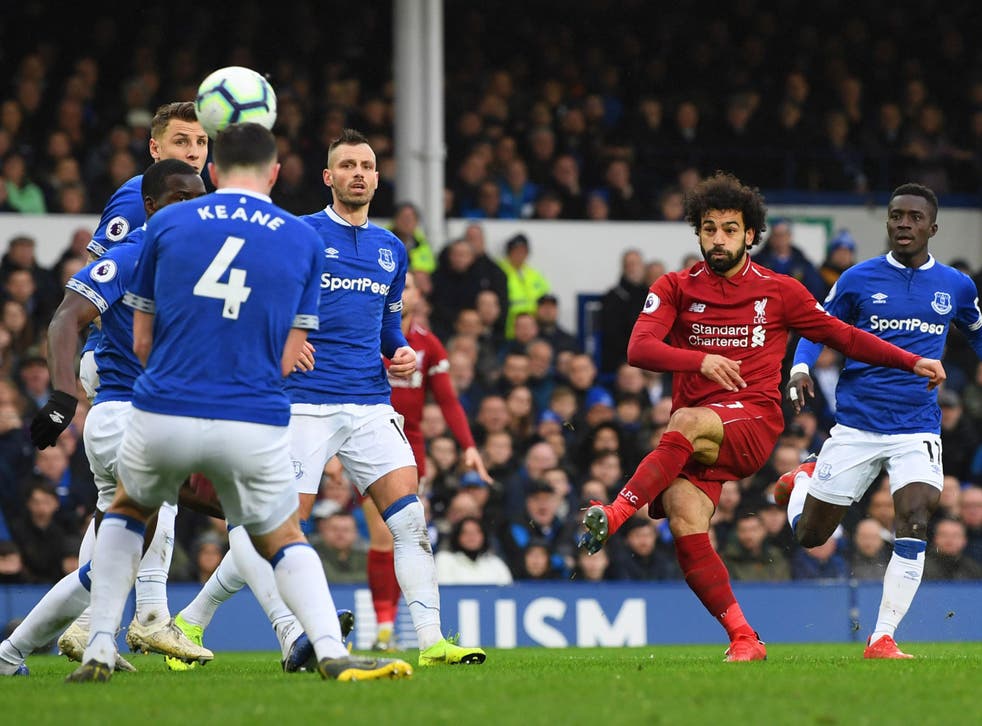 Liverpool blink in title tussle
A tense, tightly-contested 233rd Merseyside derby ended with the points shared, as have four of Liverpool's last six league matches.
In another year and another title race, a point at Goodison Park would have been viewed as an important one of the road to ultimate victory. This year, you sense it could prove costly.
It is just the first week of March. There are still nine games remaining in this title race. But given the standard set by the champions Manchester City, there is precious little room for error.
Liverpool may have just dropped the only two points they can afford between now and May.
Can Klopp side's cope with the pressure?
Frenzied, frenetic, feverish, frantic. Call it what you want, the thesaurus could not do justice to the sheer nervous energy around Goodison Park in this game's early stages.
It was nothing too out of ordinary for a Merseyside derby, but then this was no normal derby, and the question quickly became whether Liverpool would be able to conquer this anxiety.
It was the visitors, not Everton, who settled quickest but there were still a tightness and tension about Liverpool's play, particularly in the most area of the pitch - the opposition's penalty area.
Like at Old Trafford seven days ago, Jurgen Klopp's side struggled to convert spells of possession in clear opportunities. There was no clinical touch, no composure when it counted.
Player ratings from Everton vs Liverpool

Show all 23
Silva's change of approach forgets one key point
In the hope of ending Everton's longest-ever wait for a derby win, Marco Silva changed tack.
The absence of Richarlison from the starting line-up was a surprise but so was the adoption of a unapologetically direct style.
Centred around Jordan Pickford's kicking and Dominic Calvert-Lewin's presence, it relied on those around the young target man feeding off second balls and scraps.
What it did not account for was Virgil van Dijk. The Liverpool centre-half is not hard to spot but whoever advised Silva's approached - or indeed Silva himself - somehow missed him.
Calvert-Lewin toiled admirably and caused more problems than Liverpool might have expected, but Van Dijk was his usual composed and commanding self, rendering Everton's direct play redundant.
Salah's miss proves costly
If Liverpool are to end their 29-year wait for a domestic league title, their most devastating and effective player must come back to the party before the end of the season.
Mohamed Salah had the chances to win this game but spurned them, most glaringly in the first half when sent through one-on-one with Pickford. But his touch was poor, narrowing his own angle, and it made the goalkeeper's job a simple one.
In the second half, another poor touch took the ball away from him when bearing down on goal from the right, allowing Michael Keane to steal a vital touch and snuff out the opportunity.
"Salah will not keep missing," the Sky Sports commentary team confidently predicted after the second went begging. Little did they know, he had already wasted the only two chances he would get all afternoon.
Salah has now scored just once in his past seven. That needs to change quickly. Liverpool's title challenge may not survive a prolonged dry spell.
Pickford redeemed by his presence of mind
Thirteen weeks on from his howler at Anfield, it would have been understandable if Pickford entered this return fixture carrying some extra emotional baggage.
But the point he squandered on the other side of Stanley Park was replenished by his part in denying Salah that first-half opportunity.
For all the criticism of the Egyptian's finishing, Pickford's part in his crucial stop should not be overlooked.
He kept close to his goal-line and waited for Salah, judging his opponent's run carefully, allowing him to make the loose touch which would narrow the window of opportunity.
It showed a presence of mind that some have accused Pickford of lacking, the type he did not show when pushing the ball into Divock Origi's direction at Anfield.
Register for free to continue reading
Registration is a free and easy way to support our truly independent journalism
By registering, you will also enjoy limited access to Premium articles, exclusive newsletters, commenting, and virtual events with our leading journalists
Already have an account? sign in
Register for free to continue reading
Registration is a free and easy way to support our truly independent journalism
By registering, you will also enjoy limited access to Premium articles, exclusive newsletters, commenting, and virtual events with our leading journalists
Already have an account? sign in
Join our new commenting forum
Join thought-provoking conversations, follow other Independent readers and see their replies