Wayne Rooney still has the burning fire to prove any Everton doubters wrong after turning down the easy option
The England captain had multiple offers from the Premier League, China and the USA, but in returning to Goodison Park he chose the greatest challenge of them all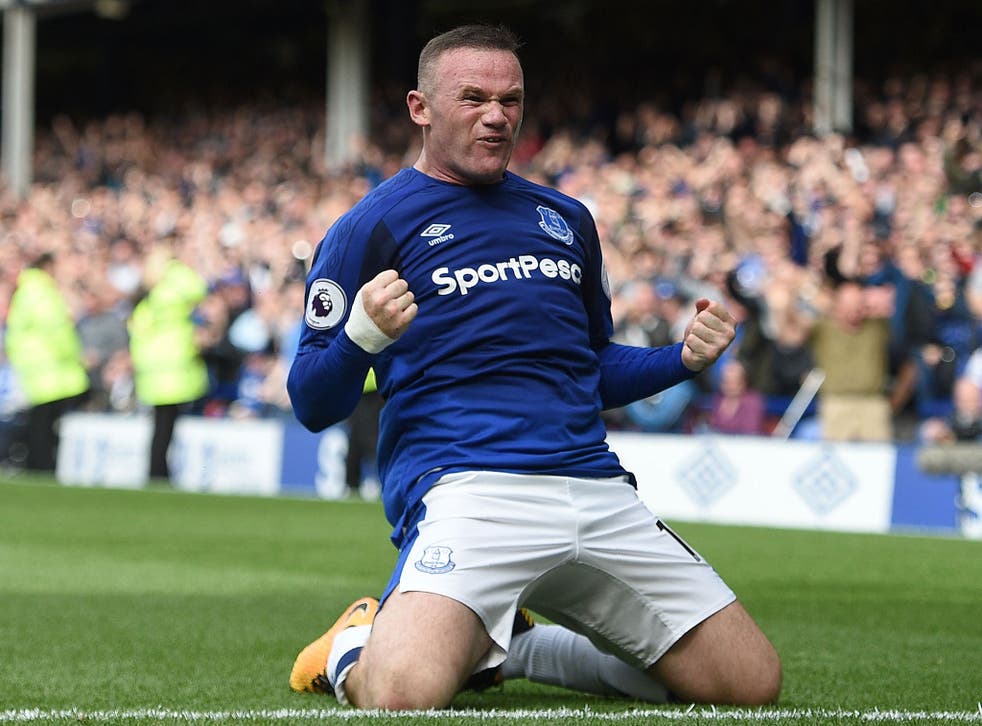 Sometimes it can be the little things you see and the little things you hear that reveal the most about the true feelings of the key figures in football, the players.
Deep inside Goodison Park's main stand on Saturday afternoon, in the hour after Everton had beaten Stoke City thanks to Wayne Rooney's magnificent header, the human cost of the result was visible.
Michael Keane, Everton's new £25m signing from Burnley, strode past with blood trickling from his mouth having broken a tooth. Meanwhile, conversations were happening and the matter of Rooney's impact was at the centre of them. "He's one or two steps ahead of everyone else," said one teammate. "We feel more confident with him around," admitted another.
Jose Mourinho on Manchester United's post-Rooney era
Suddenly, Rooney appeared and the scrum of people in the tunnel parted, allowing him to enter a side-room where Gary Lineker finished a Match of the Day interview with him by speculating whether he'd spend the night at home in front of the TV in his Everton pyjamas.
There has, of course, been a suggestion that Rooney's return to Everton is a schmaltzy choice on both parts; it allows Rooney to settle any lingering differences with a club he decided to leave as a teenager, while giving Everton new status as a side that includes a recognised figure across the globe, making them suddenly seem more relevant.
And yet, listen to Rooney and, indeed, watch him, and you begin to realise that of all the decisions he could have made, going back to Goodison was probably the one that presented the greatest risk. Everton, quite simply, has never been a club that accepts washed-up footballers, whether they are born in Croxteth or not, and Rooney likes it that his performances here will be scrutinised as tightly as they have been ever since he entered the first team as a 16-year-old.
"There is a lot of expectation coming back here," Rooney said after finishing his conversation with Lineker. "There are still some fans who maybe thought that I wasn't good enough. But it is up to me to prove myself.
"I could have gone to another team and taken my foot off the gas and seen the last few years out. But coming back here? I have got to be the best I can be. It is the club I grew up supporting, it's the club I want to play for. I want to do well.
Wayne Rooney's career in pictures

Show all 18
"I think I said in my press conference there were lots of offers from other Premier League clubs, abroad and financially which would have been a lot better for me. But I have always been a player and a person who wants to play football. That is what made my decision, not necessarily the money side of things. That is why I chose to come back. Hopefully I can repay some of the faith that Ronald Koeman has shown in me."
Rooney proceeded to admit that he is not "the explosive player who was here when I was 16 to 18," but it is clear just how important Koeman thinks Rooney could be over the next few seasons. The Dutch manager played for Ajax and PSV Eindhoven in the mid-1980s when both teams included a mix of experience and youth, so he appreciates the traditional learning process which surely would be beneficial for teenagers like Tom Davies at Everton. Koeman rarely talks about players in individual terms but knows he can with Rooney because he is wise enough not to be fazed by it.
"He is an intelligent player and with his experience, when the team needs patience; when the team needs a fall –he is going down instead of [Idrissa] Gueye or Tom [Davies]; they try and always stand and win the battle," Koeman said of Rooney's actions in the final minutes where he was more calculated than others around him. "We did not sign Wayne because he will score 25 goals-a-season, no he will bring experience, winning mentality and cleverness to the team. That is the main reason we signed Wayne."
Koeman's use of Rooney is interesting. In each of Everton's home games – against Ruzomberok in the Europa League and Stoke – he has started him in a more advanced position before moving him to an area somewhere between the right and centre of an attacking midfield three. He must have identified this as a position where maximum space is afforded when opponents open up their defence and try to find equalisers.
A few weeks ago, it was assumed that Rooney and Sandro Ramírez would form Everton's new attack and though Ramírez is a willing runner, he also seems to be a head-down sort of a player.
In fact, it was Rooney's relationship with Dominic Calvert-Lewin that appeared to be the most promising. In June, Calvert-Lewin scored the goal that won England the Under-20 World Cup in South Korea. Here, it was his vision and cross that allowed Rooney to send a header racing past Jack Butland, the Stoke goalkeeper.
Join our new commenting forum
Join thought-provoking conversations, follow other Independent readers and see their replies