Richarlison and Ruben Neves ready to lead by example for Everton and Wolves
Brazilian Richarlison, Everton's £50m record signing, scored twice on his debut while Neves also found the back of the net with a stunning free-kick effort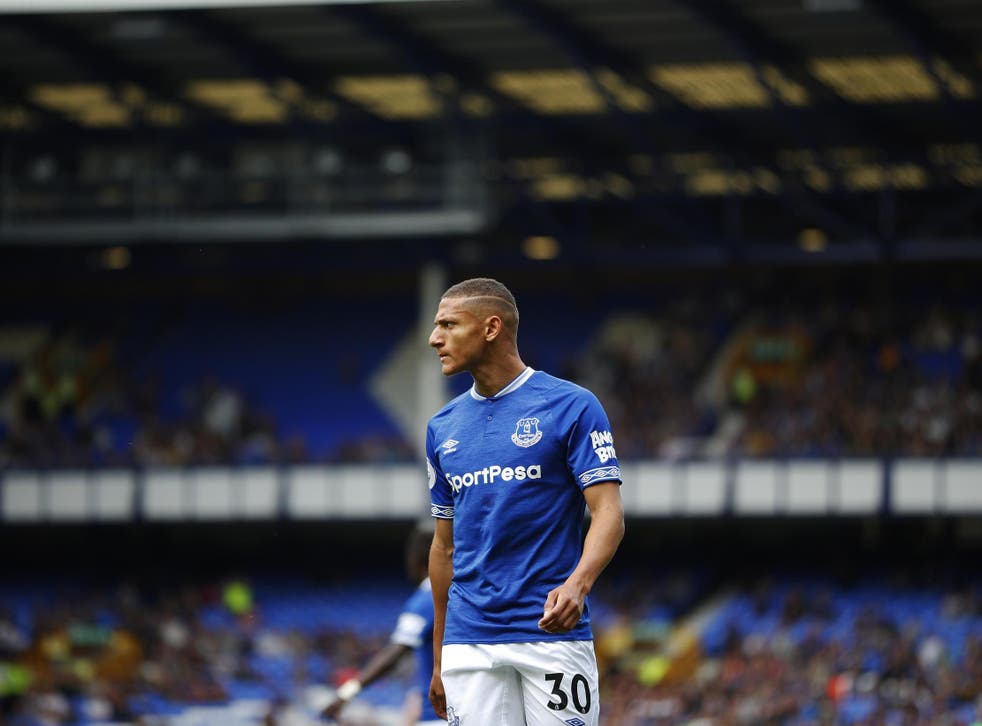 Richarlison and Ruben Neves suggested they can be their teams' talismen this season after delivering eye-catching opening day performances for Everton and Wolves respectively.
Brazilian Richarlison, Everton's £50m record signing, scored twice on his debut, his opener being his first goal for 265 days.
Neves, the most expensive player in Championship history, scored a stunning free kick and set up Wolves' other equaliser for Raul Jimenez as the Midlanders returned to the Premier League for the first time in over six years at a vibrant, noisy Molineux.
Richarlison was the pick for Everton, who had to play the last 49 minutes without their captain Phil Jagielka after he was sent off for a lunge on Diogo Jota after he mis-controlled a pass. Jagielka will now miss three games.
The way Richarlison plays is similar to that of Thierry Henry; drifting in from the left hand side, though he also showed a spring and aerial power that the Frenchman was never known for with one towering leap and header to set up Theo Walcott.
Richarlison, who was the only one of Everton's six major summer signings to start the game, scored with his first two shots for the Toffees, having failed to score with any of his last 53 as a Watford player.
Last season, Richarlison's first in English football, his five goals all came before December and he was goalless in his final 26 Premier League appearances for Watford.
This time, his manager Marco Silva, who also signed him for the Hornets, is confident that with careful management the Brazilian's rate of scoring will not fizzle away after his first brace in English football.
"We are talking about a player who is 21," said Silva. "We have to be calm with him. He has the talent, he has everything there but you have to protect him, support him."
Silva hopes Richarlison's team-mates share the burden of doing the business at the sharp end of the pitch.
"On Saturday it was about Richarlison, next weekend I hope will be Theo, Cenk (Tosun), or (Oumar) Niasse, because the others have to get the result as well," he added.
Wolves set a Premier League record by fielding five Portuguese players in their starting line-up, beating Chelsea's three, with Rui Patricio, Joao Moutinho, Helder Costa and Jota along with Neves.
But Neves stood out; this is his stage. Having been Porto's youngest player to play in the Champions League at 17 and their captain at 18, the Premier League will not faze him.
Just like his six goals last season, his effort on Saturday was from long range and he has netted more strikes from outside the box than any other player in the four divisions since the start of last season.
A defensive midfielder, his range of passing is superb. His 111 touches and 93 passes were more than anyone else on the pitch and he also won the ball back six times.
Wolves' head coach Nuno Espirito Santo suggests the playmaker will have to be content with pulling the strings from deep, as well as scoring from long range.
"This comes from the task he has inside of the team. Last season Ruben was inside the team, and one of the tasks was he must play as a midfielder," he said.
"We build from behind and pass and support, and Ruben with his quality has to give us that."
Neves believes there is plenty more to come from him and his team-mates.
"I think we have a good team and can achieve something more and we know that. But we have to work to improve," he said.
Register for free to continue reading
Registration is a free and easy way to support our truly independent journalism
By registering, you will also enjoy limited access to Premium articles, exclusive newsletters, commenting, and virtual events with our leading journalists
Already have an account? sign in
Join our new commenting forum
Join thought-provoking conversations, follow other Independent readers and see their replies