Exclusive interview: Fabio Da Silva on leaving Manchester United and brother Rafael behind
Fabio had only ever spent the odd day apart from his twin Rafael before he left Manchester United for QPR during the summer. But, he tells Sam Wallace, it was a move he had to make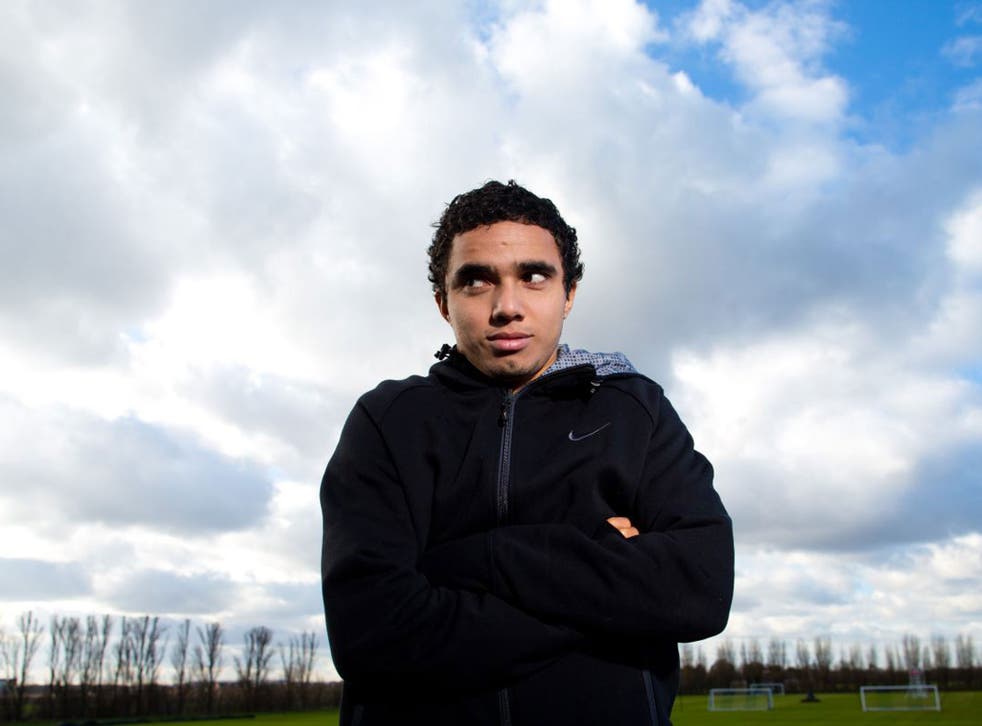 Fabio Da Silva has a perfectly good explanation why his twin brother Rafael was wearing a pair of boots embossed with "Fabio" when he played at Craven Cottage for Manchester United last Saturday. Nike sent the "Fabio" boots to Manchester and the "Rafael" boots to Fabio in London. It happens, he says. People have been mixing them up since they were born.
Luckily, the Da Silva brothers have the same size feet. In fact, they have had pretty much identical football careers in terms of the teams they have played for and the moves they have made. Until last summer when, after much discussion with his brother, Fabio decided to leave United, who play at Loftus Road later this month, and join Queen's Park Rangers on loan in search of first-team football.
When we first meet at QPR's training ground this week, Fabio wears that hard stare you also see on his brother's face – the kind you probably need to adopt if you are a talented young Brazilian footballer trying to make your way in the world. But very soon he breaks into a smile and he is open about the complex relationships between twins, and how that is hard to escape, even on the pitch.
The Da Silva boys have come a long way from Petropolis, the mountain town near Rio de Janeiro where they grew up the sons of Jose and Laurinda, who worked as gardener and housekeeper for a wealthy family. The twins' older brother, Luiz Henrique, would help with the lawns. Now Luiz lives with his wife, and Fabio and his wife, Barbara, in Kew Bridge, west London. When I joke that Fabio could buy that big house in Petropolis now, he laughs.
Fabio, 22, says that people assume he is sad to be separated from his twin brother but this is not the case. "We spoke about this [splitting] when we were 12 years old. We would say: 'One day we are going to split because we cannot be together for ever'. I knew it was going to happen. I just didn't know when. Last year it happened, this was good."
He apologises a lot for the standard of his English but, nonetheless, he is keen to make a difficult point about the emotional attachment of twins. "Now we have split, it's better. I tell you, when me and him play together we look at each other. When I make a mistake I'm not saying he feels – he doesn't lose confidence but he gets less [diminished] a little bit.
"Now [this season] when he plays and he has a good game and another good game he gets confidence. When I was there sometimes I was not playing or not playing well. Maybe he feels that I am down... because we lived together [in Manchester]. Sometimes when he plays he is happy. Sometimes when I play I am happy. Now we are getting more mature. He is there. I am here."
I suggest that the relationship is healthier now, he agrees. "Yes! Now we understand each other more. This is football. We are different. He is there, I am here. When we are together we discuss this. I say, 'When I play bad you don't have to be unhappy.'
"We discuss everything together. He knew I wanted to leave United to play more games. To play consistently. He agrees with me. He thinks it's good for me to leave United to play more football. I enjoy it. I know it hasn't been a good season for Queen's Park Rangers but I try to improve and to help."
Fabio estimates that before this summer the two brothers had never spent more than two days apart. They left Fluminense in January 2008 and moved to Manchester together but it took Fabio, afflicted by injuries that have slowed his career, almost a year before he made his first-team debut. Rafael's progress was more rapid and this season he is established as United's first-choice right-back.
It was not always the case that Rafael was ahead of Fabio, who despi te being a left-back is right-footed and can play on either wing. A good run of form in the 2010-11 season meant that Fabio was selected ahead of Rafael to play at right-back against Barcelona in the Champions League final at Wembley in May 2011.
"He [Rafael] was destroyed because he really wanted to play," Fabio says. "For me, of course, it was unbelievable to play in the final but I knew he was not happy. I knew he wanted to play. Of course it didn't change my game. I feel for him. I felt sorry for him. I didn't feel complete because of this, but it was still fantastic."
Life at QPR has not been easy. A stress fracture to his back meant that Fabio's appearances were limited under Mark Hughes although, as the club face Swansea City today, he seems one of the few summer signings whom Harry Redknapp trusts. What about the suggestions that the foreign players are not committed to the club?
"It's hard to say that, man. I speak about myself and when I am on the pitch I just want to play and give everything I have to help my team-mates in the club. Of course, we can stay in the Premier League. We have 13 more games to come and have a lot of points to get out of the relegation."
Having lived with his brother and their respective partners since he arrived in England, the Da Silva twins finally live apart. Rafael and his wife Karla now have a daughter, Eduarda. Fabio went to watch Brazil play at Wembley on Wednesday but Rafael decided against making the journey south. It goes without saying that both of them would love to be in the team.
Fabio and Rafael both have two senior caps for Brazil, won at different times. It was Rafael, however, who copped much of the blame in Brazil for a mistake in the Olympic gold medal final last summer which led to his side conceding the first of two goals to Mexico.
"It was very hard," Fabio says. "He is very upset about this and he wants to be back in the squad. It is sad. Me and my brother, normally we don't show the emotion. Brazilians want you to cry. We don't do this. When he left the pitch he didn't cry. This is so important in Brazil and the media and fans started to say, 'He doesn't care, he plays for United and he doesn't want to play in the national team'.
"It [the criticism] is [intense] because the only title Brazil don't have is the Olympic gold medal. My brother hasn't let it get him down. He has played fantastic this season. But he wants to get back in the national team and play at the World Cup. I do too."
When he lists the players ahead of him, you can see why that is such a tall order. The competition includes Marcelo, Felipe Luis and Adriano – although the latter was given a chasing by Theo Walcott on Wednesday night. But if it sounds like Fabio is full of regrets, nothing could be further from the truth. He and his brother love England, and the opportunities it has given them and their family.
Their brother, Luiz, had a less happy experience, going to Brescia in Italy when he was 17 and seeing his career peter out to the point that he trained at Altrincham and Radcliffe Borough while he was in Manchester. "My mum and dad didn't know what he should do," Fabio says. "We had an agent in Brazil – it's a long story but it's not a good story. But my brother is stronger for this.
"I don't come from the poor, poor, poor. I can say poor because it is poor in Brazil. There are some bad, bad conditions for children. I always had something to eat but, of course, I couldn't buy everything I wanted. Football in Brazil [thrives] in poor areas. I don't know why. I think they want it more. They are hungry. Me and my brother have this hunger to get to play in one of the biggest leagues in the world."
There he is again, the brother with whom Fabio shares so many beliefs and ambitions but from whom he had to part to realise his own potential. Fabio says that if he hears someone call his brother's name he often turns round because the chances are that it is he who is being mistakenly addressed. But the unexpected bonus of being at QPR? Everyone, he says, calls him Fabio.
My Other Life
I like samba. In Brazil everyone learns. Footballers love samba. Me and my brother are good dancers. I go to bars and listen to music and dance with my friends. It's the sound of mixed-up instruments, the pandeiro [tambourine]. No, I haven't found anywhere for samba in Kew Bridge yet!
Register for free to continue reading
Registration is a free and easy way to support our truly independent journalism
By registering, you will also enjoy limited access to Premium articles, exclusive newsletters, commenting, and virtual events with our leading journalists
Already have an account? sign in
Register for free to continue reading
Registration is a free and easy way to support our truly independent journalism
By registering, you will also enjoy limited access to Premium articles, exclusive newsletters, commenting, and virtual events with our leading journalists
Already have an account? sign in
Join our new commenting forum
Join thought-provoking conversations, follow other Independent readers and see their replies