Exclusive: Manchester United fans seek shares deal to fund safe standing area at Old Trafford
But Supporters' Trust recognises that there is no direct commercial incentive for club in making the necessary stadium alterations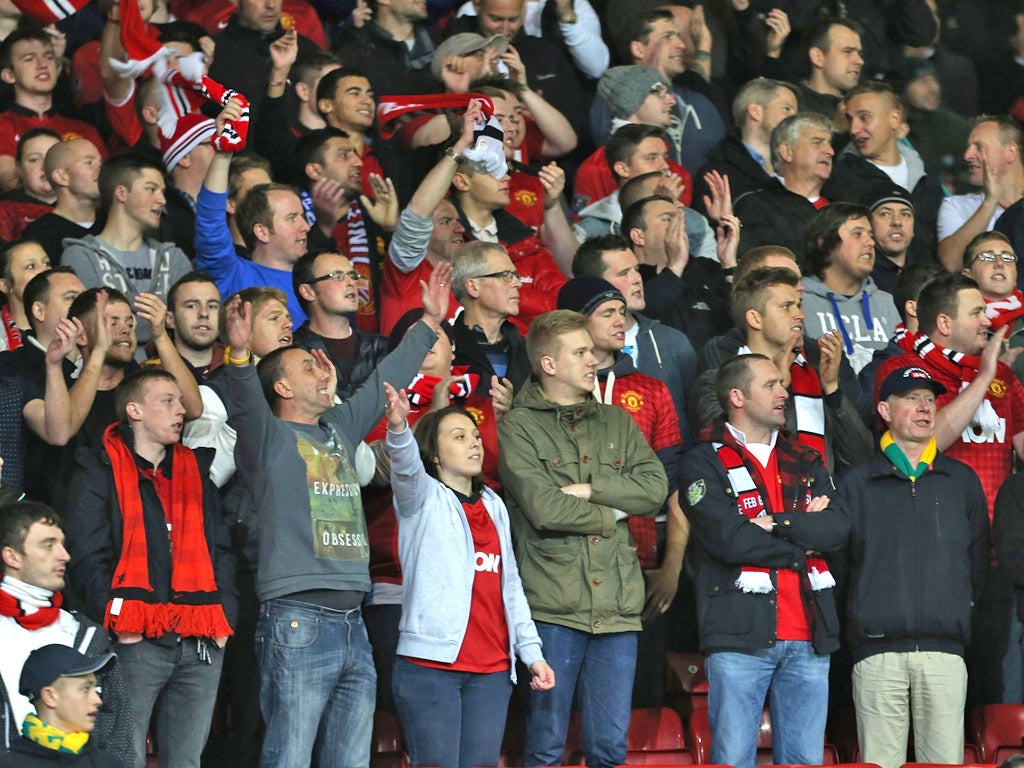 Manchester United have secured a breakthrough in their challenging relationship with supporters, who are now prepared to explore the purchase of shares in the Glazer-owned club among several mechanisms to finance safe standing and stadium expansion.
The club has found itself at loggerheads with fans since the Glazer take-over in 2005 but the arrival of new chief executive Ed Woodward in July has prompted a sea-change in the relationship with supporters' representatives and Woodward is clearly committed to developing contact with the influential Manchester United Supporters' Trust (MUST) after years of no engagement.
The Independent understands that MUST, who recognise that there is no direct commercial incentive for United in making the necessary stadium alterations to introduce the 'rail seats' which could be a first step towards a standing area, now want to explore a variety of ideas including supporters investing in shares in the club with the proceeds ring-fenced for projects such as rail seating and stadium expansion. The precise plans are subject to detailed discussion with its membership, which recently topped 200,000 - a process which has not started yet. The Independent reported two weeks ago that United are willing to consider a safe standing area.
There is no expectation at this time of the Glazers, who issued shares in the club in October last year, being willing to cede a level of control similar to German clubs, where fans have 50 per cent plus one share control over most clubs. However MUST are keen to promote the benefits of genuine fan participation in the ownership of the club. The new chief executive is a known enthusiast for the German culture of fan engagement, believing that it encourages a better match-day atmosphere which he considers a key part of the 'product' Manchester United want to sell to the world.
MUST chief executive Duncan Drasdo said that the rail seats, which German clubs flip back up to allow standing at Bundesliga games and keep down to meet Champions League all-seater requirement, could initially be installed and sold only as seats and would therefore not require a change in the legislation introduced after the Hillsborough disaster. The barrier in front of them will initially simply make it safer for fans when they stand up during games. But in the longer term MUST, like many supporters' trusts, believe that the popularity of a section of these seats could help to persuade the Premier League and Football Association that safe standing should be introduced in them.
"We're interested in exploring ways to progress introducing a section of these seats. We can see potential for fans who wish to, to invest in shares in the club, with the funds ring-fenced for specific purposes such as rail seats or stadium expansion. It would be an excellent demonstration of the value which can be derived from fans investing in and sharing ownership in their club," Drasdo said. "The cooperation and the participation of fans in the ownership of the club brings an improvement to the atmosphere as well a financial benefits to the club."
Join our commenting forum
Join thought-provoking conversations, follow other Independent readers and see their replies