Exclusive: Newcastle United lead the way towards £20 away tickets as fans' pressure forces price cuts by Manchester United, Liverpool and Arsenal
The supporter-driven fight has led to Manchester United following Liverpool and Arsenal's lead in knocking money off every away ticket bought by one of their own fans this season
Ian Herbert
Monday 14 October 2013 11:05 Comments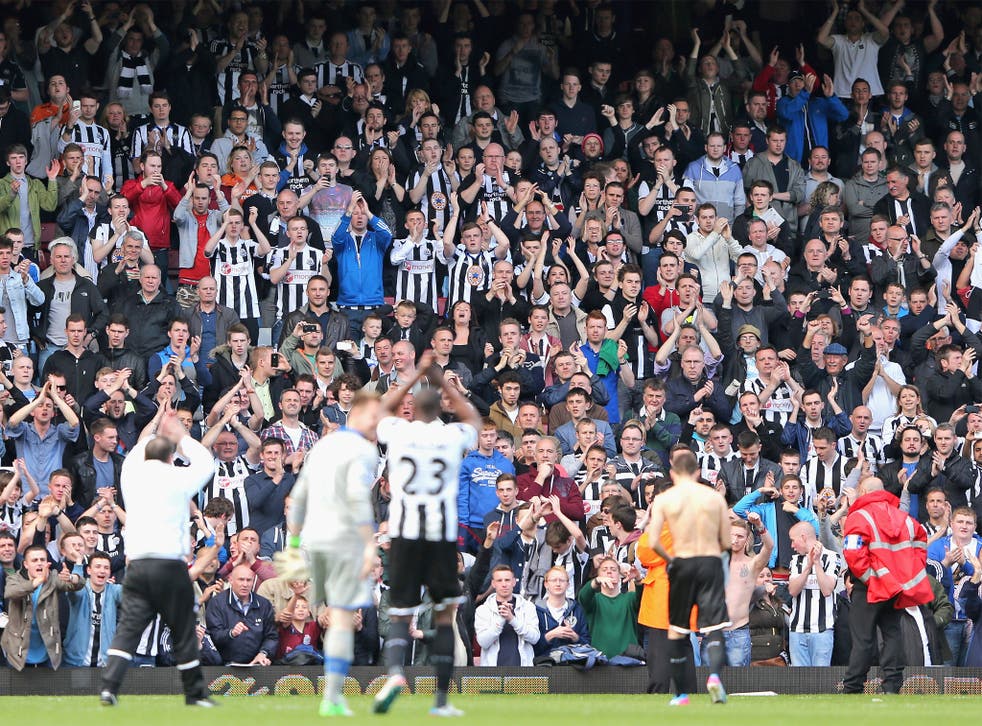 The campaign to bring Premier League away tickets down to £20 is on the brink of a major breakthrough, with Newcastle United preparing to announce a reciprocal deal by which they will charge any club's away fans that price, if their own are given the same deal, The Independent can reveal.
The supporter-driven fight to force down exorbitant prices faced by Premier League away fans led Manchester United to announce that they have followed Liverpool and Arsenal's lead in knocking money off every away ticket bought by one of their own fans this season. United will reduce every away ticket price by £4, Arsenal will reduce theirs by £2.50, while Liverpool will bring down their own away ticket prices by between £2 and £4, depending on the opposition. Newcastle's plan is imaginative – but dependent on others being willing to reciprocate.
The clubs' moves follow the Premier League announcement that it has established a fund of £12m over the next three seasons to ensure that each of the top division's 20 clubs set aside £200,000 each per season to make games more affordable for away fans. The fund is a direct result of the Football Supporters' Federation's "Twenty's Plenty" petition. The organisation lobbied the Premier League and then met its chief executive, Richard Scudamore, four months ago to demand action on prices.
The high costs led to a 9.6 per cent reduction in top-flight away attendances last year. Newcastle's willingness to charge a flat £20 fee will prove that the FSF was right when it insisted that £20 is a commercially viable figure for big clubs to charge.
The £12m has come from the clubs' TV revenues and all were given until the end of last month to demonstrate how they were going to use it. The FSF is yet to hear from Everton, Manchester City, Southampton, West Bromwich Albion and West Ham United. But the others have plans in progress and most clubs – Aston Villa, Cardiff City, Chelsea, Fulham, Hull City, Norwich City, Stoke City and Tottenham Hotspur – are investing in subsidised travel to games for supporters. Other innovations include Cardiff and Sunderland's investment in guides to their local area, to give visitors more options when they are at the ground than just finding the local pubs and clubs.
United's decision to reduce prices – a strategy which benefits all and not just coach-travelling away supporters – earned them praise from the Manchester United Supporters Trust – a fervent critic of the club at times during the era of Glazer ownership but an organisation which was consulted by the Premier League champions.
The FSF chief executive, Kevin Miles, said that the federation welcomed all clubs' moves to reduce the cost of travel and acknowledged that the price-reduction strategy was a particularly good one. "The one cost that every fan has to pay, regardless of how they travel and where from, is the price through the gate," he said.
"Subsidised travel is fine for those who choose to travel by coach – and we welcome it – though that is not much use to the people who live nearer the away ground than the home stadium." There can also be the law of unintended consequences, he added. "Independent bus firms can find themselves out of business when clubs run their own free services. It is the question of ticket prices that we are keenest to see explored. We are watching with interest to see what clubs come up with."
The moves – which the clubs have no option to refuse – are seen as only the start of the campaign for a better deal for away fans. "The fact that we are making progress is likely only to encourage those campaigning, rather than distract them," Miles said.
As yet, Newcastle have only formally undertaken to provide free away travel for disabled fans this season, though the £20 reciprocal deal is still to follow. Crystal Palace and Swansea City have reached a similar – though less substantial – reciprocal arrangement, which means that any adult ticket can be purchased at half price with a full-price junior ticket.
Manchester United's ticket reduction plan was finalised by chief operating officer Michael Bolingbroke after discussions with chief executive Ed Woodward and commercial director Richard Arnold. United said that any part of their £200,000 which was not used this season would go forward to augment next season's investment in away support subsidy.
Premier League payback: How the clubs help away fans
Arsenal fans will receive a £2.50 discount on every away Premier League match ticket for the rest of the season. The club will also provide away supporters with a £10 refreshments voucher at an away fixture this Christmas and invest in the away end at the Emirates.
Aston Villa will offer travelling supporters free coach travel for 10 games this season, which started with their match at Hull City last Saturday.
Cardiff City plan to subsidise 30 coaches for their game at Norwich away so fans only have to pay £5. The club are also looking into other deals. Supporters travelling to Cardiff should also check out the club's Away Fans' Guide.
Chelsea have confirmed subsidised travel for at least 10 away games this season, including long trips to Everton, Manchester United, Newcastle United and Sunderland.
Crystal Palace and Swansea City have a reciprocal deal which means "any adult ticket can be purchased at half-price with every full-price junior ticket". Swansea also provided a free hot meal for every travelling fan at St Mary's on Sunday.
Fulham will provide four free coaches at every Premier League away game. The club will also hand out free away tickets to junior season-ticket holders and members.
Hull City have opted to offer free travel to away games and have nearly 30 coaches going to Everton on 19 October. The club will also offer free travel to Spurs (league and Capital One Cup), Southampton, Arsenal, and Swansea City, all before Christmas. Hull are looking at further offers for next year.
Liverpool have reduced ticket prices for away games by £2 to £4, dependent on the opposition. The decision was taken after consultation with the club's supporters' committee.
Manchester United consulted the fans' forum and will knock £4 off the price of every away ticket bought by a United fan, starting with the Fulham game on 2 November.
Newcastle United fund disabled away fan travel for the remainder of this season but other plans are still to be confirmed.
Norwich City will offer "double discount" for trips to both Manchester clubs. The club also laid on 25 free coaches for the trip to Hull City and have offered half-price tickets for the game at Stoke.
Stoke City provide free coach travel to away fans for all Premier League fixtures. This has already resulted in Stoke taking a club record number of fans to Anfield for a Premier League fixture.
Sunderland subsidise away tickets at certain fixtures by £10 and have improved the concourse, signage and bar areas for travelling fans. They will also produce 40,000 guidebooks for visiting fans with things to see and do while in the area.
Tottenham Hotspur offer subsidised travel to all 14 top-flight games outside the London area. They will also assist official regional clubs' travel arrangements and refurbish areas used to accommodate visiting fans at White Hart Lane.
Register for free to continue reading
Registration is a free and easy way to support our truly independent journalism
By registering, you will also enjoy limited access to Premium articles, exclusive newsletters, commenting, and virtual events with our leading journalists
Already have an account? sign in
Register for free to continue reading
Registration is a free and easy way to support our truly independent journalism
By registering, you will also enjoy limited access to Premium articles, exclusive newsletters, commenting, and virtual events with our leading journalists
Already have an account? sign in
Join our new commenting forum
Join thought-provoking conversations, follow other Independent readers and see their replies