Ferguson: Can City be top dogs? 'Not in my lifetime'
United manager delivers perfect piece of theatre to dismiss rivals in derby day build-up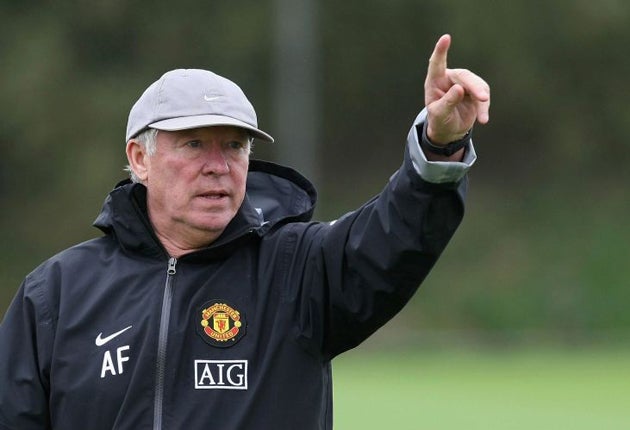 It was one of those wonderful pieces of theatre which will be so missed when Sir Alex Ferguson has packed up his tracksuit and gone.
Someone had asked him whether Manchester United will ever go into a derby match as underdogs and for 15 seconds or more he eyed his inquisitor, the hint of a glint in those narrow eyes, and you wondered whether that individual or Manchester City would be on the receiving end of the full force of his opinion. "What time is it?" he said, at last. "I think it is time for me to leave." And as he clambered from his seat, an answer to that question... "Not in my lifetime."
It was such a measured and excellent response, a match for all the cool insouciance which has made Mark Hughes the winner of the phoney war which has been raging across Manchester all summer, that a part of you hoped that no-one would remind Ferguson that he couldn't leave the table just yet because there was another round of interviews to get through. They did. Back to the table he came.
Before the smart pay-off line, there was more of the evidence that Ferguson, for all attempts to infer the opposite, really does see City as a threat and really does resent the departure across town of Carlos Tevez, a touchstone for the rivalry which makes tomorrow's arguably the most keenly contested Old Trafford derby of them all. Tevez remains a major doubt, but he bore the full force of Ferguson's ire and was told not to expect a hero's welcome at Old Trafford. "He will get a surprise. It is a different culture nowadays," Ferguson snarled.
There was worse to follow for the Argentine. A suggestion that he was not worth the sum City paid for him - whatever that might have been. Would Ferguson rather Tevez was missing? "It doesn't bother me one bit," he replied. "Their best player is not playing. [Emmanuel] Adebayor has been their star player, no question about that. He has scored in every game and [his suspension on Sunday] is a loss really."
Here was a dig which begged more questions than answers. Why, if Adebayor is so effective, did United turn down his agent's attempt to take the player to Old Trafford this summer and settle for Michael Owen, who is yet to flourish. The two strikers' fortunes offer a paradigm for their respective managers' seasons – City generally impressive; United convincing in a few brief bursts – the second half at Wigan and after going behind at Tottenham.
Ferguson was abruptly up and out of his seat before the Adebayor issue could be put, though there was no lingering doubt about which opposition, Liverpool or Manchester City, he relishes most. "Liverpool will always be the derby game because of the history," he said. "When I came down here they were the king pins of England they had won four European championships. They had won quite a few league titles in that period from Bob Paisley, Joe Fagan to Kenny [Dalglish]. My aim was to do well against them. To try and turn that round. It's hard for me to go against history. The history is there with Liverpool."
It was eloquence of a kind only Ferguson, with his vast footprint over three decades of the English game, can offer among managers. But when Hughes sat down to speak later – his and Ferguson's discussions of the game were each precisely 18 minutes in length – the contrasting outlook was unmistakable. While Ferguson drew on the past, Hughes wanted to talk of future hierarchies. "For too long the top four or six has been set in stone and we're trying to change that," was the cornerstone of his case. "Maybe we should be given a little encouragement in that regard." To the neutral, there is something liberating about the notion.
The two managers also both addressed the Tevez "Welcome to Manchester" poster, devised by City, which continues to niggle away at Ferguson. "Cockiness", "arrogance," "naughty" was Ferguson's vocabulary for it. "They didn't need to do that. It was stupid. But they did it." Again, Hughes' levity was effective, by comparison. "It does seem to have really upset Sir Alex for some reason. We just take it as a bit of flattery."
Hughes communicates as well as he manages and there was perhaps a clue in one of the more curious aspects of Ferguson's commentary yesterday that the Scot sees that now. While the United manager, without Rio Ferdinand today, has been quick to pile the pressure on Hughes in the past ("It will be his decision how to buy. It's a big decision": May 2009) here there was only generosity of spirit towards him. The poster idea, Ferguson insisted, would not have been Hughes's anyway. "Maybe he didn't know anything about it. I'm pretty sure [he didn't]," Ferguson said. "It probably came to his attention when I mentioned it. Some people run away with themselves... whoever decided to do that. Mark was put in a [difficult] position."
Was the pressure on Hughes to succeed immediately? As opportunities to turn the screw go, this was a long hop but this answer came back. "I am sure he realises what is entailed in this game. He did a great job at Blackburn, under limited resources, and he obviously knew the time was right for him to leave. And now that [City] have spent this money, he will have a sense of possible achievement. He is experienced enough to understand all that."
Here was a sea change, indeed; a reflection, surely, that Hughes, with his calm and sure-footed approach and his attractive, worldly, counter-attacking side who play United's type of football, deserves some respect. To return to the beginning – no, there probably will not be a time when Ferguson, as United manager, will enter a derby game as the underdog. But for the first time in 40 years tomorrow, his club have something to fear in Manchester City and he knows it.
Manchester blues: Memorable derbies from days gone by
*12 November 1881
W. Gorton (St Marks) 0 Newton Heath 3
The first meeting as West Gorton (later Man City) hosted Newton Heath (later Man United). The match finished 3-0 to Newton Heath, in what reports describe as "a pleasant game".
*3 November 1894
Manchester City 2 Newton Heath 5
The first Football League meeting between the neighbouring sides saw another comprehensive away victory as Richard Smith scored four goals for Newton Heath.
*1 December 1906
Manchester City 3 Manchester Utd 0
The first meeting between the clubs to take place in the top flight following United's promotion. Gate receipts at City's old Hyde Road ground exceed a phenomenal £1,000.
*23 January 1926
Manchester Utd 1 Manchester City 6
This remains City's biggest win against United, made all the more remarkable as the Blues ended the season being relegated by a point, while United finished ninth.
*27 March 1926
Manchester City 3 Manchester Utd 0
City won this FA Cup semi-final comfortably but it is perhaps more fondly remembered for United player Frank Barson punching, and knocking out, City's Sam Cowan.
*12 December 1970
Manchester Utd 1 Manchester City 4
A glorious City victory was overshadowed by a tackle from United's George Best which broke Glyn Pardoe's leg. The severity of the injury almost resulted in the defender losing his leg.
*6 November 1971
Manchester City 3 Manchester Utd 3
An entertaining draw during which Francis Lee, rather ironically, accused Best of diving, a point the striker emphasised to the referee by throwing himself theatrically to the floor.
...and red letter days Memorable derbies from days gone by
*13 March 1974
Manchester City 0 Manchester Utd 0
Mike Doyle and Lou Macari were sent off in a dour contest. Both refused to leave, leading the referee to take both teams to the dressing room until the players accepted their dismissals.
*27 April 1974
Manchester Utd 0 Manchester City 1
Denis Law, now in City colours, scores with a back-heel to help send the Reds down. The former United legend refuses to celebrate, while the Stretford End invade the pitch.
*23 September 1989
Manchester City 5 Manchester Utd 1
Described by Alex Ferguson as his "most embarrassing defeat" as Mel Machin's side tear United apart. The game was held up due to crowd trouble in the North Stand, then City ran riot .
*7 November 1993
Manchester City 2 Manchester Utd 3
City appeared comfortable at half-time, leading 2-0 through two Niall Quinn headers. United clawed their way back with a fine Eric Cantona double before a late Roy Keane winner.
*10 November 1994
Manchester Utd 5 Manchester City 0
Andrei Kanchelskis scored a hat-trick as Fergie's champions continued their Nineties dominance and gained revenge for the humbling at the hands of their neighbours five years before.
*21 April 2001
Manchester Utd 1 Manchester City 1
A long-running feud between Roy Keane and Alf-Inge Haaland came to a head at Old Trafford. Keane was dismissed for a knee-high lunge on Haaland, who hardly played again.
*14 March 2004
Manchester City 4 Manchester Utd 1
Robbie Fowler, Jon Macken, Trevor Sinclair and Shaun Wright-Phillips all scored for City to complete a torrid week for Ferguson's side following their Champions League exit.
*14 January 2006
Manchester City 3 Manchester Utd 1
City took the honours to dampen United's title hopes. Two-down at the interval, the Reds' comeback was hampered by Cristiano Ronaldo's red card for a lunge on Andy Cole.
*10 February 2008
Manchester Utd 1 Manchester City 2
Sven Goran Eriksson led City to victory in the Munich remembrance match as the visitors won at Old Trafford for the first time in 34 years and recorded a first double in 38 years.
Alex Sharp
Join our commenting forum
Join thought-provoking conversations, follow other Independent readers and see their replies